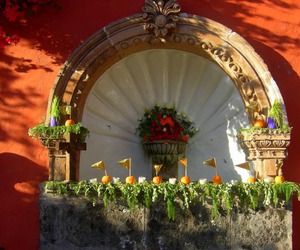 MexConnect readers, a priceless lot, ask occasional questions via e-mail. They receive sincere efforts at answers.
Some exchanges have the potential to interest others. You'll know shortly whether they interest you.
Question: Is there any good news in Mexico?
Answer 1: Of course there is. Mangos are ripening and the price per kilo has dropped below gold bullion.
Answer 2: San Miguel de Allende has a new business – a combo bowling alley, roller-skating rink and soda shoppe. Sounds like Kansas 1950. Amazing what some people have for foresight.
Answer 3: Guadalajara has saved $85 million by withdrawing as host of the 2017 world swimming championships. The city says it has already spent almost $10 million in preparation and will face a $5 million forfeiture fine but will not lose a larger fortune staging an event that was destined to fail financially.
It really hurt Mexico Sports Institute official Jesus Mena, former Olympic diving medalist who helped win the bid, to admit surrender.
"We have informed the international swimming federation that Mexico will no longer host the world championships."
The explanation included the depressed price of oil and federal budget cuts.
Guadalajara is learning – slowly. It suffered an awful deficit as host of the 2011 Pan Am Games. To settle debts and restore a decent credit rating, it borrowed $2,439,830,553 pesos to be repaid within 20 years.
The games did not generate the predicted economic upswing. Guadalajara did register an increase in tourism but it was less than what the city gets for Easter.
Answer 4: Chinese manufacturing is moving to Mexico. Is this a complete turnaround, or what?
And, Mexico is shipping raspberries and blackberries to China, six tons per flight, along with suggestions of what they go with – pies, cereal, yoghurt, ice cream – but probably not chicken chow mein.
Question: I have lived a sheltered life. Who the heck is Gloria Trevi?
Answer: Oh my, how deep was your cave?
Gloria de los Angeles Trevi Ruiz, now 47, is a Mexican pop-rock singer-songwriter with a brightly checkered past and awesome accomplishments – more than 400 songs published, more than 20 milliion records sold, more than 100 million video views online and standing-room-only concerts in many, many places.
The new movie of her life, "Gloria", is or soon will be in U.S. theaters. It has already been pirated and is for sale at Mexico street markets.
At age 12, Gloria left her home in Monterrey to build a career in Mexico City. She sang and danced on sidewalks for loose change and served quesadillas at a food stand when times were really tough.
She linked up with an older man, Sergio Andrade, and started using her sexuality for political activism. Her songs ran the gauntlet from violence against women to phony religion to hunger to drug trafficking to the snooty, abusive upper class.
Despite or perhaps because of her raunchy style, Trevi was worshipped by Mexican girls who thought she was what Madonna should have been.
In the late 1990s or maybe 2000, Gloria and her older man and an associate or two were charged with corrupting minors through a sex-slave operation. She and he did prison time in Brazil and Mexico.
Gloria was eventually cleared of charges due to "lack of evidence".
She lost five years but did have a child or two while in custody.
Gloria de los Angeles Trevi Ruiz rebounded like a champ. She may be more famous now than she was then.
Question: Are there no limits to Mexican protests?
Answer: Probably not.
Those still heartbroken and angry over the disappearance and deaths of 43 students in Guerrero and others just looking for a fight have used that tragedy as an excuse to attack Coca-Cola operations. They have hijacked trucks, stolen cases of drinks, captured a couple of Coke employees and attempted to fire-bomb a Coke facility.
I asked a Mexican friend why. He said because the trucks are red.
Protesters have attacked other big companies, department stores, Oxxo snack shops, dairy delivery trucks and Bimbo bakery operations.
Such behavior has absolutely nothing to do with the 43 deaths. It is total lawlessness. Many talk about it. Nobody does anything.
Repercussions to the Guerrero tragedy have hit worldwide. The United Nations has proclaimed that Mexico faces a widespread problem of disappearances of civilians at the hands of police and military. This sin is supposedly compounded by government's failure to investigate.
I feel so much better knowing that the UN knows what I have known for years.
You might be uplifted by the Mexican government response. It says it will consider suggestions for improvement.
Question: You may have answered this 17 times but here it is again: How important is it to speak Spanish in Mexico?
Answer: I'll give you distinguished Patzcuaro commentator Michael Dickson's summation: When he moved to Mexico, he spoke no Spanish. He says he believed then and more so now that learning the language is essential. Without Spanish, you remain clueless in many situations. The culture will forever be obscure.
Dickson attended language school for six months. After that, he caught a break. He met a lovely younger woman who spoke no English. His Spanish got better in a hurry. They were married. They communicate in Spanish.
Dickson says: Talking to your wife is a good thing.
Question: Just heard a story about a Mexico City restaurant serving hot soup in a gourd. Really? Can this be?
Answer: Now for the rest of the story: This technique is a few hundred years older than I am. Thin slices of meat, raw vegetables and a secret broth are placed in a gourd bowl at tableside. Very hot, smooth rocks are added. The mix boils and boils some more.
When the show stops, the waiter says "Soups on" or something like that.
Published or Updated on: March 17, 2015