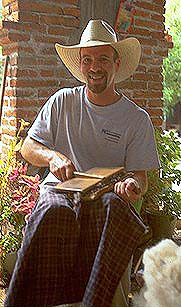 Seattle, USA-based Curt Rosengren is a traveler, photographer, writer, and rug merchant (oh, and his day job's business card says he's a marketing consultant).
Since the age of 10, Curt has seen the world through the lens of a camera. His travel photography portfolio, with photography from Mexico (Oaxaca, Baja California, Mexico City and Sonora), the US and Northern Europe, can be seen at https://www.rosengren.net/photo.
Curt first visited Mexico six years ago, and promptly fell in love with the graciousness and generosity he experienced. He has returned repeatedly, intent on becoming more intimately acquainted with the country and its people.
That desire to get better acquainted manifested itself in a close friendship with a family of Zapotec weavers in Teotitlan del Valle, Oaxaca. That friendship is the cornerstone for Artisans in Focus — https://www.rosengren.net/artisansinfocus — a venture that not only sells the family's work, but also draws on Curt's writing and photography to tell the story of the people, culture, and history behind the weavings.