Your Sanborn's Travelog has a complete list of meetings. The following information was excerpted from Mike's book, Live Better South of the Border. This material is NOT copyrighted and you are free to download it and share it with others. That's the idea, isn't it?
You'll find AA throughout Mexico, even in small towns. NA has a sizable presence in the larger towns. Alanon is almost everywhere. OA, SALA and other programs are less likely to be encountered outside major cities. AA is very visible. I have noted where there are meetings in many cases, but like here, they move or change.
Look for the AA symbol inside a triangle and a circle, usually on a blue background jutting out from buildings. Meetings are usually at 8:00 or 8:30 PM in Spanish. Even if you don't speak Spanish, you will be welcome and often asked to speak. This is true all over the world. Remember, you will always be welcome at a Spanish-speaking meeting, even if you don't speak the language. As an AA, you speak a universal language. I have been to meetings in Cuba, Europe and England (where they speak a foreign language, vaguely similar to English) and have always been welcome. Come to think of it, these are the only places where I can count on being welcome. Go ahead. It will do you good. Meetings last an hour and a half and there are often refreshments and birthdays are celebrated like here, except you might get tamales instead of cake or both. Have a ball.
You'll be pleasantly surprised to find English-speaking meetings in most towns with a large gringo presence. Just in case you forgot your International Directory, I've included a list of all the ones I know about, arranged by geographic sections of the country.
Just like in the U.S., the locations change, so if a meeting is no longer where I said it was, you have two courses of action (aside from giving up and giving in). Believe me, looking for a meeting is often a better choice than going back to your hotel where the "Chug tequila till you barf" contest is going on. The first option is to check the local English-language newspaper if there is one. The second option is to find a Spanish meeting and ask.
One night I was in San Miguel de Allende and the English-language meeting had moved. I was ready to get drunk at my companion and was crestfallen. I wandered the late-night streets of town, bemoaning my fate. For some reason I looked up and I saw the familiar triangle in a circle. I was in front of a Mexican AA club. The meeting was over, but the guys there could see that I was in trouble. Six of us piled into a Volkswagen and went roaring down the midnight streets.
There I was, in a car of strangers who spoke no English (my Spanish was poor then), going to God knew where. A bar full of happy (?) Americans seemed a lot more inviting. Oh well. They took me to a midnight meeting. While I didn't understand a word they said, I felt the companionship and caring that is universal. Those guys saved my life. So, if a meeting has moved since I wrote this, don't use that as an excuse to get drunk. Get off the pity pot and find a meeting. Then let me know about any changes.
For Alanon and NA etc. these places will be able to direct you as well, though NA is not as "popular." You'll be welcome at an AA meeting. There are two different types of AA in Mexico. One is "Grupo de 24 Horas" (24 hour group). These are more like institutional settings and the message here is hard core, "put the plug in the jug" type.
The other is more like what you are used to. Be prepared for 1½ hour long meetings, with long orations and lots of slang. They are very emotional. You will be asked to say something. Do your best and take care of yourself. If the above fails and you can't find a meeting, try putting up signs in your hotel and others about a meeting in your room. Then stay there.
While we are on the subject of drinking, forget the myth that some folks will tell you that it is a shooting offense to refuse a drink offered by a Mexican. You can refuse to do anything you want if you do it politely. Many times Mexicans are only offering to share something with you because they are being polite. They would never expect you to do something that would cause you harm. If you simply say, " No gracias, no bebo cerveza (tequila, ron etc. or simply alcohól), pero quisiera un refresco," you'll probably get a soft drink instead and no one will be offended.
If the guy insists that you have a drink with him, be as polite as possible, and just as insistent. Plead illness, medication or whatever you are comfortable with. Saying "soy alérgico a alcohol" sometimes does the trick, but saying you are an alcoholic usually elicits a blank stare. If all fails, get up and walk away. Offending a drunk does not rank as a punishable offense in any country and you have to remember what's really important.
Be especially careful ordering tonic water or aguaquinain bars or restaurants. You'll often end up with gin and tonic, because the waiter thought you didn't speak Spanish well enough. Stick with agua mineral or Coke or 7-Up, or a local soft drink. There are some great local ones. Toni-Col on the west coast, especially near Mazatlán is one of the best. It does have caffeine, so if you are trying to avoid that, you'd best avoid Toni-Col, but darn, it is good. It's rather like a vanilla Coke. Of course, I've heard of drinkers who ordered J&B and soda and got Jim Beam and Coke.
When asking if a dish has alcohol in it, be sure to ask if it has wine, too. For some reason, wine is not considered alcohol by waiters. Often they will say, "Oh, no, there is no alcohol, only a little wine." I subscribe to the school that it does not cook out. Even if you don't believe that to be true at home, believe it in Mexico. Trust me.
Coffees with fancy names like "Sexy, Spanish, German or Lithuanian (just kidding about the last one)" are suspect. If the price is more than plain coffee ( Americano or negro or cafe con leche), then it is a booze drink. It's rare, but I have had Amaretto poured over flan, the great dessert. Always use the sniff test before eating anything with a sauce on it. If you accidentally imbibe something with booze spit it out and don't worry about it. It happens to the best. Just don't take a second swig or taste and forget about it.
If you have an AA medallion or ring and wear it, you'll be surprised at the people you'll meet. If we ever meet in person, I'll tell you a story that was related to me about that.
That's all the sobriety wisdom I have and I hope it helps at least one person. The main thing to remember is that you are not alone even in Mexico and that you can still have a great trip and not lose your program.
Your help in getting new info is appreciated — you know how these groups move around. Spanish for "meeting" is " reunión" or " sesión". The phone numbers below were either provided by the contact person or came from newspapers so I'm not breaking anyone's anonymity.
Meeting Schedules
BAJA
CABO SAN LUCAS – Hacienda Group of Alcoholics Anonymous: Miguel Hidalgo St. between Blvd. Lazaro Cardenas and 5 de Mayo
(between the Cabo Christian Church and the Sex Shop)
meets Daily 6 pm. and Mon-Fri 4:30pm- Topic Discussion;
Tuesday 8-9pm- Big Book Study
Phone: Doug 624-147-5516 / 624-147-5516
Al-Anon
Serenity House
12th October St.. and Morelos, Meets Wednesday 6pm
Phone: 624-105-9228 / 624-105-9228 (Haven)
Narcotics Anonymous
Safe Harbor Group – Serenity House
12th October St. and Morelos St.
meets Tuesday, Thursday, Friday, Saturday 5:30 PM
Phone: 624-148-8076 / 624-148-8076 or 624-147-9949 / 624-147-9949
EAST CAPE – Hotel Rancho Buena Vista – meets Sunday, Wednesday – 5 PM
Phone: Jay 624-147- 7479 / 624-147- 7479
ENSENADA AREA – PUNTA BANDA – Men's AA Catholic Church, La Jolla Beach Mon, 10 AM. – Women's 12 Step, Train Room, Casa De Riker, La Jolla Beach. Mon. 10 AM. – Catholic Church, La Jolla, Tue. 8 AM. – Catholic Church, La Jolla, Thu. 8 AM. – "Going to Any Length" AA, Train Room, Casa De Riker, La Jolla. Sat. 8 AM.
ENSENADA– WAY TO GO group meets in English Saturday 12:00 noon upstairs at the corner of Pedro Loyola and Plinta.
Contact Ron U.S. phone (in Mexico) 858 206 4298 or Mexican cell 646 102 7565
or contact Curt. U.S. phone 619 495 5454
LA PAZ
– Crossroads Christian Fellowship Abasolo, between Sonora and Sinaloa
Across the street from Rio's Auto Parts Store
meets Monday, Wednesday and Friday 9:30 AM (All Open)
Contacts
Leo:
612 129-3293
612 129-3293
or cell
612 140-6136
612 140-6136
Frank:
612 121-1833
612 121-1833
or cell
612 154-1050
612 154-1050
Lynn: cell
624 137-4527
624 137-4527
LORETO–
Click on image for details [current as of March 2022]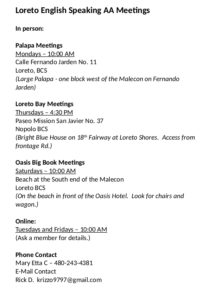 MULEGÉ– 1 block east of Canada store – Fri. 3 PM.
MANEADERO, BC – Cultural Social Salón (on Hwy #1), 10.6 MI south of Ensenada at Jct. with paved road to Bufadora. Sun, 10 AM. Ask for Albert.
ROSARITO BEACH, BC – Calle Escondido #110 Baja Trade winds. Thurs, 7 PM. – Group 12 Traditions (English) at 72 Calle de La Palma, near police station in middle of town. (If you can't find it, inquire at Red Cross Hospital or Space 100 in KOA Campground). Saturdays, 3 PM; Sundays, 10 AM; Wednesdays, 6 PM; Mondays, 2 PM. Men's meeting Thursdays in KOA Space 100, 5 PM. – AA Breakfast Meeting (English) at Don Guiseppe's restaurant back room, Mondays, 9 AM. – Mixed Bar Ladies (English-speaking women's group of multiple 12 step issues) 72 Calle de La Palma, Friday 10 AM.
SAN FELIPE, BC—
In San Felipe,Turn west at circle onto Mar Caribe. 1 block on right. Well marked brick building.
Sun: Men's meeting 5:00 pm
Monday 6:00 pm Open Big Book Study
Wednesday 6:00 pm Open Topic
Thursday 6:00 pm Open "As Bill Sees It"
Friday 6:00 pm Open Book Study/Step Study
Saturday 6:00 pm Open Topic
Tuesday 9:30 am Alanon
Wednesday 9:30 am CLOSED Womens 12×12
Friday 9:30 am Open Women in Recovery
Call 044-622-131-6802 for more info.
SAN JOSÉ DEL CABO – Restaurant "LA TAKIZA"- Santos Degollado St. off Coronado St., next to Calvary Chapel. Group meets on Monday, Tuesday, Thursday, Friday and Saturday at 6 PM.
Phone: 044-624-144-0595 (Cell)
Al-Anon San Jose del Cabo
Same location as San Jose AA meeting, Sundays 6pm
Phone Julia- 624 171 1532
624 171 1532
TODOS SANTOS, BCS– Facing front of Old Church, enter through the gate to the right and go to the back right hand corner of the church lot. This group meets on Saturday and Wednesday at 11 AM and on Monday, Tuesday and Friday at 5 PM.
Phone: 01-612-145-0265 (Marilu)
WEST COAST
ACAPULCO– Costa Azul English speaking group meets at 42-A Hilario Malpica in Fraccionamiento Costa Azul.
May through October:
Monday 5 p.m.
Friday 5 p.m.
November through April:
Monday 5 p.m.
Wednesday 5 p.m.
Friday 5 p.m.
Directions:
From Cici Park, take Christobal Colon to the Diana circle, then to the right of the Catholic Church take Parque Sur to Hilario Malpica. Take a right, (the street is divided) and we are the second house on the left.
www.alcoholicsanonymous-acapulco.com
KINO BAY, SON– Club deportivo – Wed & Sat, 7 PM. El Saguaro T.P., rec room. Chuck or Gloria (624) 2-0141.
MANZANILLO, COL Groupo Santiago 82
Calle Reforma #14 Altos in Santiago
Contact Benny m 314-109-2698 Kevin H 314-174-7353
Friday, 10 a.m.
Al-Anon Friday 10 a.m.
MAZATLÁN, SIN – 306 Ave.Camaron Sabalo #7 across the street from VIP Restaurant and Baskin Robbins, SOHO Restaurant Between the Paint store and SalSi Puedes Bar (go thru the iron archway).
Mon thru Sat 6:30 PM
Sunday mornings 10 AM
Tues.mornings 11 AM – Womens meeting
Tues Night 6:30PM – Men's meeting
Saturday Speaker Meeting 6:30PM
PUERTO ESCONDIDO, OAX – Grateful Live Group meets at
Dan's Café Deluxe, Corner C. Jacaranda and C. Jazmines Zicatella , Puerto Escondido
Tuesday 6 PM
Thursday 6 PM
Saturday 6 PM
Tel. 044-954-544-2093
There is a great group of regulars that meet every year and we have big A.A. Birthday celebration in January and February.
PUERTO VALLARTA, JAL– meets at Edificio Cine Bahia (in older section of town, across the Río Cuale at 181 Insurgentes (near Madero), second floor at end of hall, RM #208 or 206.
AA – Everyday 9 AM and 6:30 PM
Thursday 10:30 AM
Women – Sunday 11 AM
NA – Everyday 5:00 PM
Alanon – Monday & Friday 6:30 PM
CODA – Wed. 10:30 AM and Thurs. Women 6:30 PM
A.R.T.S.- Thursday 8:00PM
SAN BLAS, NAY – Check at McDonald's restaurant for times. 6 PM, M. W. F., 9:30 Sun. Calle Sinaloa #19 (sort of). Little shopping center across from police station. All the way in back. Go thru gate to back patio.
SAN CARLOS, SON – AA (Alcoholics Anonymous) All meetings are at the little white building next to the Tecate Super T store on the right side of the Loma del Mar road (Ave H but not marked well). Go north from the main highway (Beltrones). Open AA: Tues and Sun. 6:00 pm., Men's AA Meeting: Thursday, 6:00 pm. Call 044-622-131-6802 for more info.
YELAPA, JAL – Wed, Sat, 5:30 PM. Ask at Mike's house on the beach.
ZIHUATANEJO/IXTAPA, GRO – go on the canal road towards Playa Madero. Pass la Boquita bakery. Turn right towards Hotel Solimar. On one side of the plaza is the Spanish meeting club. Across the plaza is the English speaking group. Meet at 6 PM on Thurs.
Call Alanon # Ph: (743) 4-3767.
COLONIAL MEXICO
CHAPALA, JAL – AJIJIC -LAKESIDE AREA –
Open meetings are for all interest parties. Closed meetings are for alcoholics only.
Up-do-date schedules can be found at http://aalakechapala.org/Meetings.html
Mon
AA Club 12 (closed) – 10.00 a.m.
AA American Legion (closed) – 10.00 am
AA Lake Chapala Society (open) – 4:00 p.m.
Tues
AA Club 12 (big book study) (closed) – 10.00 a.m.
AA Club in San Nicolás Ibarra (closed) – 10.00 a.m.
Wed
AA Club 12 (closed) – 10:00 a.m.
AA American Legion (12&12) (closed) – 10.00 am
Thurs
AA Club 12 (closed) – 10.00 a.m.
AA American Legion (big book) (closed) – 10.00 am
AA Lake Chapala Society (open) – 4.00 p.m.
Fri
AA Club 12 (closed) – 10 a.m.
AA American Legion (closed) – 10.00 am
Sat
Al-Anon Club 12 – 10.00 am
AA Club 12 (closed) – 10.00 a.m.
Sun
AA Club 12 – Open speaker meeting (open) 10:00 am.
Locations
American Legion – Morelos #114, Chapala.
Club 12 – Marcos Castellanos #51-A, Ajijic
Lake Chapala Society – corner of 16 de Septiembre and Ramon Corona, Ajijic. Enter at rear gate on Ramon Corona
San Nicolás de Ibarra – Hidalgo #32, San Nicolás (approx 10 minutes east of Chapala.
For More Information, Contact
Chapala – Donna: (327) 102-6683
Ajijic – Gary:

(332) 252-8093

Lake Chapala Society – Jan: (376) 766-4990
San Nicolás and Ixtlahuacaán de los Membrillos – Keith:

(333)

198-6653
CUERNAVACA, MOR
– Ph: (73) 13-4327 (Francis) or (73) 13-7831 (Minerva).
GUADALAJARA, JAL –
English language meetings of AA
Group Name:
Friends of Bill –
Meetings are closed ( alcoholics only) except for Fridays
Meetings dates & times:

Wednesdays at 6 PM ( starting October 2022)
Fridays at 6 PM
–
in person at "The American Benevolent Society of Guadalajara"
Meeting Address
Av San Francisco 3332, Jardines de Los Arcos, 44500 Guadalajara, Jal.
Ground Floor- ring doorbell and someone will beep you in- glass door on the left as you come in through the garden gate.
Zoom Room

– all meetings have a zoom room at the same time as the in person meeting. Please contact us for the zoom room ID and Password
Contact Names & Phone Numbers
MEXICO CITY –
Río Danubio #39 (upstairs), M W F 2 PM
Tues Thurs, 8 PM
Sat, 4 PM
Sun, 6 PM
Union Church, Reforma 1870 – M W F, 8 PM
Ladies Meeting, Nuestra Señora de Guadalupe, Corner Prado Sur y Virreyes (Basement) – Wed, 4 PM
Ph: (5) 568-5104, 525-9090.
OAXACA, OAX – Sun 12 Noon. Ph: (951) 5-1989 (Enrique).
HUATULCO – Bahias de Huatulco , OAXACA,




AA in the Park – Tuesday – 9:45 am
Parque Hundido Chahue
Across the street from Playa Chahue and Xquenda Hotel
For more information contact Kimberly [email protected] / or WhatsApp: +52 958 125 6093


SAN MIGUEL ALLENDE, GTO – English Alanon Club, Calle 20 de Enero #110E, Colonia San Antonio, next to the laundry;
AA Meetings M-T-TH 9:00am, W(women)-F-Sat 10:00am, Sun 12:00 noon, M-T-W-TH-F-Sat 6:30pmSt. Paul's Church (Anglican)ALANON/ACOA M- 5:00pm; OA W-SA 4:30pmAl Anon , Saturday morning at 9:45, St. Paul's Church (Anglican), Calzada de Cardo 6, San Miguel de Allende

415 152-0387

415 152-0387

CODA F- 5:00pm; NA SU- 5:00pm.
Ph: Pete

(415) 152-6022

(415) 152-6022

. Email:

[email protected]

.

YUCATAN

CANCÚN, QR – AA English-speaking meetings at the Cancun International Group, 6:15 PM every day downtown at the Plaza Centro shopping Center, Ave. Nader, 3 rd floor. Check their website for current times and locations.

COZUMEL, QR – Corner of Ave. 10 Sur and Calle 5 Sur, upstairs (up the spiral staircase). The building has a triangle in a circle on the 2nd floor.
M W F S S, 6 PM AA.
T Th 6 P.M. NA Check their website for current times and locations.

MERIDA, QR – AA (English), Tuesday and Thursdays at 5:30 pm, Sunday 7 p.m.; Ala Anon Wednesday 5:30 p.m. – Merida English Language Library, Calle 53 between Calles 66 and 68, downtown. Check their website for details.

PLAYA DEL CARMEN, QR – English meetings at:
Avenida 25 between Calle 4 and Calle 6, every day at 5:30 pm.
Many Spanish speaking meetings at this address as well.
Check their website for current times and locations.

PUERTO AVENTURAS, QR – AA (English), Tuesday, Wednesday, Thursday at 6 pm, Saturday at noon – Library – Ask at the gate for directions to the library. Check the website for current schedule.
For other destinations in Mexico you can try this URL. The editor welcomes updates from readers — please send them to this e-mail.
Originally published November 26, 2010