Mary Jane Gagnier Mendoza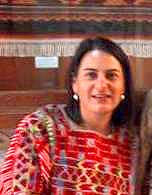 Mary Jane Gagnier Mendoza is a curator, and the founder and director of Galeria La Mano Magica at M. Alcala #203, the tourist walkway in Oaxaca. She has curated numerous exhibits in the U.S. and Mexico, including "Myth and Magic" Palo Alto Arts Center, Santa Cruz Museum of Art and Mexican Fine Arts Center Museum. She is a founding trustee of the Association of Amigos del Museo del Arte Contemporaneo de Oaxaca.
Ms. Gagnier Mendoza, writes and lectures about themes of Mexican art and culture. She lives with her husband, artist Arnulfo Mendoza and their son in Oaxaca.
She is currently writing a book on the fiestas of Teotitlan del Valle.