Around the Bay of Banderas, from north to south
The real estate market can be divided into five distinct zones. The most northern zone, in the STATE OF NAYARIT, is approximately 45 minutes from central downtown Puerto Vallarta. The mega-resort in Punta de Mita is under way and this area will become one of exclusivity, anchored by the Four Seasons Hotel. Returning toward Puerto Vallarta are the towns of Destiladeras and Bucerias which are fast becoming desired residential areas. Next is Nuevo Vallarta which is desired by those seeking privacy and yachting facilities. There are plenty of buildable lots and large parcels available, but the choice pieces along the ocean are beginning to dwindle and prices are starting to firm. For residential properties, there is a myriad in all prices ranges, but choice pieces begin in the mid-$200s.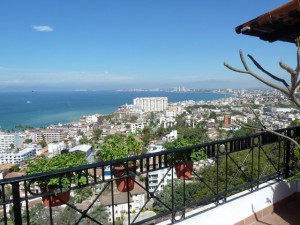 MARINA VALLARTA is the next most northern area, located close to the airport and 15 minutes by taxi from downtown. This is a master-planned community with a marina, golf course, residential units, hotels and vacation clubs. The 465-unit Bay View Grand condominium complex has just initiated a 3-year sales program. There are still buildable lots available. Complete buildout of this area should occur by the end of the decade. The marina environment looks and feels like "home" back in the States, but with a Mexican flair of flora and fauna. Buyers choose this area because of its ambiance, golf, pricing, and American development similarity. Prices and rental income for residential real estate are still somewhat soft and will remain so until this area is entirely developed. Lots can be obtained starting from the mid-$50s, condominiums from the low $100s, and homes from the lower-$200s.
The DOWNTOWN ZONE stretches from Marina Vallarta to the edge of "Old Town" south side Puerto Vallarta. Stores and restaurants are within walking distance. This area is practically totally build out although buildable lots are still obtainable. There is a variety of homes and condominiums in all price ranges. Real estate is of typical Mexican architectural style appealing to the lower-end buyer. No large-scale residential or condominium projects have recently been undertaken except for Marbella appealing to the budget-minded (starting in the low-$60s). The residential area of Las Gaviotas attracts middle-class Mexican buyers with homes starting in the upper $200s. Above downtown is the residential area of Gringo Gulch, so named because many foreigners purchased homes here close to where Elizabeth Taylor and Richard Burton resided. This area is typified by narrow winding streets, density, and older homes emphasizing Mexican architecture, appealing to buyers looking for residences in the older, central section of Puerto Vallarta. Prices here are firm for the premier properties and demand has not waned since Richard and Elizabeth first chose to reside here. Home prices begin in the low $300s.
South of the River Cuale is the is "LOS MUERTOS" Zone, a 10-minute walk from the Malecon. The area has gone through "regentrification," becoming an eclectic blend of restaurants, gift stores, art galleries, and traditional Mexican tiendas. Basillio Badillo is "restaurant row," offering fine dining establishments. The atmosphere is less hectic than the Malecon. The mix of people gives this area a relaxed atmosphere, from well-heeled international tourists to local residents doing their daily shopping. The area is totally built out, comprised mainly of condominium buildings. Located along the public beach are some very well designed and maintained condominium buildings. This area and the southerly contiguous Amapas area are highly in demand. Rental income is all but guaranteed, and resale prices are firm for better quality condominium buildings. Condominiums start in the mid$100s and homes in the Amapas area start in the high-$400s.
The Conchas Chinas portion includes some of the most beautiful villas in all of Mexico. This area from the beach, winding up into the hills, is probably the most coveted in all of Puerto Vallarta. It is purely residential (the majority are homes) bordering on the exclusive, which is a major attraction. Property values are very firm, rental income is guaranteed. Since this is a low-growth area, price speculation is a certainty. Buildable lots are available, but those remaining will required higher construction costs due to the hillside location. A new 10-unit project overlooking the Bay (Villas Banderas) has just opened its doors priced in the mid-$300s. Other projects are anticipated, but the beach area is, essentially, all built out. Recent building ordinances enacted within the last three years have added to the cost of construction, additionally firming the price of choice real estate. A new proposed condominium project on the hillside is still in the planning stages (La Vista). Homes in this area begin around $400,000.
The last zone, stretching from Old Town south to Mismaloya, is the SOUTH SIDE. This area is tranquil and has the feel of seclusion, yet is close to downtown activities. Generally, a 10-15 minute taxi ride is required. There are condominiums, villas, a few time-share projects, 4- and 5-star hotels, buildable lots and acreage within this zone. Purely residential , the sweeping views of the Bay, lush jungle backdrop, and tranquility are very much in demand. The last new project in this area, Los Palmares priced from the upper-$200s, has met with success. Remaining beachfront vacant land is suitable for casa/villa development. Rehab projects of existing condominium buildings are in progress. Further new construction in this area will have to wind its way up the hillside. Residential real estate prices are firm and should remain so. Lots can be obtained from the low $40s, condominiums from the low $100s, and homes/villas from the low $300s.
Published or Updated on: January 1, 2006