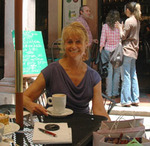 Jane Ammeson writes frequently about her favorite destination — Mexico — and loves to explore the country's culture, history, culinary heritage, architecture and arts. She likes to take the road less traveled, exploring out of the way places and taking an unusual look at everyday destinations.
She is also the author of five books including the recently released Indiana's Lincolnland (Arcadia Publishing) about the 14 years that young Lincoln spend in Southern Indiana.
Her base camp is Benton Harbor, Michigan, just steps from the shores of Lake Michigan.