Manuel Reyes: sculptor, painter and renaissance man from Oaxaca's Mixteca Alta
The art of Manuel Reyes: Sculptor, painter and renaissance man from Oaxaca's Mixteca Alta
"Look at that female warrior over there… notice the belt I made for her, with penises hanging from it, her trophies."
Artist Manuel Reyes aspires to exhibit his work in art galleries in Oaxaca and Mexico City. Give him that exposure over the next couple of years, and there's little doubt his genius will be known in New York, Chicago, and further abroad. American, Canadian and European art collectors are already tapping their Mexican networks to figure out how to make their way to his modest home and workshop in the village of Yanhuitlan, an hour and a half outside of the city of Oaxaca, to marvel at his artistry… and buy it up.
Reyes was born in Mexico City on December 20, 1972 to Oaxacan parents. He balks at any suggestion that he is not pure Oaxacan. "My parents are from the Mixteca Alta, right in this region of the state, and I've always considered myself a Oaxacan. That's my heritage, my birthright. I just happen to have been born out of state. While I've had training from some of the grand masters of Mexican art, I've developed a large part of my artistic style from watching and speaking to local artists right here in the Mixteca."
Reyes began studying art in 1990. He attended the Escuela Nacional de Artes Plásticas in Xochimilco, Mexico City. He moved to Cuernavaca in 1995, where he was mentored by the likes of Roger Von Gunten, Joy Laville, Francisco Lastra and Juan Soriano. He studied predominantly seriagraphy, sculpture and painting. In 2003, Reyes returned to the Mixteca, and has since then re-established his roots. "The lessons I learned through my formal training have been invaluable, but I gain inspiration and have adopted techniques not solely from my maestros, to whom I owe a great deal, but also from the artists and craftspeople of the Oaxacan district of Nochixtlán."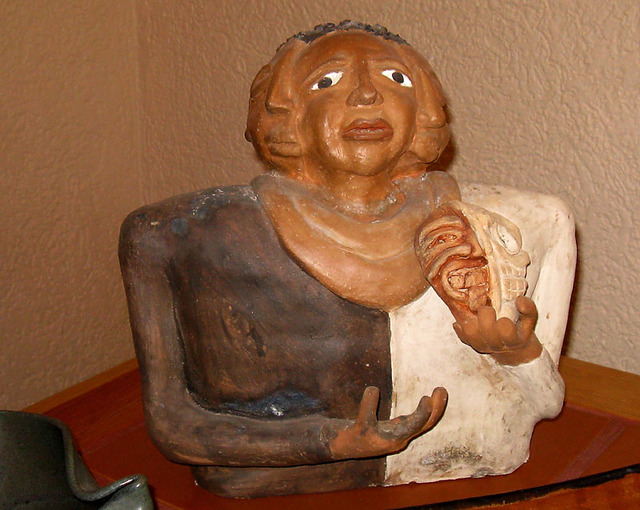 Reyes works together with his wife Maricela, a gifted artist in her own right. In fact their six-year-old daughter Natalia does ceramics with her mother, and painting with Manuel. "Some of our pieces are not only inspired by Natalia, but she actually participates in their creation. Look at this oil mixed with sand on canvas, with its fanciful and childlike figures. Natalia actually began the piece, and I just brought to fruition what was in her mind and she had already begun to put to paper."
"My main influences are Rufino Tamayo for my painting, and Maribel Portela for my sculpture," he continues. "But what I've learned from the people of my culture has been invaluable to my work… the use of a wood-burning kiln made of mud and brick, about the different kinds of clays for sculpting — many of which are available in Oaxaca — and how to mix different kinds of soils to create a broad range of paint colors and tones, and textures. In the end, my pieces are products of my local environment, or at times made from materials I've sourced from other parts of the country."
While Reyes obtains his clays from many different areas, most are from four main locales: a riverbed about a kilometer from his home, upstate at Huajuapan de León, the town of Santa María Cuquila, and from Zacatecas, northwest of the nation's capital. Each compound has different qualities. His Zacatecan clay is strong and has a sandy texture, making it suitable for sculpting his large, almost life-size human figures; more utilitarian pieces such as plates and cups are made with earth from Cuquila; pieces that he intends to burnish are sculpted from clay from Huajuapan de León; and he mixes local soil with the Zacatecan earth to yield a more malleable and easily workable clay.
For colors, Reyes often looks to other parts of the nation so as to enable him to obtain the variety he needs. "That painting hanging in our kitchen provides a good example of the range of colors I derive from combining different earths. Many of my paints come from the environment. I brought a kilo of clay from Chihuahua and used it to make paint for that male figure looking skyward. That white is an oxide." Indeed, the breadth of colors he is able to create for use on both his sculptures and his paintings is remarkable.
Manuel's canvases are generally "mixed technique," as he refers to them, a combination of oil, acrylic and natural earth. Depending on the inspiration for a particular work and the imagery he seeks to convey, the order and manner of application and the texture and origin of the soil applied will vary.
Reyes goes on to explain the sexual imagery captured in many pieces from his current crop of sculptures. "I've been doing a fair number with nude males since 2005, not initially by specific design, but rather because that's what is often depicted in pre-Hispanic art and representations of day-to-day activities, and that's the kind of work that I've enjoyed doing over the past three years. When you look at the earliest Zapotec clay figures, and in fact those dating to Olmec and earlier times, that's what my ancestors were creating. A number of sculptures portray hope and prayer as well, so much a part of ancient times, with head looking upward to the heavens and hands raised." When questioned about the over-representation in his figures of males with dangling phalluses, Reyes points to a couple of female pieces: "Look at that female warrior over there. But notice the belt I made for her, with penises hanging from it, her trophies."
Reyes readily acknowledges that this is still a business, his livelihood, and when gay male collectors began taking an interest in this phase of his artistic development, it motivated him to continue with it and further experiment with the theme of male sexuality as depicted in the codices and sculptures of earlier civilizations.
But Manuel's work also reflects his personal interests and passions, his reverence for Oaxaca's present day rich cultural traditions, and his eclecticism whereby he's prepared to push the outer boundary of what is traditionally considered art, at times combining aestheticism with pure functionality. "I know a really good carpenter here in Yanhuitlan, and thought of combining our two trades, sort of as a fun project. I asked him to make me a cabinet with shelves and doors. I painted it and then put six mask tiles, each with a fair bit of relief, on the door panels. It came out really funky and a collector bought it within a couple of weeks of when I'd finished it.
Reyes has begun experimenting with masks as an art form. Their use at fiestas and for parades is common practice in Oaxaca, the tradition dating back perhaps 3,000 years, when permanent settlements were first established in the region. He pays tribute to the ritualistic use of masks with one of his sculptures, a marcher holding a mask in front of his face, still a common sight at Oaxacan celebrations today.
On a recent visit to Reyes' home, the music of Lou Reed was playing. Rock, blues and other genres of the '60s and '70s are included in this extraordinary man's list of delights. And of course, they are reflected in his work. He has created clay painted figures of John Lennon, Jimi Hendrix and Jim Morrison, simply as a way of paying homage to some of his rock idols. Led Zeppelin's Stairway to Heaven was the inspiration for one of his more "traditional" sculptures, with four men each climbing up a rung of a ladder made of reinforced steel covered with twine, each step framed by horn-shaped clouds.
More recently, Reyes has become interested in depicting vestiges of the material culture of his indigenous forebears, combining his gift as a skilled artist with the work of an applied archaeologist. For example, he recently found a potsherd with a painted design, and through extrapolation has created an entire, accurately crafted three-footed vessel.
Through his art, Manuel Reyes is continually looking for new modes of self-expression, while at the same time reflecting on diverse cultures, both present-day and of the near and distant past. He is a true renaissance man whose golden touch will undoubtedly, over time, become appreciated by an increased following. The exhibitions of his work in Huajuapan de León and at the Museo del Arte Popular in San Bartolo Coyotepec where one piece remains on permanent display, pale compared to what's in store for Manuel… and art aficionados around the globe.
Published or Updated on: November 1, 2008