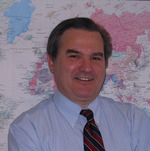 Joseph A. Serbaroli, Jr. is the grandson of the Italian artist Hector (Ettore) Serbaroli, and Mexican grandmother Josefina Sini Serbaroli.
Educated in New York City schools, he holds a Bachelor of Arts degree from Hunter College of the City University of New York, where he graduated with honors. He moved with his wife to Munich, Germany where he lived and worked for almost ten years.
Since his return from Europe, Joe has continued his career in business management. He has two daughters, both graduates of Barnard College of Columbia University, and one of whom is an officer in the U.S. Marine Corps.
In between his career and raising a family, Joe has found time to pursue his avocation as a freelance writer, publishing articles on a variety of subjects. He is working on a biography of his grandfather, and recently finished a feature article for Perspective Magazine, a publication of the Art Director's Guild.