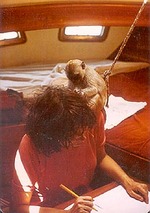 I first came to Mexico in the late '60s on a summer vacation. Within a month of my arrival, I wrote my tenants to keep subletting the apartment and wrote a letter of resignation to the school where I taught. I stayed seven years. I eventually lost my apartment in New York City and never again worked or lived in the States, but it was all worth it.
Mexico was an exciting place to be in those years — vibrant and multicultural. It was a year before the '68 Olympics. The arts were thriving, and the intellectual community was very much alive with Latin American writers in exile or in residence, and Americans and Europeans discovering the rich culture of the country and not inclined to leave. European artists had discovered Mexico as a touchstone for inspiration, and American poets were caught by its rhythm and sensibility.
I first worked at the atelier of an old friend, Hugo Velasquez, a Mexican potter I had met when we were both art students in New York City. I later had the good fortune to meet Anita Brenner at one of Leonora Carrington's famous all afternoon lunches and was offered the possibility of writing for her English language magazine, Mexico This Month. The job was exciting but Brenner wasn't known for her generous wages.
I had two small children and myself to feed and needed to find something more substantial to keep food on the table and a roof over our heads. That's when I first started teaching English as a second language first at the Ibero-Americana University and later in a girl's high school where I could get longer hours and better pay.
I did some proofreading and a book criticism or two for El Corno Emplumado, a bilingual poetry review run by my wonderful and talented friend, Margaret Randall, and her then husband, poet Sergio Mondragon. In general, I thrived along with my two small children in this culturally rich atmosphere.
I left Mexico with a heavy heart in '73 and emigrated with my children and future husband to Montreal, Quebec. There, I taught in the regular school system and was eventually offered the possibility of setting up the art department for an experimental fine arts elementary school where I taught until my husband and I decided to take off for Taiwan to build a yacht, a dream we had in mind before leaving Mexico.
We set out to look for the ideal spot on the planet to call home. We sailed the China Sea into the Indian Ocean and up the Red Sea into the Med. Everywhere was exciting. Nowhere felt like home. We eventually sold the boat in Mallorca, sailed it to Barcelona for the new owner, spent sometime in France, my husband's birthplace, returned to Montreal, and eventually separated.
Back in Montreal, I designed and sold my mugs and T shirts, taught ESL at two of the Universities, and studied and eventually became a master certified handwriting analyst. Life seemed settled but my heart wasn't there.
With my husband gone, my children on their own, and no ties to hold me, I once again felt the pull of Mexico. Three days after arriving in Ajijic on a vacation, I put money down on a piece of land, and 6 months later I moved into my house, the first one I had ever owned. This time, I thought, I'm here to stay.
I loved the people, the culture, the climate, and my baby orange tree struggling to produce its few luscious fruit. I wrote a monthly "Dear Rita" handwriting analysis column for a local monthly magazine, and I sell my linocuts and etchings at one of the town's many galleries when I have the time to produce. I thought finally home, and life was good.
But life held another destiny for me, and several years ago I had to sell my house and return to Montreal. I've left the country but my heart will always be in Mexico, and I return whenever I can. I still hope to one day call it my permanent home.