My Place of Work – CEDEM
Guadalajara, Jalisco, México.
My Community Links My Education High School Tec de Monterrey. Monterrey, N.L., 1968. College/University ITESO. Guadalajara, Jal., 1972. MBA IPADE. México, D.F., 1975. My Group Affiliations Occupation Business manager and consultant. Current Employer PostalNet. Service Organization Amnesty International. Service Organization Camagüeyanos por el Mundo. Service Organization Fraternidad Cubana. Languages Spoken Spanish; English. Religious Affiliation Catholic.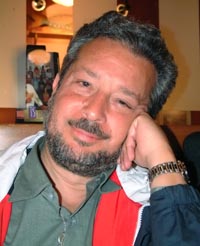 My Personal InterestsFavorite Music/Groups Opera; symphonic music; good ol' rock. Hobbies/Crafts Reading; writing; orchids. Areas of Study/Research Business growth management. Politics I would like to see a free Cuba. Philosophy/Religion Catholic. Books/Authors Siglo de Oro español; Latin American literature. Food & Wine Cooking; slow food; fine wines. Sports/Outdoor Activities Pistol target shooting.
My Favorite Net HangoutsWeb Pages
The Hunger Site
Fraternidad Cubana
MexConnect
CubaNet
My Personal Profile
Birthday: June 26th. Age Range: 51-60. Gender: M
"Nadie fue ayer, ni va hoy, ni irá mañana
hacia Dios
por este mismo camino que yo voy.
Para cada hombre tiene un rayo nuevo de luz el sol,
y un camino virgen Dios".
"Nobody went yesterday, nor goes today, neither will tomorrow
towards God,
in the same way I travel.
For each man has the sun new light;
a virgin road, God."
León Felipe