Once Craig "Cisco" Dietz gets a notion in his head, nothing can stop him. So, when at age 45, he got the idea of opening a photo workshop in San Cristobal de Las Casas, he did it. Today, he runs Aper Tours, photo workshops for groups of three to five people in his adopted state of Chiapas, Mexico.
This new career path is paved by more than two decades of study and work in the field of photography. He earned a B.A. from the UCLA Motion Picture/TV program in 1974 and soon thereafter opened his studio in Los Angeles, quickly gaining a reputation for celebrity portraits and album covers.
He began focusing on photography as art in 1978 when, one late and hazy night in his studio, he accidentally discovered the technique now known as Polaroid Transfer. He explored this new realm with grants from The Polaroid Corporation. His work from this period hangs in The San Francisco Museum of Contemporary Art, the New Orleans Museum of Art, and the Polaroid National and International Collections.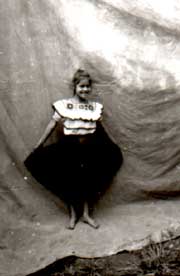 During this time, he also taught at UCLA and in 1985, after moving to New Orleans, he started the photo department at the New Orleans Center for Creative Arts (NOCCA). Commercial clients in the States still lure him back to the states for special projects, but most days he's minding his business in San Cristobal.
It's a business that got off to a slow start, because having sold his home in New Orleans and bought a house in San Cristobal, Cisco was packing for the move when a new flash came on TV. The Zapatista rebels had taken over his new hometown. That was New Years Day, 1994. By mid-January a truce was signed and the Dietz continued his plans. But the uprising and unsettled political situation made people wary about Chiapas for awhile. "I figure it, the Zapatistas, turned my five-year plan into a six-year plan," Cisco says. "But they also gave me incredible advertising. They put Chiapas on the map. San Cristobal was a sleepy village until the rebels came along. Now tourism is great!"
He describes his workshops as a mix of 1990s technology with a laid back '70s mindset. Central to the Aper Tour experience is spending a week in a gracious century-old colonial house (the home of Cisco), where rare wild orchids, herb gardens and fruit trees are part of the family. After a day of photographing the countryside, city sights, or native villagers, students often end with up swapping tips and tales around the fireplace in the evening. "The best thing about running this school is that the great majority who come here as students leave as friends," Cisco says.