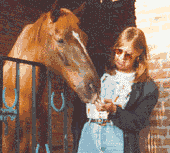 Dale has accumulated considerable experience and knowledge about Mexico, its language and culture from 25 years residence in the Lake Chapala area.
After several harrowing years of daily commutes between her home in idyllic Ajijic and bustling Guadalajara, where she worked in international relations and promotions for the University of Guadalajara, she has recently returned to freelance work (writing, editing, research, translation, public relations) which keeps her more relaxed and closer to home.
Aside from the pieces created for MexConnect, her byline has appeared in feature articles for local publications such as the Guadalajara Reporter and El Ojo del Lago, as well as the now-defunct Mexico Magazine. In 1996 her Spanish-to-English translation of El Origen del Mariachi Coculense (The Origin of the Mariachi of Cocula), by Efrain de la Cruz, was published under the auspices of the Guadalajara Chamber of Commerce, in conjunction with the city's Third Annual International Mariachi Festival.
Dale says: "My first trip south of the border was at the age of seven, but my Mexico roots run deeper still. According to family legend, my great-great-grandfather named his daughter Lillian after the Mexican beauty who stole his heart during the Mexican-American War (1846-48). My grandparents, Mary Carter and Clifton Waite, came to the sunny shores of Lake Chapala in 1952, in the first wave of U.S. retirees to settle here. I, on the other hand, am an Accidental Expatriate. I came to visit the area for a weekend in 1973 and never left!"
Dale is married to Wayne C. Palfrey, founding director of Lakeside's prestigious Oak Hill School, A.C. Their two children, Andrea and Philip, are both students (grades 3 and 2 respectively) in the school's bilingual program. The immediate Palfrey family also includes four cats, two spotted dogs and two horses.