Barbara Sands came to Puerto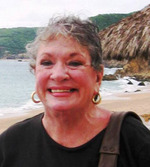 Vallarta for the first time in 1969 — just as soon as aircraft larger than DC-3s could land at the new airport, a metal shed housing immigration and customs and hot!
But the spell was soon cast and in 1981, after many visits — in a stroke of rare good luck — she bought a small residence in Gringo Gulch.
In 1997 she came to stay and has never longed for any of her earlier perches in Southern or Northern California, Manhattan, Munich, Paris or Washington, DC. Life happened, as it will, but Mexico is home.
There are many more stories to be told and Barbara hopes to contribute to the chronicles of the marvelous melding of Americans and Canadians (though not exclusively) with our loving, charming and welcoming Mexican hosts.
Trite but true, "It doesn't get much better than this!"