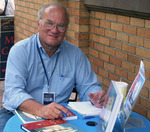 A native Rhode Islander, Thad has photographed the "Tall Ships" for over three decades. Educated in the mid-West with degrees from the University of Michigan (BA. English Honors, 1963) and Northwestern University (MA, 1965), his articles and essays have been published in Cruising World, Sea History, Classic Boat, and Traditional Boats & Tall Ships. The major events he has covered have included Operations Sail for 1976, 1986, 1992 and 2000 in New York; Sail Amsterdam '85, '90,'95 and 2000, Sail Hamburg 1989, Eurosail '93, Sail Boston 2000, 1992 and 1986, L'Armada de la Liberté, Rouen '94, Brest/Douarnenez '96 and '98 and the Cutty Sark Tall Ships races of 1987, '89, '91, '93,'94, '95, '96, '97, '98, '99, 2000, '01, '02, '03, '04, '05, '06, '07 and 2008.
In 1997 he flew to Hong Kong and covered all the races and events of Sail Osaka '97 from Hong Kong to Kagoshima and Osaka, Japan. In addition, he has sailed on the Pogoria, Zawisza Czarny, Dar Mlodziezy, Libertad, Christian Radich, Alexandria, Tole Mour, Bill of Rights, Concordia, Mir, and the Stad Amsterdam, to name a few.
His photographic credits include the New York Times, the Boston Globe, Op Sail '92, Eurosail '93, Sail Toronto 1994, Windjammer and Discovery Magazine of Cathay Pacific Airlines. He has been a member of ASTA, the American Sail Training Association for twenty years.
Thad's most engaging project has been the completion of the manuscript text and photograph selection for a book on 151 tall ships, Tall Ships: an international guide published in 1997 by Tidemark Press of Hartford, CT. A 2nd edition, featuring 175 tall ships, Tall Ships: the fleet for the 21st century, was published in 2000. In 2002, the 3rd edition of his book was published with 35 additional vessels, and the 3rd edition was re-printed in 2005. The 5th edition was released in 2009, with minor changes.
Since publication of the book, Thad has served as an "on-board" lecturer for the QE 2 and the Crystal Symphony cruise liners, and has been a consultant for ABC-TV Eyewitness News in New York. His photograph of Boa Esperanca has been made into a 45p stamp by the Irish Postal Service. He has completed work on an interactive CD-ROM on Tall Ships to be produced by Cinegram Media. During a busy summer in 2000, he worked with WCVB-TV in Boston for the "Sail Boston Parade", and with WPVI-TV in Philadelphia on their day-long broadcast of OpSail Philadelphia in June 2000.
2002 was a busy year for tall ships, and Thad. He has already published a photographic essay on tall ships for Morning Calm, the in-flight magazine for Korean Airlines featuring a discussion of the events of Sail Korea 2002. Thad also covered the tall ships events of Americas' Sail in St. Petersburg, Florida in June, and the "Festival of Sail" in San Diego in September. For the final Cutty Sark Tall Ships Race in 2002, Thad was a guest lecturer on the cruise ship, Silver Cloud, in the Bay of Biscay.
In 2003, he was aboard the Crystal Symphony for her rendezvous with the tall ships fleet in Gdynia, Poland; in 2004, Thad was the enrichment speaker on two of Crystal's cruises to the North and Baltic Seas, and the rendezvous with the tall ships in Antwerp, Belgium and Stavanger, Norway. He has been an annual enhancement speaker on Crystal for 14 years, and will return on Crystal Serenity for 2011.
2004 brought extensive travel in Europe and the west coast. Along with the Baltic cruises, Thad also covered the tall ships races in Antwerp, Stavanger and Cuxhaven. In the fall of 2004, Thad went on a lengthy lecture tour on the west coast, from San Diego to Port Alberni, British Columbia with presentations at libraries, maritime museums, and for tall ships organizing committees. In 2005, he lectured on two cruises aboard Silver Cloud, including several lectures on Lord Nelson for the Trafalgar200 celebrations.
He now lives on Narragansett Bay in Newport, Rhode Island.