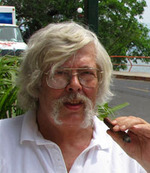 William B. "Bill" Kaliher recently retired from a career in public health.
Over the past forty years his love of archeology and adventure led him to his explore Mexico at every opportunity. Among a multitude of trips, he motorcycled Mexico solo on two occasions, the first trip in 1971.
His writing has appeared in more than 250 publications, from scholarly articles on AIDS in The World & I to archeological reporting for ClubMex Magazine to adventure off-road travel in Sand Sports Magazine.
Bill has been asked, "How should I visit Mexico?" so many times he's starting a tour business, Bill's Mexican Tours. He will be glad to answer inquires concerning Mexico.