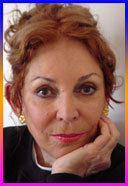 Maggie Van Ostrand was born and raised in New York City, but due to a strong westerly wind, she found herself in Los Angeles. Harvard cannot claim her, nor can Yale, Princeton or Radcliffe. On the other hand, Queens College might remember her. They certainly remember Jerry Seinfeld. Then again, maybe not.
While traveling as a roadie in the music business, she co-wrote "Home Is Where the Hurt Is" with Grammy- and Tony-winning humorist, Roger ("King of the Road") Miller. She wrote liner notes for both Roger Miller and Andy Williams. She was head writer for Goodson-Todman's quiz show, "Trivia Trap," and, as a freelancer, has ghost-written for television sitcom writers and stand-up comics. She has performed her own stand-up and some guy in the audience even laughed once. She gives keynote speeches, like the one at a swank New York hotel in 2005 on Direct Marketing and another in Gallup, New Mexico, in 2008 on Immigration before 250 Catholic Bishops (not known to be a barrel of laughs). Maggie keeps secret the fact that she knows nothing about any of the topics she has ever been hired to discuss. Each year since 2004, she has been a judge of the Erma Bombeck Writers Competition (humor) and the Arizona Press Association's Humor Column of the Year.
In 1995, Maggie began her column, "A Balloon in Cactus" for the newsmagazine, El Ojo Del Lago, for which she has received six Awards for Outstanding Literary Achievement. That column is concurrently running in El Ojo Del Mar. She was awarded Best Feature Article of the Year by MexConnect, for which she has written since 2002.
Readers cut out her columns and stick them on their refrigerators. Thanks to submitting these clips to bigtime newspapers (do you know how expensive it is to mail a refrigerator?), she became a regular contributor to the Chicago Tribune, and has been published in the Boston Globe, Newsday, the Philadelphia Inquirer, Sun-Sentinel, Amarillo Globe News, and other major newspapers and magazines, both online and in print.
Maggie now writes an entertainment column for filmschoolrejects.com as well as fandomania.com; writes political satire for huffingtonpost.com; has columns in local hard copy newspapers from California to Ohio; a column for TheSeniorNews.com; a column about Texas for texasescapes.com, and other publications who assign her different subjects. You can check her website under Publications for all the names.
Maggie lives sometimes in Ajijic, Mexico and sometimes in Pine Mountain, California, each with a population smaller than Al Pacino.