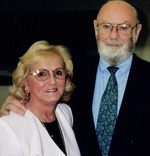 After just 42 years with the same U.S. company, Scripps Howard newspapers, Marvin West took early retirement and left Washington, D.C., at the approximate speed of a failed politician fleeing an election loss.
He had a retirement plan: spring, summer and football season on the original TVA lake in East Tennessee and warm winters on Lake Chapala in Jalisco. The first 16 annual reports said the plan is working.
Strangely enough, for eight decades West has been blessed with workable plans. Some, of course, had to be adjusted on the run. In the beginning, he wanted to be a great football player. When he realized he wasn't even good, he decided writing about football might be easier than playing.
Smart move. At 19, he became sports editor of the campus newspaper at the University of Tennessee. Suddenly, he was a professional. Pay was $25 per month.
Soon after bright, young wife Sarah helped him complete his journalism degree, West rushed eight blocks from campus and became a rookie sportswriter for The Knoxville News-Sentinel. That was 1955, his start with Scripps Howard.
He eventually graduated again, from writing about high schools and bowling tournaments to big-time sports of all sorts, including Super Bowls, the World Series, Masters golf and Olympic Games.
Along the way, West was a church deacon and Sunday School teacher, Little League manager, civic club speaker, owner-host of a syndicated radio show and president of the U.S. Basketball Writers Association. This is not border mythology. If you have an out-of-date version of Who's Who in America, you can look it up.
West won some writing awards and became a columnist and then sports editor and, in a shocking promotion, managing editor of the newspaper.
After 30 years at The News Sentinel, West went to Washington, to Scripps Howard News Service, as national sports editor. In another case of history repeating itself, West was again promoted to managing editor — of the news service, with 410 newspapers and TV stations as customers.
In addition to what he knew about journalism, West had acquired a limited working knowledge of the W. Edwards Deming management theory of how to achieve quality, efficiency and increased productivity — which leads to a greater share of the marketplace. Sounds a little stilted but it is statistically rock-solid.
West got out of the fast lane the last day of 1997. His retirement party was in the West Room (naturally) at the National Press Club. OK, there is also an East Room. His best going-away gift was a chunk of carved marble called "Career Achievement Award," a first for corporate Scripps.
West is several other things besides retired. He is Sarah's husband (since '54), father of four, grandfather of eight. He is a bass fisherman with minor credentials. He is senior partner in WESTCOM, an international communications consulting company. He is again a columnist, for a growing weekly newspaper.
He is in five halls of fame. He is the author of three sports books. Another is in his computer. Working title of what will be his fifth book is "Mexico? What You Doing in Mexico?"
Coming soon? Maybe. Little slices appear monthly in MexConnect magazine.
Marvin and Sarah West are typical snowbirds. They spend four or more months enjoying Mexico, using their winter home in Jocotepec as a travel base. They often commute from Tennessee during the rainy season.