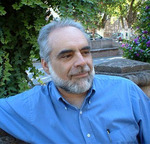 Anthony Maulucci is a poet, novelist and painter currently living full-time in San Miguel de Allende.
He was born in Hartford and grew up in suburban Connecticut. He has lived in Boston, Montreal, Toronto, New York City, and Mexico. Mr. Maulucci worked in professional theatre and enjoyed a prominent career as a freelance writer and editor before turning to college teaching in 1989. He has taught writing and literature at the Lyme Academy College of Fine Arts, the University of Hartford, and the University of Connecticut, Hartford Campus.
He is the director of the Green Tiger Writers Workshop, which offers fiction writing seminars for adults. In 1995, Mr. Maulucci founded Lorenzo Press, which he named after Lawrence Ferlinghetti, D. H. Lawrence and Lorenzo de Medici. He holds an M.A. in Liberal Studies (with a concentration in creative writing) from Wesleyan University and is a recipient of the Rosengarten Award for Fiction (Harvard University) and the Jordan Davidson Poetry Prize (Barry College).