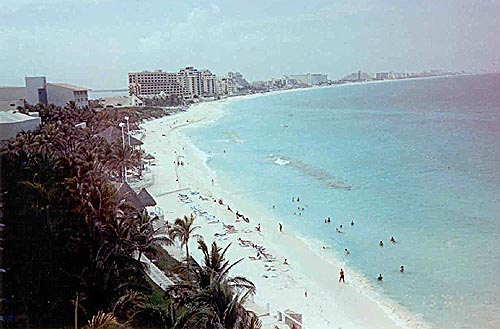 Unlike Cozumel with its abundance of dive shops, Cancun is home to only ten. But, as I discovered, this city has much to offer a diver looking for a unique diving experience.
Located twelve miles from Cozumel on the mainland, Cancun is home to some of the best diving found anywhere. While many people know that Australia has the largest reef system in the world, not as many may be aware that Cancun has the second largest reef, stretching from Cancun south all the way to Honduras. They have given the shape of this reef the name of "Alacran" which means scorpion.
While Cozumel is famous for its walls, it has very little marine life. Cancun doesn't have the walls, but there is a tremendous amount of marine activity. According to Dan Beadoin, owner of Blue Peace Diving, one can find over 250 species of fish including dolphins, eagle rays, schools of jacks and African Pompanos.
Cancun is also home to the longest system of caverns in the world. The locals call them "Cenotes" which is a Mayan word for cavern. These dive sights offer some truly spectacular opportunities for up close and personal aquatic life contact.
Some of the most popular tours on Cancun are the shipwreck sites. There are two U.S. Navy WW II vessels that serve as artificial reefs. These include a C-55 Gun Ship and a C-58 Minesweeper. Additionally, the Mexican government sank a tugboat called "Ultrafreeze" offshore to help promote undersea exploration.
Although dive centers on this part of the Caribbean Coast are not as plentiful as Cozumel, they do offer a full range of services. One can find all levels of instruction from first timers to advanced professionals. Some local operators boast that they can offer high levels of service using small, high-speed boats, taking smaller groups and using Global Positioning Systems (GPS) to pinpoint the many unique locations.
Cancun is a young city, being only about 30 years old, but it truly has something to offer everyone who loves scuba diving and snorkeling as well. One of the best snorkel locations is called Xel-Ha , (pronounced Shell-Ha). Located about one hour south of Cancun, this large protected habitat has an enormous snorkeling area where one can see all manner of sea life including some very large fish. The waters of Xel-Ha have a unique combination of saltwater from the Caribbean and freshwater from underground rivers of the Yucatan. Add to this a dolphin pen, a Mexican buffet and even hammocks for that late afternoon siesta and you have a great experience for the whole family.
From exploring a Mayan reef to night diving or hovering in an underwater cave, Cancun has enough wonders to keep an inquisitive diver busy for weeks. So the next time you are thinking about Mexico, consider this often overlooked city for your next underwater adventure.
For more information on Dive Centers and Charter services on the Caribbean Coast go to https://search.freefind.com/find.html?id=3133929&pageid=r&mode=ALL&query=cancun.
Published or Updated on: January 1, 2002