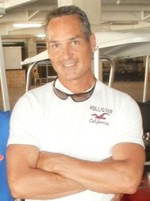 I was born and raised in Orange County, California and currently reside in Las Vegas, Nevada. I am listed in the 1989 edition of "Who's Who Among Young American Professionals."
I received my real estate license as a gift to myself for my 21st birthday in 1981. It is still active today as is a Nevada real estate brokers license. I have also been a licensed mortgage banker and broker and held series 6 and 63 licenses from the NASD. In the late 1980s, I was a lead broker who assisted the RTC (ResolutionTrust Corporation) in liquidating assets owned by them in Southern California.
I have also been a CASA (Court Appointed Special Advocate) for children in the Nevada Family Court System and recently co-authored a helpful consumer guide published on Amazon, called, "Should I Short Sale My Home?"
I was president of the largest youth soccer organization in Southern Nevada, Sagebrush Youth Soccer League and met a ton of great people in and out of the organization who played a large part in shaping and fueling my daughter's passion.
My teenaged daughter is a competitive club soccer player and has her sights set on competing on our US Olympic team and becoming a marine biologist. Or a sports therapist. Or wait, maybe that was forensics?
I have two cool dogs. And I blog about Isla Mujeres, Mexico, as Our Man on Isla.