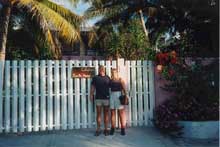 My wife, Teresa, and I have spent a lot of time in Mexico, traversing the landscape of this magnificent country from one end to the other and coast-to-coast.
In October of 1995, I joined the ranks of vintage car racers and participated in the La Carrera Panamericana road race that covers some 2,000 miles in seven days. The rally begins in Tuxtla Gutierrez, Chiapas and ends in Reynosa, Tamaulipas at the south Texas border. After entering the race for a second time in 1996, I was hooked on Mexico and it's people. In 1997 I met Teresa and it was love at first sight. We both particated in the race again in 1997, this time as observers.
For Christmas that year I took my two teenage children to the enchanting town of Ajijic and then onward to the coastal charm of Manzanillo. In February of 1998, Teresa and I returned to Mexico and vacationed in the Yucatan Peninsula, exploring the Caribbean coastline from Cancun to the border of Belize.
The tiny fishing village of Puerto Morelos tugged at our hearts because of the simplicity and innocence exuded by the town and its people. This is a place where afternoon siestas in a Mayan hammock are the norm. We discovered that Cabanas Puerto Morelos was for sale and subsequently purchased the property from former ex-patriates Coni and Bill Butcher who had lived there for 12 years.
It had been my dream for many years to retire by age 50 and move to Mexico. I celebrated my 50th birthday in September of 1998 in Puerto Morelos. So, in a year's time Teresa and I met, fell in love, got married, sold everything and moved to Mexico!
You are always welcome to stay at Cabanas Puerto Morelos. We have three lovely one-bedroom one-bath units complete with kitchenettes. The floors are done in tile and marble. Mature palms and a wide variety of tropical plants fill the gated courtyard. An in-ground pool complements the grounds. The white sand beaches and crystal clear waters of the Caribbean are just steps away.