During the month of July . . .
July 1, 1823. At the Congress of the United Provinces of Central America, held in Guatemala City, it is decided that Nicaragua and Guatemala (who had joined Mexico of their own volition on January 5, 1822) should be separate entities. The Province of Chiapas votes in favor of remaining with Mexico.

1, 1968 Disturbances and strikes begin in various colleges and universities in Mexico City. Three months later, security forces open fire on a rally of unarmed students, killing hundreds and wounding many more.
DOWN WITH DICTATORS! NO MORE RE-ELECTION!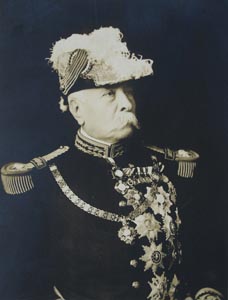 2, 1915 Porfirio Diaz (born September 15, 1830) dies in Paris. Diaz was President for more than 30 years, serving a total of 7 terms from 1877-1880 and 1884-1911. His rule ended with the outbreak of the Mexican Revolution. A much decorated General, Diaz had fought against the Americans (1847), the French (1862-4) and the Imperialists (1864-7). The nation's railroad and highway system were greatly improved by his administration. His critics demanded "No more re-election". Today, Mexican presidents are not allowed to serve more than one six-year term in office.
3, 1852 The famous engraver and print-maker, José Guadalupe Posada, is born in the city of Aguascalientes. Posada's popular art, featuring "calaveras" or skeleton figures, influenced Orozco and Rivera. A museum in Aguascalientes commemorates his highly productive life.
3, 1868 Alfonso Herrera is born in Mexico City. He becomes an eminent teacher and natural historian and helps establish the Botanical Gardens in 1922 and the Chapultepec Zoo the following year, both in Mexico City.
4, 1952 The death of famed novelist José Ruben Romero (born 1890 in Cotija de la Paz, Michoacan). Romero worked in a variety of fields including journalism, the diplomatic service, and as university dean. His most famous work is "La vida inútil of Pito Pérez".
6, 1824 Chihuahua is formally declared a free and sovereign State.

6, 1840 Jose Maria Velasco, the world-famous Mexican landscape painter, is born. Velasco won an award at the 1892 Chicago World Fair. Inspiration for his classical paintings came from the volcanic and valley landscapes of central Mexico. Trivia item: Velasco had 13 sons.
MEXICAN NIGHTINGALE DIES – NATION MOURNS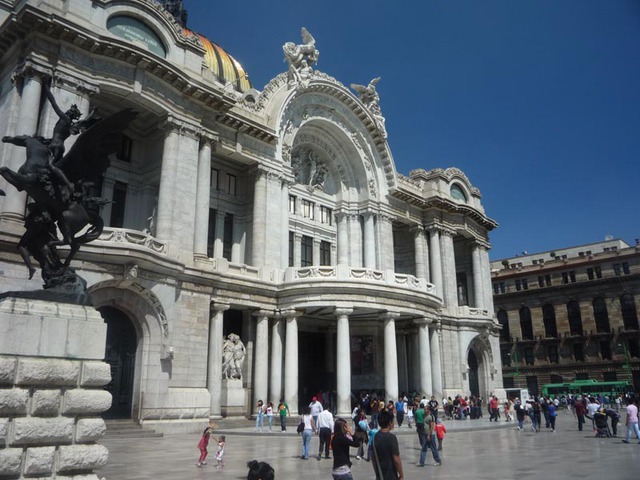 5, 1845 The birth of Angela Peralta, Mexico's most famous female Opera singer ever. Known as the "Mexican Nightingale", she spends several years in Europe and then returns to tour Mexico. She is the opening-night star at several theaters, including the Degollado Theater in Guadalajara in 1883. Her career is cut short when she dies of cholera while in Mazatlan shortly afterwards.
6, 1917 Mexico's first airmail service is inaugurated, between the mining town of Pachuca and Mexico City. The fifty minute flight carries 534 letters and 61 postcards! Mexico's first airmail postage stamp is not issued until five years later, in 1922.
9, 1929 The National University is awarded "Autonomous" status by presidential decree. From this date the university is formally known as the U.N.A.M. (Universidad Nacional Autónoma de México).
10, 1519 Hernan Cortes sends a letter to King Charles V of Spain notifying him of the founding of Villa Rica, Veracruz, the first "new" settlement in Spanish territories in the Americas. Accompanying the letter are various unusual gifts including several aboriginals.

12, 1530 The Government of New Spain passes a law which prohibits native Mexicans from using or owning horses. Legend has it that the first woman to ride a horse had been Eréndira, a niece of the Tarascan Indian Emperor, about ten years earlier.
FIRST U.S. AMBASSADOR TO MEXICO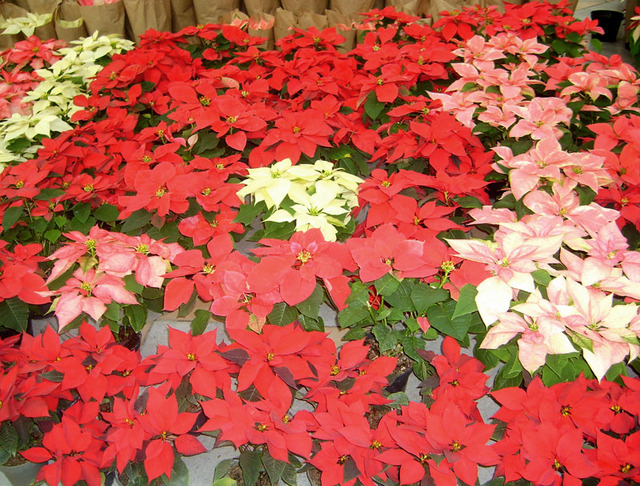 12, 1825 Joel Poinsett presents his credentials as the first U.S. Ambassador to Mexico to President Guadalupe Victoria. Poinsett is better remembered for having introduced the Nochebuena plant (known today as the poinsettia) to the U.S.
12, 1902 Jesús Contreras, famous as a sculptor, dies in Mexico City at the age of 36. Contreras was a prolific worker despite having only one arm. Several of his statues can be seen adorning Avenida Reforma, one of Mexico City's principal avenues.
13, 1745 Eduardo Tresguerras is born in Celaya. Tresguerras becomes one of the country's top artists and architects. Examples of his neoclassic chapels, fountains and monuments can be seen in many central Mexican states, including Querétaro and Guanajuato.
13, 1883 José Rosas Moreno dies in León, Guanajuato. Rosas Moreno was an illustrious educator, poet and journalist, widely considered the finest writer of fables Mexico has ever seen. His birthplace was renamed Lagos de Moreno in his honor.
13, 1894 The composer and violinist Juventino Rosas dies in poverty in Cuba. Rosas (born 1868) performed in public from the age of 7 and was a prolific composer whose works included the immortal waltz "Sobre las Olas" (Over the Waves), originally called "Junto al Manantial", which he sold for just 17 pesos. At the age of 15, he accompanied Angela Peralta on her last tour (see July 5).
15, 1867 President Benito Juárez enters Mexico City in triumph, after fighting the French and defeating the supporters of Maximilian. This signals the start of the Mexican Republic.
16, 1826 The United Kingdom finally recognizes the Independence of Mexico. Independence from Spain had been "achieved" or "granted" (depending on which side of the Atlantic you come from) in 1821.

16, 1944 Mexico's 201 Air Squadron leaves for training in the U.S. before entering the campaign against the Japanese on April 30, 1945.
DEATH OF A GREAT LEADER.
18, 1872 President Benito Juárez dies while still in office. Considered one of Mexico's finest ever politicians, Juárez came from a humble background in the state of Oaxaca. He rises through the ranks of state politics to become State Governor and enters the national political arena as Justice Minister in 1855. He becomes national President in 1858. Reelected in 1861, he faces an international diplomatic crisis that same year when he announces a suspension of foreign debt payments. Settlements are reached with England and Spain but France invades Mexico the following year. Subsequently, Juárez leads the fight against Emperor Maximilian and regains the presidency in 1867.
20, 1520 The Spanish Conquistadors, led by Hernan Cortes, enter the Aztec capital Tenochtitlan and begin to destroy the city, house by house.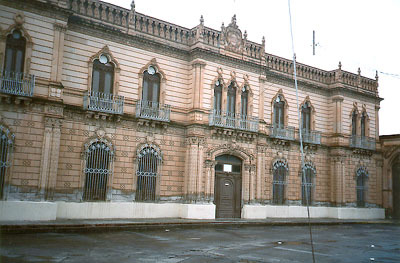 20, 1923 Francisco "Pancho" Villa dies in Hidalgo de Parral, Chihuahua. He was one of the most formidable figures in the Mexican Revolution. On one occasion in 1916, he even crossed into the U.S. to attack the fort in Columbus, New Mexico, in retaliation for the U.S.'s recognition of Carranza as President.
22, 1800 Manuel Lopez Cotilla is born in Guadalajara. Lopez Cotilla becomes a distinguished politician and educator, and is responsible for developing noteworthy textbooks.
23, 1810 Father Miguel Hidalgo makes known to his fellow conspirators (Allende, Aldama, Josefa Ortiz de Domínguez, Abasolo and others) his plans for starting a rebellion against Spain, designed to result in an independent Mexico.

24, 1888 By decree, the city formerly known as Paso del Norte in Chihuahua is renamed Ciudad Juárez, in honor of Benito Juárez.
SPANISH INVASION!
26, 1829 Spanish expeditionary forces, 4000 strong and led by General Isidro Barradas, land on the coast of Veracruz hoping to reestablish Spanish control over Mexico. They surrender September 11.
27, 1529 Charles V of Spain grants Hernan Cortes the land on which the National Palace stands today, in the center of Mexico City.
27, 1780 Anastasio Bustamante, who became President of Mexico on three occasions during the nineteenth century, is born in Jiquilpan, Michoacan.
28, 1957 A strong earthquake, measuring 7.5 on the Richter scale, rocks Mexico City early in the morning. Some 60 residents lose their lives. A well-known monument on Avenida Reforma, the "Angel of Independence", falls off its pedestal, crashing onto the road below.
30, 1811 Father Miguel Hidalgo, the leader of the Mexican independence movement, is executed in the city of Chihuahua. Hidalgo began the insurgent movement against the Spanish in the early hours of September 16, 1810. He arrived in Guadalajara in December of that same year, and his proclamation guaranteeing freedom for slaves was the earliest issued anywhere in the western world.
The main source for this series is Efemérides Mexicanas by Noé Solchaga Zamudio and Luisa A. Solchaga Peña, published in two volumes by Editorial Avante, Mexico City, 1983.
Published or Updated on: May 24, 2020