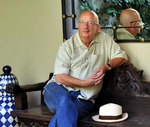 John Scherber, a Minnesota native, settled in Mexico in 2007.
He is the author of ten Paul Zacher mysteries, (The Murder in Mexico series), set in the old colonial hill town of San Miguel de Allende, as well as his award-winning nonfiction account of the expatriate experience, San Miguel de Allende: A Place in the Heart. In addition, two volumes of the Townshend Vampire Trilogy have appeared, and two paranormal thrillers titled The Devil's Workshop and Eden Lost.
His work is known for its fast pace, irreverent humor, and light-hearted excursions into the worlds of art and antiques — always with an edge of suspense. Neither highbrow nor lowbrow, his books are written as entertainments and dedicated to the fun of reading. While he has acknowledged being no single one of his characters, he also admits to being all of them.