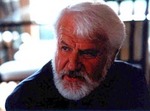 James Tipton lived in Ajijic, Mexico, on the shores of Lake Chapala, where he wrote poetry and enjoyed village life. His work is widely published, including credits in The Nation, South Dakota Review, Southern Humanities Review, The Greensboro Review, Esquire, Field, and American Literary Review. He is also included in various anthologies and other works, most recently Aphrodite, by Isabel Allende (1998), Bleeding Hearts, edited by Michelle Lovric (1998), The Geography of Hope, edited by David J. Rothman (1998), and The Intimate Kiss, edited by Wendy Maltz (2001), Charity, edited by Rosemerry Wahtola Trommer (Red Rock Press, 2002), Hope, edited by Sophie Elise Lalazarian (Red Rock Press, 2003), Haiku: A Poets Guide, edited by Lee Gurga (Modern Haiku Press, 2003), Readings for Weddings, edited by Mark Oakley, Vicar of St. Pauls (Society for Promoting Christian Knowledge, 2004), and Erotic Haiku, edited by Hiroaki Sato (IBC, 2004).
A collection of poems, Letters from a Stranger, with a Foreword by Isabel Allende (Conundrum Press, 1998), won the 1999 Colorado Book Award in Poetry. His most recent collections of poems are Proposing to the Woman in the Rear View Mirror (www.themetpress.com, 2008), Washing Dishes in the Ancient Village/Lavando platos en el antiguo pueblo (Ediciones del Lago, 2009), and All the Horses of Heaven/Todos los Caballos del Paraíso (www.themetpress.com, 2009)
Mr. Tipton was a popular speaker and reader at conferences and workshops. In addition to workshops on writing, he also offered workshops on a variety of spiritual topics.