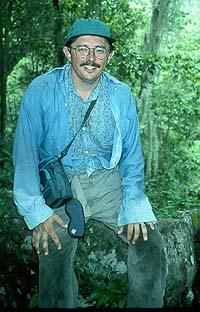 After receiving my B.A. in geography I spent several years working in the kind of jobs that allowed me to spend considerable free time exploring the mountains and deserts of the West, usually in the form of backpacking treks. On a friend's recommendation I headed to Mexico in the mid '70's and stayed for six months, traveling overland along the "Gringo Trail" as far south as Bolivia.
From then on I was hooked on Latin America and returned to school receiving a master's degree in Latin American geography. The land of the Maya became my area of primary interest but upon receiving my degree an invitation to participate in a research study at Lake Titicaca in Bolivia and Peru allowed my wife, Susan and I to spend a year concentrating on the Aymara fishermen of the lake.
As a bilingual teacher in California schools I have spent many vacations returning to Mexico, Guatemala and the Andes, occasionally leading tours of teachers and students to Yucatan and Peru. My long-standing interest in the Maya and southern Mexico has given me wonderful insights into the geography, culture and archaeology of that fascinating region.
I am an active participant in several internet message boards offering advice to travelers interested in visiting the land of the Maya and the Central Andes. I am a frequent contributer to the website at www.mostlymaya.com