Photo Gallery: Visiting the Moon Goddess: A Day on Isla Mujeres
In bustling Cancún, we connected to old world dining at La Parilla on Avenida Yaxchilán in the Centro or downtown district of the city. Here in the lovely tiled interior, mariachis serenaded us while we dined on camarones a la tequila and Huarache Azteca con popal y arrachera.
We also shopped at the sprawling La Isla Cancún Shopping Village, with its upscale stores, rode the Ferris Wheel there, and were over-served way too many Palomas as we stood in the warm waters of the Caribbean.
It was time for a different take on the State of Quintana Roo and, luckily, that change was just a short ferry ride away.
Plying the waters of Nichupte Lagoon as it cuts through the center of Cancún, a journey past thickets of jungle and the ongoing expansion of this popular international tourist destination, our boat pilot tells us that centuries ago the women of the mainland who wished to have a child swam to Isla Mujeres. The name translates as the Island of the Women and that's where Ixchel, the Mayan Moon Goddess had her temple. Ixchel had the power, the legend says, of granting fertility. Hence the reason for the visit of infertile women across the Bahía de Mujeres or Bay of the Women.
I hope they didn't really have to swim and then climb up the 65-foot rock cliffs of Punta Sur to Ixchel's temple. Surely there were canoes to make the trip that today takes 25 minutes by motorized ferry. But no matter how you arrive, the view is breathtaking—the waters surrounding the island are striated with shades of blues and greens.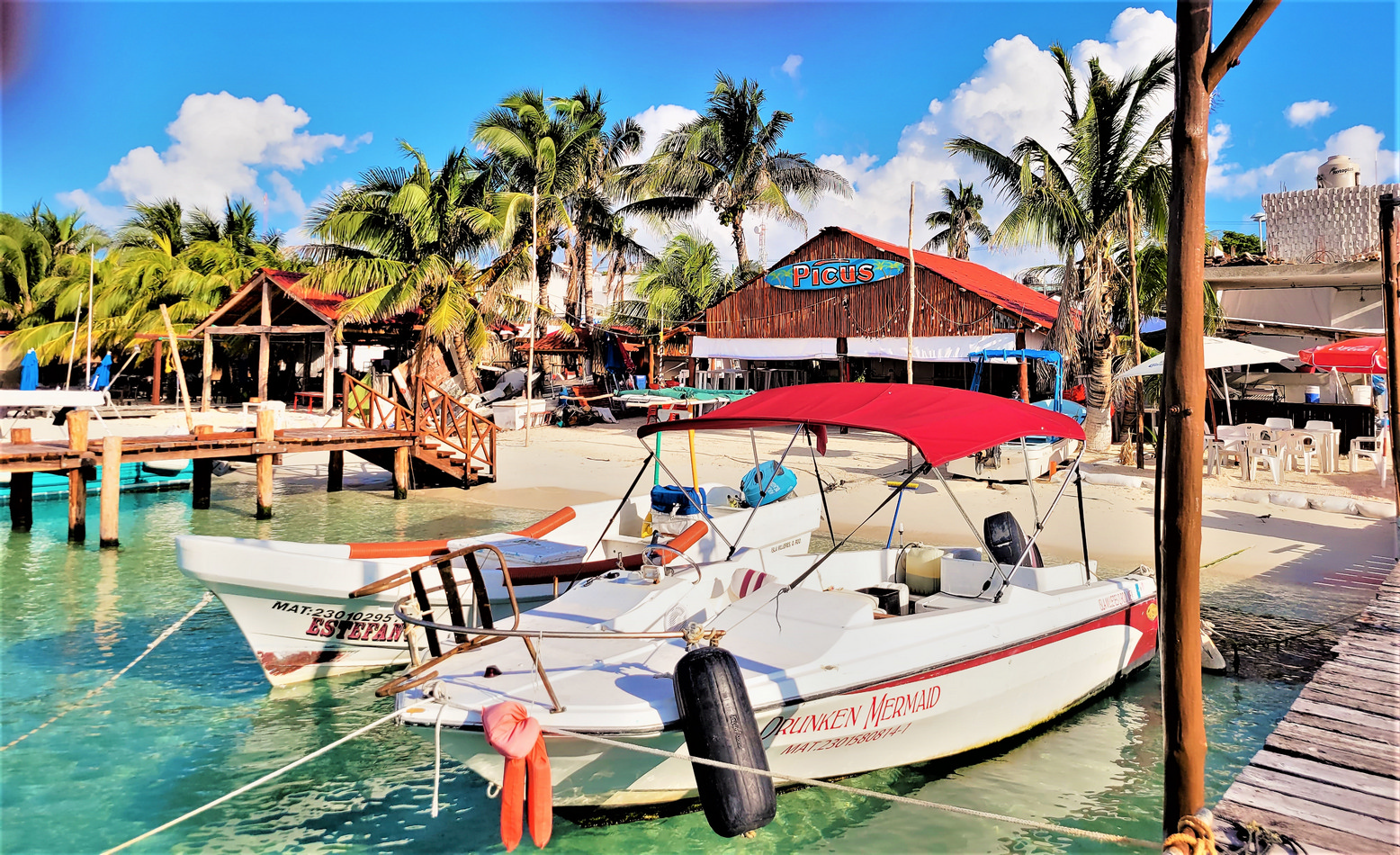 We didn't have to climb the cliffs, but instead docked at the long pier in front of the Miramar Lobster House on Av. Rueda Medina in the downtown. A sandy beach restaurant in business for a half-century, it is being renovated after an explosion took out about six businesses on the street. We order grilled fish and freshly made guacamole and plan our day. Some in our group think a piña colada might help with the planning, but I abstain as I'll be driving the golf cart we've reserved for exploring the island.
There are all sorts of activities to sign up for—kayaking, diving, zip-lining, swimming with dolphins, and even the opportunity to indulge in an ancient Temescal—a type of spa cleansing treatment dating back to Mayan times that involves medicinal herbs, heated volcanic stones, and steam. But our only goals are to visit the temple and snorkel in the clear waters.
Miramar is just down the street from Coco Cart Rentals and so that's our next stop after visiting a store or two. I opted out of hiring a guide, thinking it couldn't be difficult getting to the southern tip of an island that seems to be just two main roads and is half a mile wide at its widest point.
Well, maybe it isn't that easy after all, but we're fortunate to join up with other tourists heading to Ixchel's Temple. Soon we've left the traffic of the town behind, driving south past rows and rows of mansionesque homes. It's been two decades since I was last on the island and I don't remember anything like these stunning houses, including the one that I find out later is called The Shell House. It's an apt name because it's shaped like an enormous white shell with a conch-like spiked tower overlooking a swimming pool. It rents for about $300 a night. I mentally add it to my ever growing list titled "when I get rich."
The island ends at Garrafon Reef Park (there's an entry fee) where Ixchel's temple is located. Her temple doesn't compare to the magnificence of other Yucatán ruins such as Tulum and Chichen Itza—is this a woman thing? I wonder. But it still is a piece of Mayan history. Worn down by rains and winds during its 1500 years, Ixchel's temple not only was a place to plea for a child but also probably served as a lighthouse to warn boats away from the rocky cliffs and bays. We view the rugged stone and I feel, as I always do, that strange, overwhelming sense of centuries past tugging at me—as if I could somehow reel back into the ancient times if I just knew the right words. Of course, I would have only made that trip if it was by canoe. That's just the way I am.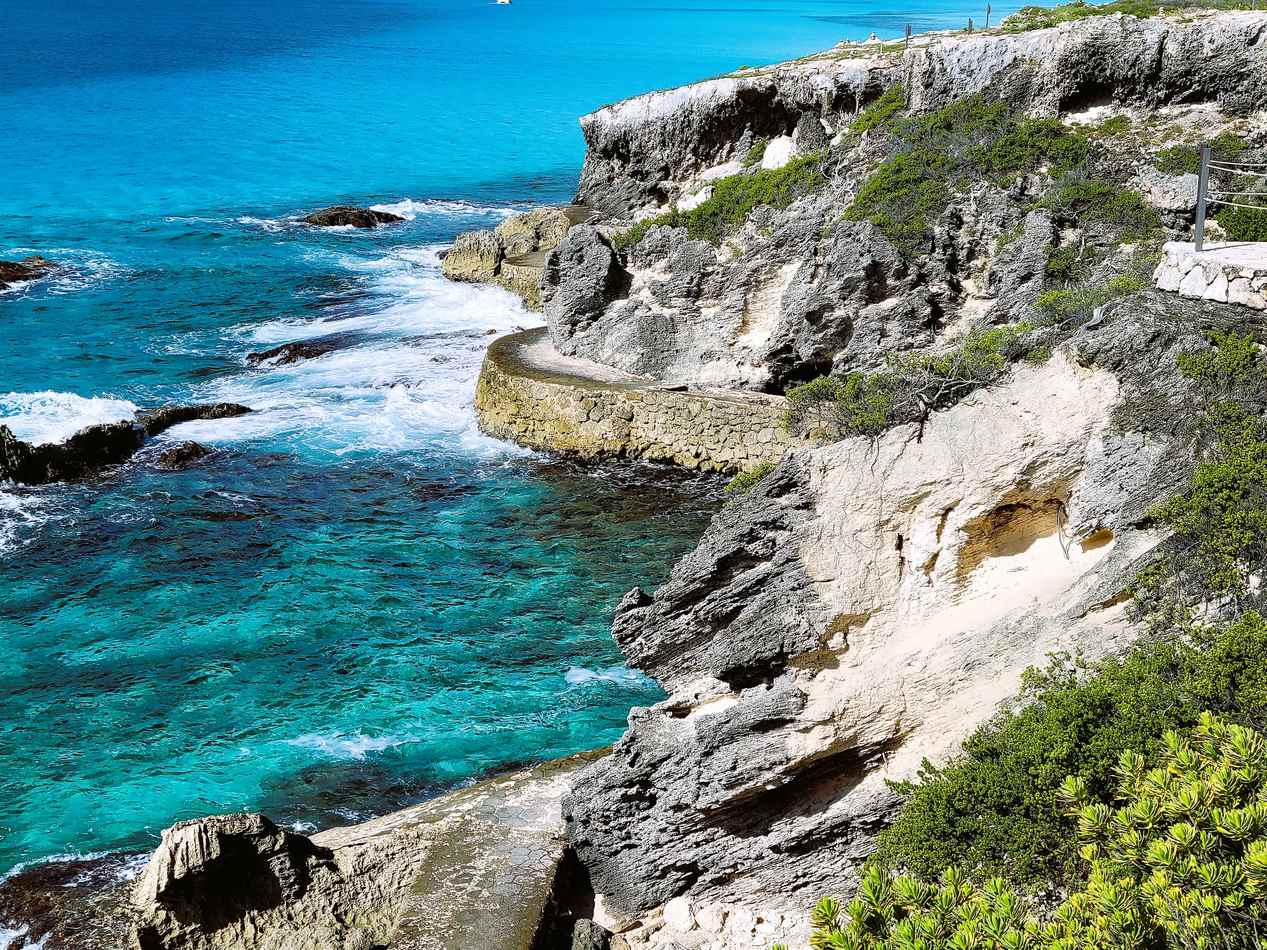 The beach and the reef below are accessible by an easily navigable path but it means a climb down—and then, of course, back up. The reef is known for its beauty and as a place to snorkel without even having to be a good swimmer. Or you can remain on top. There's plenty to do here, such as exploring the sculpture park, visiting the turtle farm, joining others who are building small structures out of the smooth round stones lining the clifftop, ordering a horchata or beer at the open-air restaurant next to the lighthouse, and peruse the small shopping plaza.
Next we travel the length of the island to Playa Norte or North Point, the northern point of the island, often described as one of the most beautiful beaches in the area. The water is warm, and so clear that even waist high you can see your feet on the white sand sea floor. We've brought snorkels and swim amongst dense schools of fish—some pale white, others white with thin black stripes.
They seem friendly, circling around and coming close enough that I sometimes wave them away. Not fazed by my gestures, they always return, making it easy to snap great underwater photos with the small disposable camera I brought along. Later when I get home and have the photos developed and displayed, people will marvel that I was on some great diving excursion. But of course that isn't true.
Related articles on MexConnect
Published or Updated on: January 25, 2022