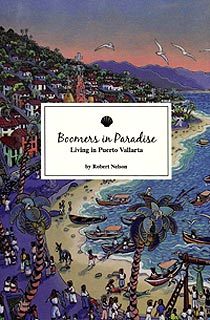 Robert Nelson's Boomers in Paradise: Living in Puerto Vallarta, profiles fourteen "baby boomers" who now reside in Puerto Vallarta, The book, though, will be of interest to any expatriate (or would-be expatriate) whether or not they live in Vallarta.
Nelson has lived in the "Jewel of the Mexican Riviera" for six years. As he eased himself into local life, he discovered that even though he was only fifty-nine when he moved to Vallarta, many permanent expatriates were younger, in some cases much younger.
"Born in 1943, I was considered an older sibling of the baby boomer generation." Baby boomers are those born between 1946 (immediately after World War II) and 1964 (when the use of the birth control pill become widespread), and they are "over seventy-eight million strong." As Robert "began to know more people, he could see a major lifestyle trend emerging: baby boomers were not waiting for retirement to enjoy paradise. As always, the highly independent, adventurous boomers wanted what they wanted, now." Baby boomers were not "willing to settle for the ordinary."
For most of them, living in Vallarta necessarily means working in Vallarta. Regarding the options for working, Cynthia Sams, one of those profiled, says, "Basically you have time-share, real estate, or you can start your own business."
Puerto Vallarta has changed a lot since 2000 when it "had roughly fifty million dollars in resort real estate sales" and when there were "rarely homes selling for more than one million dollars and few large real estate developers." Less than a decade later, in 2007, "there was more than five hundred million dollars in resort real estate sales, with condos selling for over two million dollars and homes in excess of five million dollars. There were more than one hundred developments spread out around Banderas Bay, allowing Puerto Vallarta to lead in sales volume for resort real estate in Mexico, ahead of major markets such as Los Cabos, Acapulco, and Cancun."
Nelson profiles fourteen individuals, single, married, widowed, or with "committed partners." With the exception of two couples who are indeed actually "retired," all of those profiled in Boomers in Paradise work in Vallarta, or near Vallarta, usually in real estate but also in hotels, publishing, and in health and body care. Most continue to love Vallarta but likewise most are concerned about the dramatic changes that have taken place in their beloved town as it has turned into a city, and a very busy (and polluted) one at that. Retired committed partners Cynthia Sams and Andre Riviéra "have begun thinking about moving to a smaller town more like Vallarta used to be."
Maria O'Connor, an attorney for Tropicasa Real Estate, actually left Vallarta and went to Rome "thinking it might be an even better place to live." But Maria returned to Vallarta "for one important reason: the people. The people who live in this city are the nicest people I've ever met."
Debra Old, a widow, grew up on a Saskatchewan prairie farm. She and her husband Jim began vacationing in Vallarta in 1982 and, when she found herself widowed and still only in her mid-forties, in 2000 Deb moved to Vallarta, "based only on an emotional connection she had developed over the years they had been coming to PV on vacation." Deb bought a house in the Las Gaviotas section, but in very recent years she has realized Vallarta is a very different place from when she moved there eight years ago: "She remembers how quiet it was with far fewer cars, a simpler life, and not nearly as many expats."
Another concern, shared by some others in the book, and also shared by Deb's Mexican friends: Vallarta is "the worst city in Mexico to drive in, even worse than Mexico City." Deb's solution? On one of her visits to San Sebastian del Oeste, a little mining village east of Puerto Vallarta and up in the mountains, she fell in love with a charming old hacienda, bought it ("a major fixer-upper"), and she has been busy ever since, "Bringing it up to the quality level of a first-class bed and breakfast." Hacienda Esperanza de la Galera opened its doors on January 1, 2008.
In these fourteen profiles you'll also meet people like Krystal Frost, from Missoula, Montana, a "baby boomer flower child raised in the California desert," who as a young woman spent eight years in South America, "working as a waitress, modeling, theater, and work as an interpreter at American embassies" (and also spending two years in a Colombian prison). Krystal had done no research on Vallarta before she arrived in 1986, but quickly she became property manager for a large villa. Restless, she took a crack at selling time-shares ("a job of both choice and necessity for most adventurous baby boomers who come to Vallarta without a job"). But Krystal was interested in starting a body-healing business, and so she began teaching yoga at a Vallarta hotel, expanded to include massage, and then in 1995 she opened her own business, Body and Sol, on the south side of town. Since then she has expanded into marketing organic coffee produced up in the mountains in San Sebastian.
Fascinating stuff!
Charlie Rondot, a Canadian who now sells real estate for Coldwell Banker, has "'really noticed the change in traffic congestion. Parking downtown is also a problem, even with the new parking garages. But, hey, let's face it. This isn't a small town anymore; it's rapidly evolving into a large, modern city.'" But Charlie still loves the city: "'The really cool thing, though, about living in Vallarta is the number of simple things that you can do, like watching a sunset or walking on the beach in the moonlight or watching the whales in the bay…. God really did a good job with this place.'"
Katy Ochoa came to Mexico when she was twenty-five, and she has lived and worked in Zihuatanejo, Guadalajara, Melaque, and Manzanillo. In Manzanillo, she eventually became the administrator of a school that taught English – "and soon discovered that administration was her true calling." She followed her husband to Vallarta in 1999 but continued to commute to her administrator job in Manzanillo. In 2003, she began working in member services for Playa del Sol, and in only two years Katy "shot to the top" becoming "president in charge of operations and quality of the hotels" and responsible for a staff of 550. She laments that "she and her friends in Vallarta are all too busy to do the simple things in life she misses from her past. 'Going to the beach was a part of my life for a very long time, but in Vallarta it is not.'"
In these profiles you'll also meet fifty-year-old Canadian John Youden who, in less than twenty years, built "a Puerto Vallarta publishing empire." Those publications include Vallarta Lifestyles, Costa Vallarta, Vallarta Real Estate Guide, and Vallarta Nautica. Back in the late 1980s, John developed the first multi-listing service for the Vallarta real estate industry. Soon after, to promote Vallarta, John developed the luxurious magazine that most people who live in or have visited Vallarta are familiar with, Vallarta Lifestyles, "a spectacularly successful glossy publication that has grown to over three hundred pages today." John estimates as many as twenty thousand expats live in Vallarta, "which would make it the second largest concentration of expatriates in Mexico, just behind the Lake Chapala area south of Guadalajara."
When I lived in Vallarta I also enjoyed reading Vallarta Tribune. That's edited by sixty-two year old Allyna Vineberg, another Canadian, and she is also profiled here. Her weekly paper, the Vallarta Tribune, is "the English voice of the expat community in Puerto Vallarta, treading a careful line between information tourists needs to know and news expats want to know.
Well, there you have it. A few samplings out of some of the profiles in Boomers in Paradise. (All of them are interesting.)
My recommendation for you?
Stretch out on your beach lounge under your umbrella on Playa de los Muertos in Vallarta with a cool drink in one hand and in the other… Boomers in Paradise.
But, you say, you're still back in sunny Saskatchewan? Well, curl up by the fire in that gold-trimmed black bikini you bought on your last trip to the "Jewel of the Mexican Riviera," open up Boomers in Paradise: Living in Puerto Vallarta, and begin to… dream.
Boomers in Paradise: Living in Puerto Vallarta By Robert Nelson
BookSurge Publishing, 2008
Available from Amazon Books: Paperback
MexConnect is reader-supported. Purchases made via links on our site may, at no cost to you, earn us an affiliate commission.
Learn more.
Published or Updated on: March 16, 2009