Interactive map of Quintana Roo, Mexico: Cancun, Cozumel, Tulum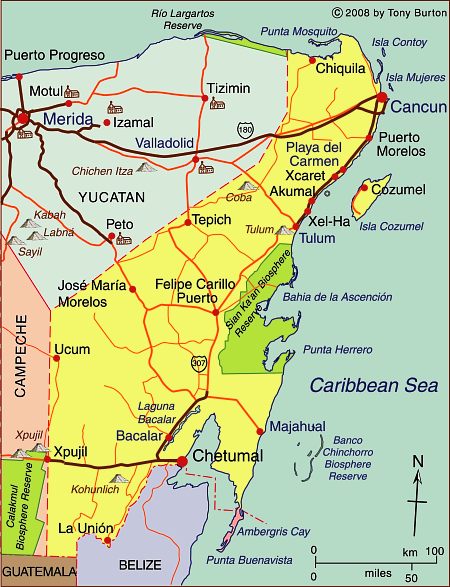 The state of Quintana Roo is part of Mexico's Yucatán Peninsula, along with the states of Campeche and Yucatán.
Quintana Roo has an area of 42,360 square kilometers and a population of about 1.5 million. The state is one of Mexico's flattest states, with its highest point being only 230 meters above sea level. Its distinctive landscapes include coastal barrier islands (such as the one Cancún's hotel  zone is built on), magnificent coral reefs and tropical limestone scenery. It also has tropical forests and mangrove swamps.
The state's capital city  is Chetumal (estimated 2010 population: 146,000), an important port and the gateway for overland connections to Guatemala. A short distance north of Chetumal is the beautiful, tranquil Laguna Bacalar.
Quintana Roo has numerous archaeological sites, including many that are open to the public. Among the more famous are Tulum (perched on a cliff overlooking the azure Caribbean sea) and Coba (a magnificent city only partially cleared of jungle). Other important locations include Cozumel, Isla Mujeres, and Playa del Carmen.
Until the mid-20th century, the state was best known for its chicle (used for chewing gum) and its Mayan ruins.
Quintana Roo is best known today for its tourism industry. The centrally planned resort of Cancún is Mexico's leading tourist destination. More than 50% of Quintana Roo's residents were born outside the state. They were mostly attracted to Quintana Roo by the rapidly growing tourist industry in Cancún and further south in the area known as the Maya Riviera.
Quintana Roo has two exceptional biosphere reserves:
Sian Ka'an (Quintana Roo): coastal limestone plain, and extensive barrier reef system on Caribbean coast, with numerous archaeological sites; more than 4,000 plant species.
Banco Chinchorro (Quintana Roo): mosaic of open water, sea grass beds, mangroves, sandy beaches and coral reefs; more than 95 species of coral.
Published or Updated on May 17, 2009
by Tony Burton.