Photo Gallery: Jocotepec Hospitality
In April, my two sisters and I traveled to the Lake Chapala area for an opportunity to celebrate the future, specifically the upcoming nuptials of our youngest sister, Dorian. Our trip also allowed us an opportunity to connect to our past, retracing the footsteps of our grandparents, Jean and Ralph Carmichael, who had wintered in the area from the mid-1970s until the mid-1990s.
The three of us had grown up seeing artifacts around our grandparent's summer home in Raquette Lake, NY: woven rugs, crafts made of straw, mugs with Hecho en México scratched into the bottom. We were all still young when our grandparents passed away, too young to ask them the right questions about their time in Mexico – to understand their reasons for making this their second home and their feelings about the place and its people.
While we based ourselves at The Nueva Posada in Ajijic, the focus of our trip was the town of Jocotepec at the west end of the lake. It was here that our grandparents, and especially our grandmother, spent much time and energy supporting a young start-up school, The Lakeside School for the Deaf. When I began conceiving the idea for this trip, I was not sure if the school even still existed. I was pleased to learn that not only does The School for Special Children, as it is now called, still exist, but that it is fully integrated into the federal education system, has expanded its services to students with all kinds of disabilities and serves over 150 children.
We took a taxi from Ajijic to the school where we had arranged, through former Jocotepec resident and Lakeside School director Gwen Burton, to meet two current employees of the school, teacher Gaby Escamilla and her husband Manuel. My breath stopped for a moment upon seeing the weathered sign I recognized from many photos; we were actually here.
Behind the sign we saw only an open field. It took us a moment to see the entrance to the school off to the right. The welcoming, sing-song voice of our hostess, Gaby, led the way. Taking in the actual front gate of the school, we found Gaby and Manuel standing with their son, Emmanuel; he is studying electromechanical engineering in Chapala but came along for the day to help as a translator for his parents. (None of the three of us speak much Spanish unfortunately.) Inside, we would meet a young woman, their daughter Monse, and two young girls they are caring for.
Giving us a thorough tour of the school was a family affair. Moving as a group, we looked into each and every classroom and specialist room. The bars protecting the glass windows did little to dampen the effect of the bright yellow and blue walls and colorful classroom decorations. Pathways we followed between buildings were painted with hop-scotch style games. As we traversed the half dozen buildings that fill the campus, I continually reflected on the fact that when our grandmother became president of the board in the mid-80s the school was only a single building,which was itself a converted chicken coop,sectioned into three rooms and serving only twenty students. Her work on the board was instrumental in the purchase of this land, enabling all of this later construction.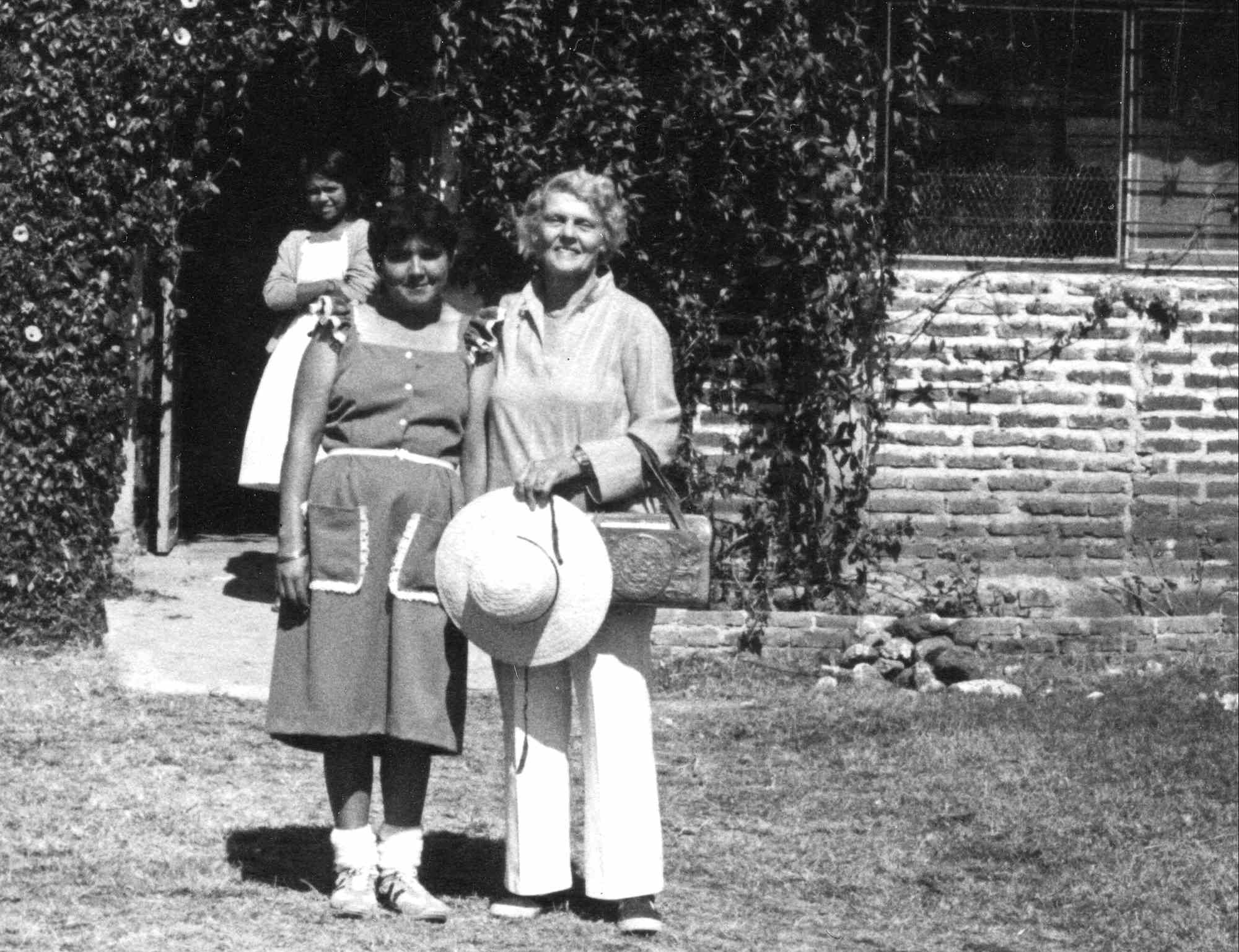 Much has changed since our grandmother's time. The number of students has expanded exponentially. They are, as I mentioned, no longer just deaf students, but students with a wide variety of special needs. Now that the school is part of the federal education system, many costs such as teacher salaries are met by the government. An active board still augments the schools needs by providing discounted hot meals and by funding supportive roles such as the gardener, caretaker and two cooks.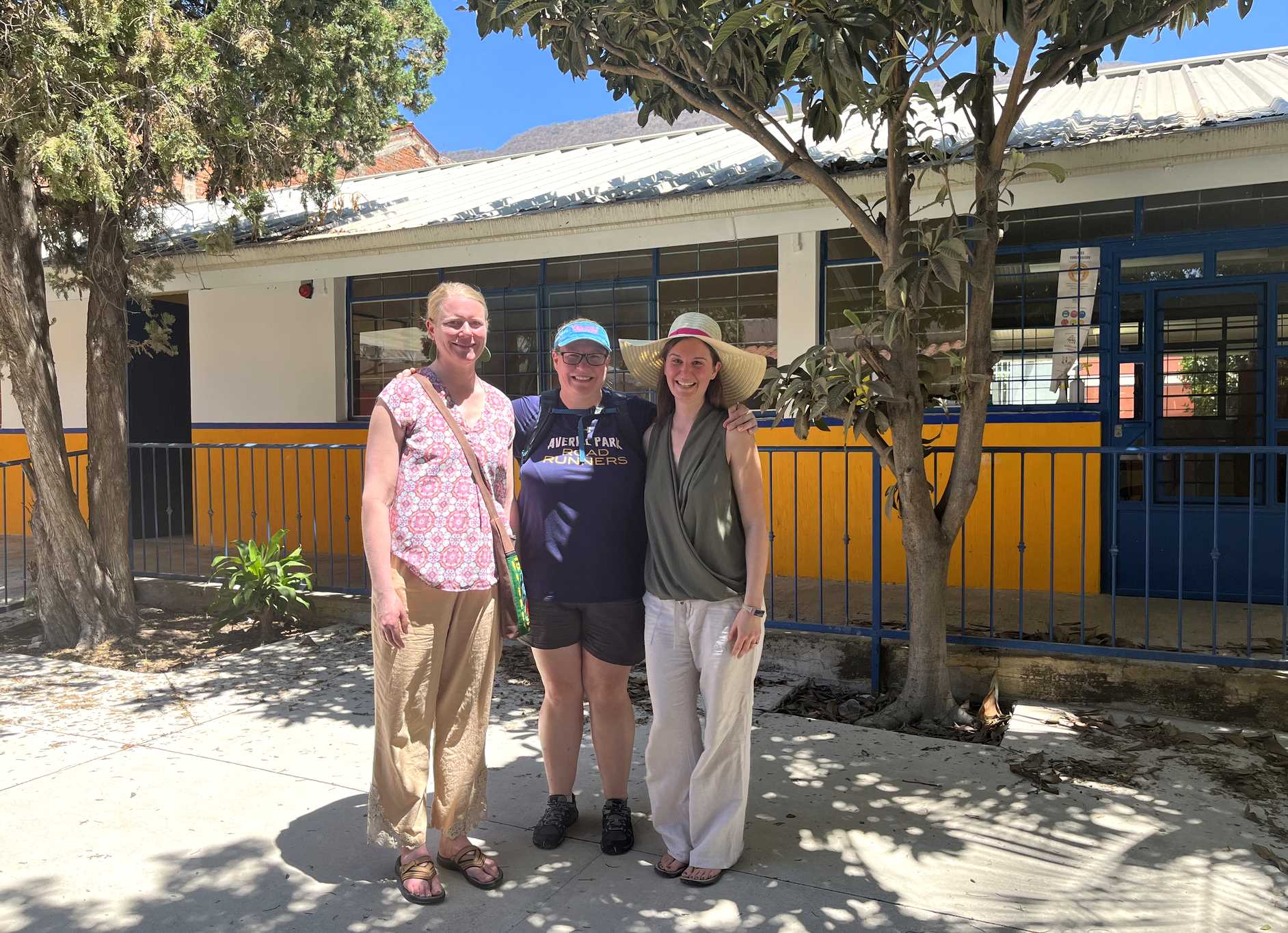 After our tour, Gaby and her family insist we visit their home, located a short walk across the open field. Upon entering, we see to our left a room under construction. "A room for you to stay in next time you visit," Gaby quips, and I get the impression she is only half joking and fully expects me to call her for lodging next time I am in Jocotepec.
We enter a quaint, simple living room, shelves overloaded with photos and trinkets. A plastic folding table seems to have become a permanent part of the furniture. Potted plants line the interior steps to a second floor. Stacks of to-go food containers and mini soda bottles set the mood as a storage space for the family's external endeavors, serving as evidence of a family who spends more time out at their businesses than at home. Lime green paint brightens the whole crowded space. We meet their two dogs and see their aquarium. At the Escamilla household, we experience hospitality that includes an offer of a drink not in the fridge and a daughter's quick trip to the bodega to get it when we accepted the offer.
After a while, we jump into Gaby's little yellow pick-up and head over to the taqueria. Not just any taqueria, but Manuel's 54-years-strong family business, Taqueria Maco.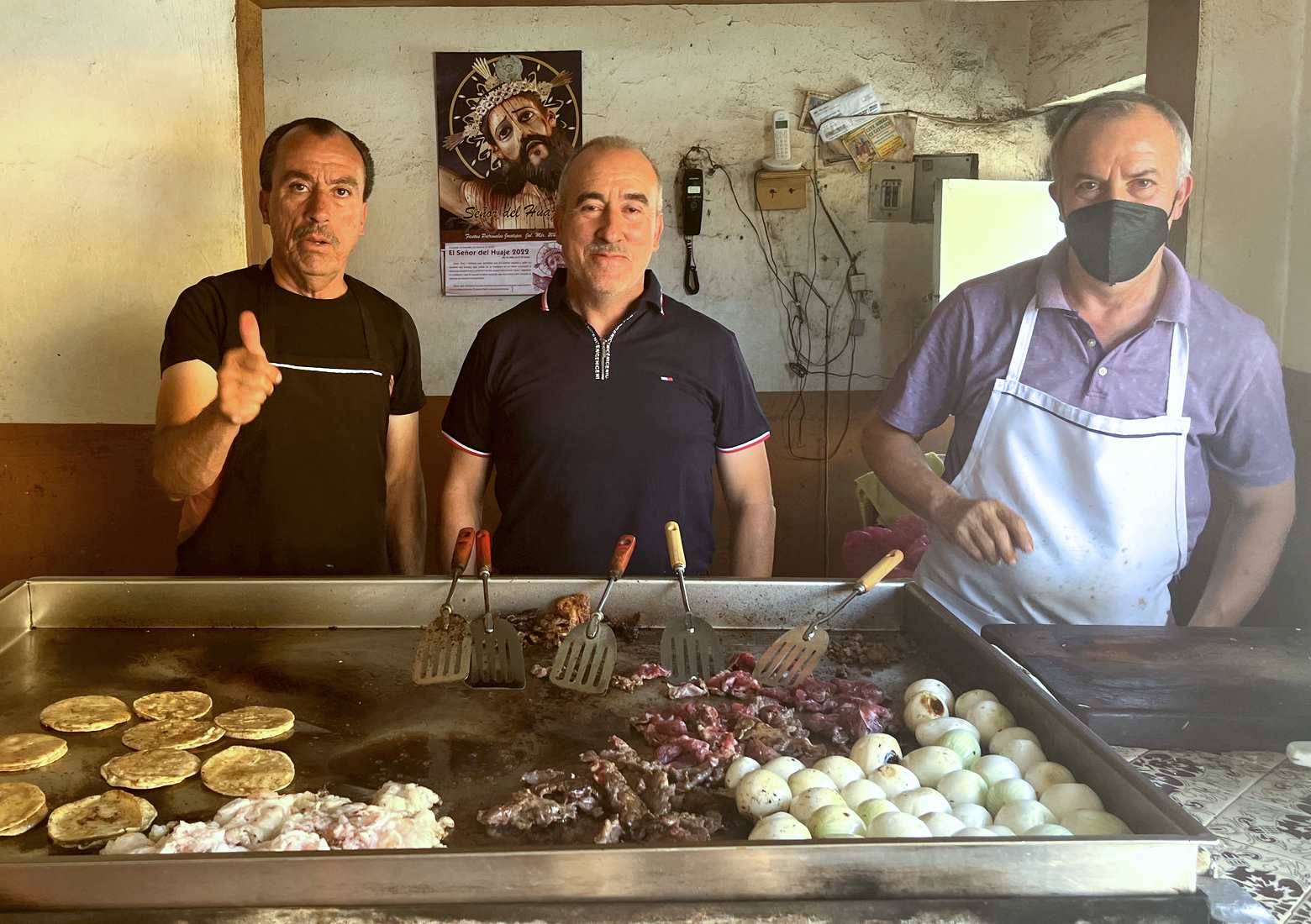 We are ushered to a plastic table and chairs and immediately asked if we want "three or five". The tacos are implied. I opt for fewer, not knowing entirely what I am getting myself into and also, rightfully, assuming I will be encouraged to have another round after this. The small double soft-tortilla tacos are filled with fresh ground meat (slaughtered just the previous day according to Manuel) and a large grilled onion alongside. Chopped raw onions, cilantro and various salsas and hot sauces are spread around the table. Sure enough, just as our plates start to empty, we are asked "Mas? Mas?" and supplied with more. Manuel's staff was even nice enough to cater to the needs of my vegetarian sister, by bringing beans and fresh cheese to fill her tortillas.
After filling our bellies, we strolled to the plaza, passing under Jacaranda trees in full bloom and a series of colorful murals depicting the town's history. Here, despite still having full bellies, we were treated to a cup of tejuino, a fermented corn drink with lemon over ice, a local specialty. We sat for some time watching people and pigeons.
We all piled back into the truck and headed over to the malecón (lakeside promenade). Stepping out, we were impressed with the vastness of the open boardwalk. It was still early in the day and quite empty. A few kids played with a kite. Young couples enjoying the public privacy of the wide-open expanses. But one could picture the crowds and the music that would fill this place come sunset. Here we walked out on a precarious pier, stepping over missing planks, avoiding gaps in the railings. It was a great place for bird watching, mostly pelicans and storks, and of course snakes along the water's edge (which Gaby assured me don't bother the humans.)
Manuel suggested a boat ride.He booked the boat and grabbed a 4-pack of Corona and we headed out on the cloudy emerald waters. It was great to see the landscape from that perspective. As we moved along toward San Juan Cosalá and Ajijic the shape of the mountains slowly shifted, and the birds carried on about their business. We were in their territory now.
Within just a few minutes of the boat ride, our captain turned to Gaby and asked if she recognized him. Turns out he was a former student of hers, who moved out of the Special School after a couple of years. Gaby was delighted to see his success as a boat captain. He allowed us all to take the obligatory tourist photos, wearing the captain's hat and steering the boat while holding our Coronas. It was a calm day, but the wind was enough to steal Dorian's hat (which had been a party favor from her bachelorette tea party the week earlier) right off her head. The former-student-cum-boat captain made a good effort to save the hat, hanging off the edge with Gaby holding him by one ankle, but to no avail.
Gaby and Manuel insisted on driving us the half-hour ride back to Ajijic. Though we'd expected to take a taxi, they wouldn't hear it. Come to find out they had a few more plans for us along the way. We stopped to buy Dorian a replacement sunhat. Naomi negotiated in Spanish and was proud of herself. And then, in an area known as El Limón, we stopped at a roadside stand for yet more ice cream. Though this time it was shaved ice with fresh fruit topping! The stand also had cucumbers with hot chili powder sprinkled on top. Though we were beyond full by this point, we couldn't possibly be rude. Plus, it looked so delicious!
Gaby and Manuel were generous hosts who are proud of their city. And they have every right to be. Jocotepec is a quaint, beautiful, and inviting place. Dorian, Naomi, and I are all biding our time until we can return. There is still so much we don't know about our grandparents' time in the Lake Chapala region, but we have gained a glimpse into how welcome they must have felt.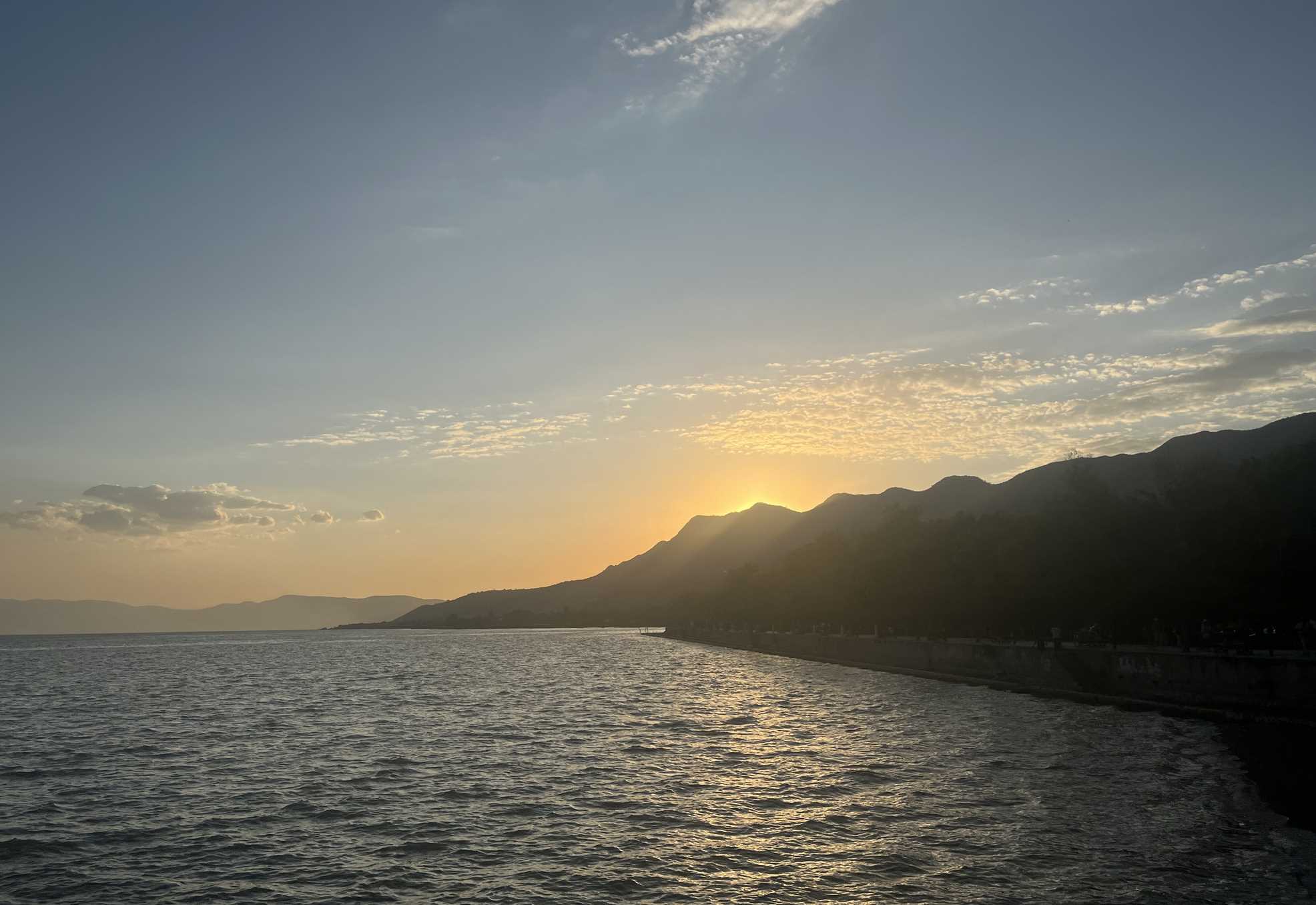 To learn more about the history of The Lakeside School for the Deaf, I suggest reading New Worlds for the Deaf by Gwen Chan Burton.
To see the current work of the School for Special Children, to volunteer or to give a donation visit their website: https://schoolforspecialchildren.org

MexConnect is reader-supported. Purchases made via links on our site may, at no cost to you, earn us an affiliate commission.
Learn more.
Published or Updated on: May 30, 2022 by Noël Carmichael © 2022