Photo Gallery: In Mexico, Baja beckons expats
Married, single, young, old, with kids in tow, retired or entrepreneurs — Baja Mexico is enticing expats with its promise of a better lifestyle. The choices are unlimited. The colorful culture of colonial and fishing towns, low home prices, world-class surfing on the crashing waves of the Pacific, snorkeling in the crystalline fish-rich waters of the Sea of Cortez, strolling along waterfront boardwalks, or sampling cuisine ranging from tasty street tacos to world-class dining… Baja has it all.
How do these expats live their new lives in Mexico? Doing what they love.
Innkeepers in San Antonio Delmar
They came to visit and stayed to live. Former Oregon residents Loretta and Joe Taylor first visited northern Baja in 1993 ago to attend a friend's birthday party. The friend told them how much he'd paid for his oceanfront property and mentioned that the one next door was for sale. The Taylors thought about it… for eight minutes, before deciding to go for it.
Over the years.they worked on and added to their two-story, oceanfront villa and eventually decided to offer the entire first floor — an open kitchen and family room with fireplace and cathedral-beamed ceiling, private en suite bedroom, and panoramic ocean views — for rental as "Sea4Two."
Loretta and Joe live in the expansive second floor of the villa. "We offer our guests a variety of services, such as picking them up at the airport, the use of an SUV, obtaining dinner reservations or theater tickets," says Loretta. "We enjoy interacting with our guests, and love the lifestyle we've created."
Rosarito restaurant owner
California resident Susanne Stehr discovered sweet savor of success when she packed up and left Ventura County in 1999 to be near her furniture manufacturing company in Rosarito.
One night, a couple walked by a window at the factory that had been staged as a fancy dining room. One said, "Is that a restaurant?" and the other replied, "No, but I sure would like to eat somewhere like that!"
Having spent twelve years as a director of catering in her past, Susanne thought, "I can do this!" Thus, Susanna's Restaurant, a favorite of locals, tourists, and even Californians who drive across the border just to sample her tantalizing cuisine, was born.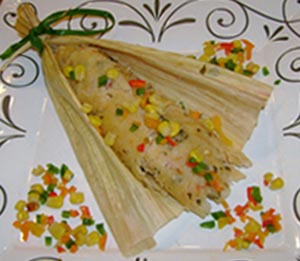 But she didn't stop with the success of her restaurant. Susanne is currently seeking to market her own brand of irresistible treats, starting with cilantro corn tamales stuffed with cream cheese, corn and jalapenos that are out of this world. "The secret of my success is to use only fresh ingredients," says Suzanne, "and serve them up one plate at a time. We don't use heat lamps." Warm and charismatic, Suzanne is at her restaurant most nights to welcome old friends and make new ones.
A vineyard/winery and inn in Valle de Guadalupe
Don Miller is passionate about wine. His dream was to retire from international banking and make wines. But living in Laguna, California, this would be impossible. His Dutch-born wife, Tru, was a linguist fluent in ten languages, including Spanish. She was familiar with and loved the Mexican culture, so in 1998 they purchased 60 acres of land in Baja's wine region, Valle de Guadalupe. There, they built the impressive six-bedroom Adobe Guadalupe hacienda and a winery, and their grape-growing adventure began.
They produced their first wine in 2001 and sold the first bottle in 2003. Today, their wines — each of which is named after a different archangel — are some of the most sought-after in all Mexico. "Our wines are so good because of the Mediterranean microclimate, and because we own both the vineyard and winery," says Don. "We have a lot of control and therefore consistency."
Tru, who had loved horses since childhood, also saw another opportunity. She built a large stable on the property and began breeding Aztecas, Mexico's exclusive horse, a cross between the beautiful but fragile Andalusian and the hearty quarter horse. "The world is ready for a new breed," says Tru.
The Millers rent out the extra bedrooms in the hacienda. Due to the expansive valley views, the serenity, and the gracious hosts, Adobe Guadalupe is filled nearly all the time.
San Felipe eco-ranch entrepreneurs
A short drive from downtown San Felipe will bring you to a rustic, relaxing beachfront getaway called Rancho Percebu. Expat Duke Wild and his Mexican wife Lupita came live at Percebu in 2001, taking over the retreat from Lupita's family. Percebu's two miles of beachfront, interesting tidal pools and 75 modes of accommodation — from trailers to ocean view houses — attract repeat customers. "We're off the grid, relying on our solar power and well water," says Duke.
Lupita runs the on-site restaurant, Cazuelas, using San Felipe's daily catch of shrimp at one half the price in the U.S. She and her staff turn out one mouthwatering dish after another.
"We love the opportunities here," Duke says. "I can just get in my jeep and drive, miles of beaches, desert or mountains. We both like the ocean, the open space, the sunset. There's more of a sense of freedom than in the U.S. Everything feels pure, no pollution, and we always have fresh seafood — clams, crabs and shrimp."
An import business in Ensenada
Margit and Patrick decided to retire in Ensenada, Mexico to enjoy a better lifestyle. They have never regretted it.
"It's a thousand times better here," says Margit. "California is so overcrowded now, a bit of a circus, and there's no sense of community." The couple is able to live a very nice retirement lifestyle with only their Social Security income.
But Margit, an energetic "people person," wanted to do more than just exist. With two partners in tow, she started Homescapes in the middle of downtown Ensenada. Her gallery features imported and locally-made art, antiques, jewelry, furniture, textiles and treasures from all around the world. Margit travels throughout Mexico, Central and South America searching for unique bargains to sell to locals and tourists. "Not only do I bring back beautiful things to sell, but it also serves as a vacation you can make a little money from," she smiled. "The key to happiness is to find something you love to do. Then do it."
La Paz English newspaper editor
Gari-Ellen Donohoe wasn't really in search of anything other than a bit of fun and improving her Spanish when she moved to La Paz from Canada. But she found much more than a new word list.
She discovered a more affordable and enjoyable way of life, and Ramon, her Mexican husband. "I fell in love with La Paz because of the malécon — the boardwalk along the beach," says Gari-Ellen. "Strolling along there in the late afternoon with my family and an ice-cream is one of my favorite things to do!"
Gari-Ellen found her niche in La Paz., which has a large expat community, but has very little information available in English. To fulfill the need to have local news in English, she founded and edits the Baja Citizen newspaper. La Paz lures expats with excellent opportunities for businesses, real estate and investment, the low cost of living for a high quality of life, and advanced medical, educational and social facilities.
Published or Updated on: July 9, 2013 
Contact