Siqueiros: Biography of a Revolutionary Artist is a fascinating read for anyone looking for a great story with fascinating characters. It's also an enlightening read for anyone interested in Mexican history, and a must read for anyone who has moved to Mexico and calls it home.
To understand the heart of the Mexican people is to understand the passion of Siqueiros. Anthony White has done a superb job of conveying the interconnecting relationship between the people and the man seamlessly.
The book is long — a 469 page biography — but it reads like a suspense novel, and I found myself glued to its pages in anticipation of the next turn of events.
It doesn't hurt that David Alfaro Siqueiros's life has more twists and turns than a Harrison For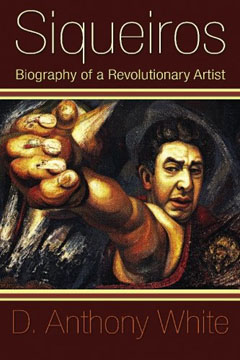 d adventure flick. He lived an extraordinary life during an extraordinary period in Mexican history. He matched it with a temperament as grand, impassioned, and dramatic as the events themselves. The country and the man were so much of a piece that you can't read of his life without gaining insight into the country and its people.
Anthony White is a Professor Emeritus from Sonoma State University. He conducted extensive research for this biography through a grant from the National Endowment for the Humanities. He couldn't have picked a better subject as a vehicle through which to tell the story of one of the most turbulent times in Mexico's history — from the years just before the Mexican Revolution to Siqueiros's death in 1974. His research into the period and into the life of Siqueiros is extensive, the grant permitting him to interview many who had known the artist, among them Angelica Arenal de Siqueiros, his last wife, most ardent admirer, and comrade in arms.
Siqueiros was a painter, muralist, soldier, idealist, writer and orator. He excelled in all. As a painter and muralist, his innovations in media and technique brought art to a new level of perception. As a soldier, he exhibited a level of bravery and bravura generally reserved for war movies and folklore. As an idealist, he never compromised his vision in spite of numerous threats to his life. And as a writer and orator, he was articulate and eloquent — his choice of words riveting.
Much of his writing on art and society is as relevant today as when he first penned his words. Even if you don't agree with his theories about art or his socialist values, he is worth reading. His insightful perceptions on the human condition open a dialogue in both heart and mind that forces you to think, to question, to re-evaluate. It's to White's credit that he quoted Siqueiros often and let you feel the quality of the man through his own words.
Siqueiros had three wives and one mistress — all of whom adored him, shared his vision of the world, and gave their lives to aid him in his mission both as an artist and ideologue. The passion of his convictions was so great that it would have been hard not to have been enrolled by the genius of the man.
Aside from his life and the times in which he lived, White gives some excellent insight into Siqueiros's work. He also gives a lively account of the historical background behind each of the paintings and murals that he refers to. His comments are accompanied by a good collection of plates relating to the work. Unfortunately, they're all in black and white, and the work of Siqueiros is deserving of color. Still they made me want to go back for another look — to experience again the murals and to re-visit the paintings. Due to this book I know I will look at Siqueiros's work with greater respect, and the impact will go deeper.
My one disappointment in the book is that it's poorly edited. Various points are repeated and should have been edited out to sustain the flow. Spelling is not always correct. At times Siqueiros is referred to as David and at times as Siqueiros but with no reason for the switch. His brother is referred to as Jose and later as Chucho, but if you don't have a Mexican background you wouldn't know they were the same person. It's too bad. This is a great read, rich in history and insights, and it deserved better.
But having said that, I thought the overall quality of the research and execution of the story were excellent, and I highly recommend the book. It can be purchased by going to Amazon.com. You won't regret it.
Published or Updated on: December 3, 2009