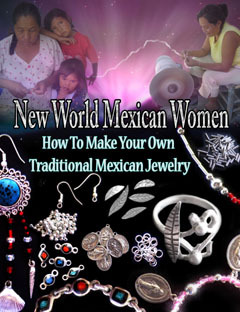 New World Women is a native women artisan group in Tecalpulco, Guerrero who decided to form a production cooperative. These skilled artisans are the original designers and producers, creating beautiful jewelry. Theirs is a cottage industry with a goal of perpetuating the region's craft tradition and creating a source of work that can keep their people at home — an alternative to migrating to urban centers or to the U.S. These enterprising women utilize modern means of communication. They communicate through their web page and via romantic novelas serialized on blogs.  They write e-mail, post videos on YouTube, and have published an unusual book: The New World Mexican Women Workbook: How to Make Your Own Traditional Mexican Jewelry.
The New World Mexican Women is a different kind of book. It provides step-by-step instructions on how to make beautiful earrings, necklaces, bracelets and rings in high quality Mexican silver, pewter, and copper. But it is also a collection of letters and soliloquys. And it is a catalogue for those interested in purchasing, rather than making, jewelry.
Apart from a craftsperson's handbook, this is a touching and deeply personal sociological study on loneliness, longing, and sacrifice. The women who have participated in the making of this book have a parent, aunt, uncle or father who has jumped the border in search of opportunity and a better quality of life for themselves and for the families they've left behind. Many never return. The families never know who may or may not come back. But they are sustained by hope and the sense of community that this cooperative has forged. If the co-op brings jobs and financial opportunity to the area, perhaps the exiles will return.
The material has been assembled in a way that makes it accessible to anyone. Good-sized photographs with clear instructions accompany each piece of jewelry. What is needed in each kit is clearly labeled with its accompanying photograph. It's impossible to get lost in placing an order. Yet, within this well defined parameter, there is room for more creative expression. Tools are minimal and some items require no tools. With a round-nosed pliers, cutter pliers, flux, a small head hammer, and a small anvil, anything in the catalogue can be made. For the novice there are excellent photographs identifying these objects.
The metals available are in .925 (sterling) silver, fine pewter, copper, and liquid silver. No nickel, lead, cadmium, or zinc is used. You can order natural stones such as turquoise, jasper, and opal as well as composite stones made from resin and pigments. And of course, all the findings and wire are available, many included in the kits. In accessories there are fine pewter charms, chaquira beads in many hues, stone mosaic beads in a variety of shapes and colors, and much more. For the more adventurous, you can put together your own kits.
These pre-cut pieces and kits are assembled by the Rural Women's Artisans Cooperative of Tecalpulco. They are women who live in or near Taxco in the state of Guerrero, an area known world-wide for its high quality silver and fine craftsmanship in jewelry making. In recent years, this tradition of fine craftsmanship has been dying out due to artisans being forced to work at unsustainable wages. Don Marcial Chavez Embria, the master original-model maker for William Spratling, the father of the world-famous modern silver jewelry industry of Taxco, has been training these women in order to keep this tradition alive.
The mines from which the silver is taken are located in the area, and mining is done on a small scale. The miners use environmentally responsible technologies and measures are taken to protect their health. Because this is Fair Trade Silver, ordering from the cooperative helps to provide a dignified standard of living for these woman and children, one that may eventually stem the flow of migration to the United States by improving the quality of life at home.
This is the dream of the women in this cooperative. They miss their loved ones terribly. Many of the children have rarely seen their fathers and pray for their safe return. There are letters that are interwoven into this catalogue. They are translated from the original letters that these women have sent to the loved ones in their lives. They are poignant and bring home viscerally the heartbreak that this separation brings.
The New World Mexican Women Workbook can be ordered online. You can learn more about the cooperative on their website — it's packed with information. Should you not want to make your own jewelry, take the time to order one of the exquisite pieces made by one of the women in the cooperative. In exchange for a beautifully hand-crafted work of art, you will enable a community to move one step closer to the fulfilling of a dream.
Published or Updated on: December 23, 2009