Photo Gallery
Cradle of the mariachi, tequila, and the Jarabe Tapatío, or Mexican hat dance, for many, the state of Jalisco is the essence of Mexico.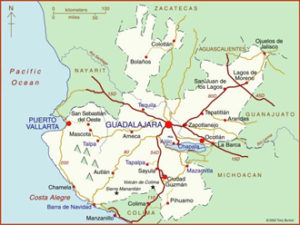 Colonial cities with architectural jewels, Pueblos Mágicos, quiet alpine towns, sophisticated urban centers, and the pre-Hispanic site of Guachimontones with its circular pyramids vie with tropical beaches along Jalisco's Pacific coast. Towns in the highlands are a mecca for religious tourism, while Guadalajara's shopping, educational centers and medical facilities are second to none.
The north shore of Chapala — Mexico's largest natural lake — is home to many people from the USA and Canada, and more reside in the area of Puerto Vallarta.
Here is a sampling of some of our principal articles on the state of Jalisco. Click on "See all articles in region Jalisco" at the top of the page just beneath the navigation bar that runs its entire width. Or search by town or city name.
Jalisco Maps
Guadalajara
Lake Chapala Region
Places in Jalisco
Guadalajara
Guadalajara is the capital of Jalisco, a mecca of art, culture and commerce.
Puerto Vallarta area
Once a sleepy coastal village, Puerto Vallarta is a popular Pacific resort that hasn't lost its charm.
Lake Chapala region
With residents from all over the world, the north shore of Mexico's largest natural lake is one the most unique areas in the country.
Magdalena, Tequila and Amatitan
This is tequila country with traditional towns set in fields of blue agave. Jalisco's Agave Landscape is a UNESCO World Heritage Site.
Tapalpa, Mazamitla and Sayula
With their fragrant pine forests, the mountain towns of Tapalpa and Mazamitla are often described as "alpine." Sayula is located near a prehistoric lake bed popular for kite boarding.
Melaque and the Southern Coast
Jalisco's southern coast is popular with eco-tourists and its small beach towns are charming.
Talpa de Allende
Talpa is best known for the beloved image of the Virgin of the Rosary. It is also home to a maple forest and site of eco-tourism.
Los Altos: The Jalisco Highlands
Los Altos is known for skilled horsemen, beautiful women, and a deep religious faith.
Off the beaten path
Good highways make Jalisco perfect for exploring off the beaten tourist track.
Tequila: Mexico's fiery gift to the world
Mexico's quintessential drink has its origins in pre-Hispanic times.
Jalisco History, Geology and Geography

Art, tradition, cuisine, handicrafts and folklore
The state of Jalisco boasts some of Mexico's oldest traditions. Yet seven universities in the capital alone bring contemporary interpretations to the arts for the best of both worlds.
Art, crafts, architecture and music
Cuisine
Many of Mexico's signature dishes evolved on its vast haciendas. Today, five culinary institutes turn out chefs with a nouvelle touch.
Tradition and folklore
Ethnic groups
Jalisco's Virgins: religious tourism
Three beautiful Virgins in the state of Jalisco attract thousands of visitors each year.
Jalisco in literature
Picture galleries of the state of Jalisco
What better way to get acquainted with the state of Jalisco than through these eloquent photographs? Only a personal visit!
Published or Updated on: June 4, 2011