Interactive Map of Jalisco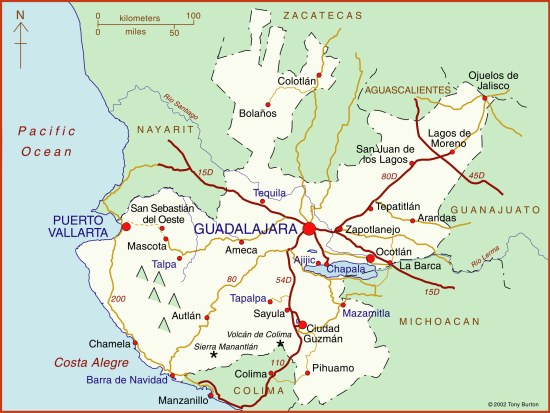 Map of Jalisco, Mexico – Guadalajara, Chapala, Puerto Vallarta,
The state of Jalisco, the home of Tequila, is in Mexico's Central Pacific Region, along with the states of Colima, Michoacán and Nayarit.
Jalisco has an area of 78,609 square kilometers and a population of 7,070,555 (2010 estimate). The state's capital city is Guadalajara, Mexico's second largest city (2009 population: 4,365,000). On the outskirts of the city is an area of industry that is known as Mexico's "Silicon Valley" because of its various computer-related factories. Other important locations include Zapopan, Tlaquepaque, Tonalá, Tequila, Ciudad Guzmán, Talpa, Melaque, Tepatitlan and San Juan de los Lagos.
The state is entirely within Mexico's "Volcanic Axis" with varied scenery, encompassing everything from inland plateaus to rift valleys, volcanic peaks, calderas and coastal landforms. Its diverse altitudes mean that there are significant climate differences within the state.
Jalisco's economy is very diversified. The state is a major agricultural producer, but also has an important manufacturing output, and also has a significant tourism industry, centered on the coastal resort of Puerto Vallarta.
The towns of Ajijic, Jocotepec and Chapala on the northern shore of Lake Chapala, Mexico's largest natural lake, are home-from-home for several thousand US/Canadian retirees.
Published or Updated on January 1, 2005 by Tony Burton.