A Mexico book by Rosy Hugener with Carl Hugener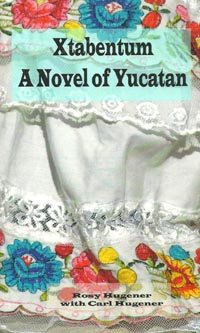 Xtabentum: A Novel of Yucatan
By Rosy Hugener with Carl Hugener
Create Space, 2011
Available from Amazon Books: Paperback and Kindle
MexConnect is reader-supported. Purchases made via links on our site may, at no cost to you, earn us an affiliate commission.
Learn more.
This is a beautiful story, well conceived and well crafted and satisfying. Xtabentum: A Novel of Yucatan begins in 1906, in those tense years just preceding the Mexican Revolution. A woman in Merida is giving birth to a baby girl, who will be named Amanda Diaz, and who will be one of the principal characters in Xtabentum.
Xtabentum, for the curious, is a "humble and beautiful little flower" that "grows wild all around Yucatan. Its exquisite liquor extract is said to get men drunk with sweet love."
A few pages into the novel we shift from 1906 to 1985. Our narrator is flying from Chicago to her family's home in Mexico City to see for the last time her beloved grandmother Amanda, who had raised her and who is now on her deathbed. Following the funeral the granddaughter stays for a few days to help her two sisters "with the final cleaning."
Inside her grandmother's huge mahogany closet, previously always locked, they locate behind the dresses and the Shalimar perfume and the Lourdes water and the box of silver coins some loose paneling, which hid "two yellowed papers," one of which was a photograph of "my young grandmother with her sister and two men none of us recognized." The other paper is a document, in English, the birth certificate "of a baby named Antonio, like my father, but with different middle and last names. The birth date of this child was four months before the day we had always celebrated my father's birthday." The paper listed her grandmother, Amanda Diaz, as the mother, and "the father was unknown."
This begins a two-year quest to uncover the mystery of her father's birth… "Events of decades earlier affected us as if they had happened yesterday."
We then find ourselves back in Merida in 1915, during the Mexican revolution. Nine-year-old Amanda, born into wealth, is growing up. Her best friend is Cacho, born just two months before Amanda. Cacho is the daughter of Jovita, Amanda's wet nurse. Jovita's husband had "disappeared during those years leading up to the Revolution, and nobody in the government cared or did anything to help Jovita." The Diaz family took her in and in just a few years she was "running the whole household."
The young Amanda, with the help of her thoughtful father, begins to understand la Casta Divina, the Divine Class, and how most members of this class "considered themselves superior by birth and the lighter color of their skin."
We also soon meet the handsome Carlos Ancona, a man of ideas and of hope for a new Mexico. A frequent visitor to the Diaz home, "Carlos was of medium height, with an unarranged posture…." "His blue eyes stood out not because of their unusual color for Mexico, but because of their gentleness, which encouraged people to feel comfortable around him."
Ultimately tragedy strikes and Cacho flees to Chicago. There Amanda, who had gone north to study at Bryn Mawr (because for women in Mexico there were no opportunities for higher education), eventually finds her beloved Cacho. In Chicago Amanda realizes even more clearly the prejudice many Americans had against Mexicans: "On the train, Amanda felt furious and sad. She felt humiliation for the first time in her life. The situation she faced here in the United States was the opposite of the one she had always enjoyed as a member of Merida's upper class. She was now a second-class citizen, and she did not like it."
In 1986, still on the trail of all of this elusive family history, the granddaughter returns to Mexico City to locate a man who apparently was part of all of that confused past and who is still alive.
I like Xtabentum: A Novel of Yucatan for several reasons. I like the principal characters and their efforts to live good, although often complicated, lives and to live them with grace and honor. I like the intriguing setting, which for the most part is Mexico, the Yucatan, in the early decades of the 20th century. I like the sensitivity to some of the social issues common to that time and which continue only partly abated to our own time. And, of course, I fall for love stories, and I fall for stories well told, and I love "humble and beautiful" little flowers.
Published or Updated on: March 15, 2013