Photo Gallery: Affordable Oaxaca as a locale for any grand fiesta
If you're getting married, turning 50, or planning that anniversary bash… consider Oaxaca
They say that Mexicans really know how to party. Here in Oaxaca we do it in spades, because it's part of a longstanding cultural tradition. Also because it's affordable, certainly relative to what it would cost in the U.S. or Canada. What you would love to do at home but can't, because it would cost $50,000 or more, you can do here in Oaxaca for $10,000 or less, with a large glossy photo album of memories to boot.
First of all, both you and your partner must be passionate about the city, its people, and its institutions, and willing to experience all that Oaxacan custom has to offer for your next big celebratory rite of passage. Then, once you're convinced that at least some of your closest hometown kin and friends would be interested in making the trek and participating in the festivities, you're Oaxaca-bound. Even better if you have friends and family scattered throughout the continent and further abroad who would be willing to gather together in Oaxaca, making the celebration a reunion of sorts, á la The Big Chill (albeit different circumstances). A couple of years ago, a few celebrants stayed with us, part of a wedding party for a bride and groom in the entertainment industry. Actors, singers, musicians and producers came from all corners of the globe and shared many magical moments with the couple in a storybook setting just outside the city.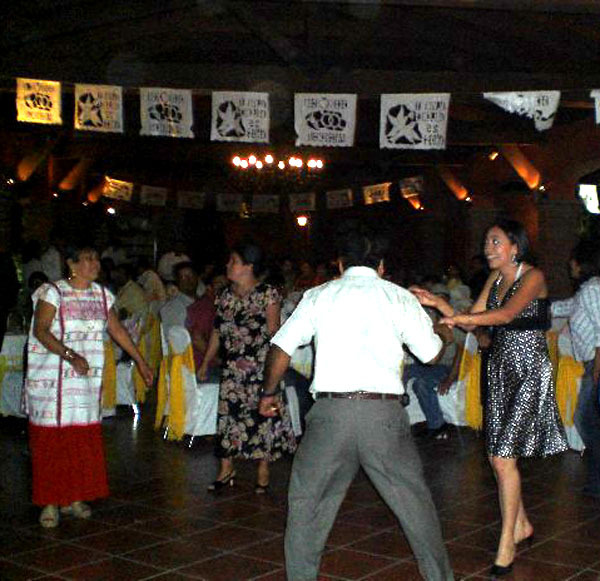 For our part, over the past ten years both as residents of the city and frequent visitors, we've thrown three such large fiestas, each in a totally different setting: a downtown banquet hall noted for its revolutionary period décor; a former hacienda with expansive, immaculately groomed grounds and gardens, and a rural venue in which a rodeo performance (with our daughter a participant) was part of the merriment. Of course there are other more familiar options such as hotel ballrooms, and restaurants serving up the best that this mecca of culinary seduction has to offer.
But it's the pageantry and the availability of a broad diversity of offerings that make such an event extraordinary… and you can have it all – a colorful folkloric troupe performing a guelaguetza to live music, an eight-piece dance band playing to both modern and traditional tastes, in addition to mariachis, marimbas and Andes-music-style troubadours, table arrangements of the most exotic of tropical flowers, a unique array of adornments for the hall, other regional customs geared to your particular celebration… and the list continues. A well-orchestrated evening (or daytime fiesta stretching well into the night) will include ceremonial song and dance, and episodic events indicative of local mores peppering the affair, so as to maintain both rhythm and ritual for seven to twelve hours.
But not to fret the meal ending without there being further indulging of gastronomic proportion for the duration. The Oaxacan tradition is to not terminate a function without offering a second entirely different meal well after cake and cognac have been consumed, making for a feast of truly bacchanalian proportion.
Meal options range from the high end continental genre to traditional Oaxacan fare, to the ever-so-customary barbacoa – goat or sheep with all the trimmings prepared in an in-ground oven, with its own peculiar pomp and ceremony – and everything else in between. Usually tamales, chilaquiles or pozole make up that late-night after-dinner pick-me-up, once your dance legs have begun to wane. Not to be overlooked, there is no shortage of readily available quality wines and champagnes, scotches and other hard liquors, apertifs, and of course Mexico's renowned beer, mezcal and tequila.
And after all is done, you don't even have to worry about entertaining your guests for the balance of their trip. There are several small tour companies and individual guides in the city, with vans accommodating up to 15 passengers, thereby enabling your vacationers – perhaps in groups based on particular interests – to select from several routes in the central valleys just outside of the city, so they can visit the craft villages, towns on their market days, ruins and other sites. And of course the downtown core with its colonial churches, museums, galleries and shops will hold the attention of every class of tourist for at least three additional days. You can even consider printing up a few downtown walking tours to distribute to each attendee.
With Continental's attractively priced flight routes expanding, travelers from virtually everywhere in North American are able to reach Oaxaca via Houston and avoid Mexico City as a transfer point. Other airlines have now come to the table with their own discounted fares, the implication being that your guests can now land in Oaxaca for less than it would have cost them seven or eight years ago! Making the trip even more affordable for your relatives and friends, most restaurants, hotels, and members of the Oaxaca Bed & Breakfast Association will be more than accommodating in terms of offering courtesy reductions to your group, just for the asking. You're providing not only a remarkable cultural encounter they would not otherwise experience, but a vacation at an extremely attractive price.
Cuba, Hawaii and Mexico's Caribbean and Pacific resort towns have become popular destinations for nuptials and other celebrations. Oaxaca will not be outdone by such venues, and in fact offers more. In addition to providing an unmatched richness of past and present cultural traditions contributing to the city's designation as a UNESCO World Heritage site, the State of Oaxaca boasts its own beaches for swimming, lazing and sipping margaritas. The sand, sun and surf worshipers amongst your crowd have the option of extending their trip with a quick jaunt to the coastal resort towns of Huatulco and Puerto Escondido.
Oaxaca's businesses in the social event planning industry are ready and anxious to accommodate just about every fiesta its visitors might contemplate, with color, flare and imagination unmatched. And with a resident rabbi rumored to be on the horizon, soon we might even be able to accommodate that Bar Mitvah you're planning.
Published or Updated on: February 1, 2008