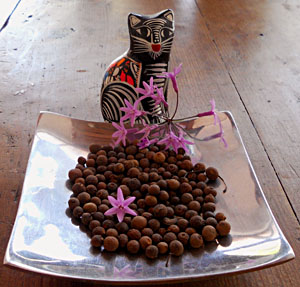 Recently, when a friend here in Cholula went up to Cuetzalan, in the Sierra of Puebla, I asked him to bring back some allspice, which proliferates there on evergreen trees that produce fat, fragrant berries. An indispensable ingredient in several adobos (the seasoning pastes used on meat, fish and fowl) and on many regional pipians (the seed-based sauces of Central and Southern Mexico) allspice is also a requisite ingredient in the cuisine of the Yucatan.
Along with cumin and cinnamon, allspice is considered one of the three most important spices in Mexican cooking. It is also the only spice that grows exclusively in the Western Hemisphere, where the Spaniards encountered it in Jamaica in the 16th century. Giving it the name pimienta, because of its resemblance to black peppercorns, it later became known as pimienta gorda, because it is larger and fatter than the peppercorn. In Mexico, it is sometimes called pimienta tabasco, for the state of Tabasco, one of the areas that produce it.
Its English name comes from its aroma, which smells like a combination of ginger, cinnamon, cloves and nutmeg. This fragrance was undoubtedly what led the Maya to use allspice as an embalming agent and certain Caribbean natives to use it for curing and preserving meat. In the Napoleonic War of 1812, the Russian soldiers put allspice in their boots, since it has a mild warming effect and is said to provide resistance against bacteria. The improvement in odor may have led the way to allspice being used in men's fragrances.
The small, white flowers that precede the berries are known for their scent, which perfumes the air of an allspice plantation. The green berries are harvested before ripening and dried in the sun. Because of the trees' height, which ranges from 22 to 43 feet and makes mechanized harvesting difficult, the berries are harvested by hand, often by pulling off branches.
In Mexico, allspice thrives in the tropical climates of Veracruz and Tabasco and in the Sierra area of Puebla, where the same mountain mist that encourages the growth of local coffee is also advantageous to the allspice tree. The local cuisine makes use of the tree's leaves as well as its berries, and a specialty of the region is an allspice and chile flavored chicken stew called chilpozontle. In the Yucatan, allspice is a key ingredient in chilmole, a turkey dish made with the region's recado negro spice marinade. Allspice is also a favorite ingredient in spice cakes, cookies and flan.
Used medicinally, allspice is a digestive and gastrointestinal tract stimulant. A tea made from one teaspoon of ground allspice to a cup of water, steeped for five minutes and strained, relieves gas, bloating and cramps. Adding allspice to a hot bath, or making a poultice of allspice paste, alleviates the pain of sore muscles and arthritis.
Allspice goes well with pumpkins, squash and carrots, and makes a nice addition to fruit pies and desserts. Allspice is used to flavor beef, lamb and chicken marinades and sauces. I add whole allspice berries along with black peppercorns to chicken stock, and put a few in the peppermill with the peppercorns.
It is preferable to buy whole allspice and grind it as needed in a spice grinder or pepper grinder. Mexicans cooks often toast whole allspice berries lightly before grinding them. Stored in an airtight container in a cool place, whole allspice, like whole peppercorns, nutmeg, cumin and other strong spices, can last from two to four years, unlike the pre-ground version. If you do buy ground spices, the best way to tell whether they remain potent is to shake the bottle and sniff. If there's fragrance, there will be some flavor. Spices in those large economy size tins will probably lose flavor before being used up, making it better to buy spices in smaller quantities.
So check your spice shelf and make sure there's some allspice on hand. If not, go to the spice vendor at the local market (usually where the dried chiles are sold) and try cooking with allspice. Here are some recipes, both savory and sweet, for using it in Mexican main dishes and desserts.
Published or Updated on: August 11, 2011