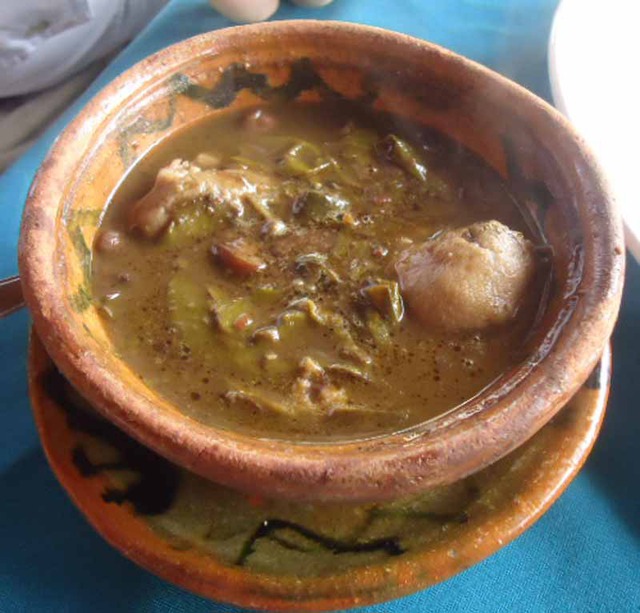 Although the Mock Turtle sang the praises of "soup of the evening, beautiful soup", here in Mexico it's "soup of the day", that first course that is required on any comida corrida menu. Most Mexicans do not consider their main meal complete without a bowl of soup to start it off. Comforting, nourishing, easy to swallow, soup has been touted for centuries as being the ideal food for both the healthy and the infirm.
The ancient Egyptians used soup as a healing food for young and old, as did the eighteenth and nineteenth century Europeans, who regarded soup as a means of stimulating the appetite for the courses that followed. Although this practice was designed to get diners to eat more, recent studies have found that eating a serving of soup before a meal actually leads to eating less. In 1999, a University of Pennsylvania study showed that people who ate soup first ate less of the following courses and satisfied the need for a certain volume of food without consuming as many calories as the non-soup eaters. Because it is usually hot and requires careful eating to avoid slopping and spilling, soup cannot be "wolfed down", a big plus in avoiding overeating.
In addition to being a boon to dieters, soup serves as a hydrator, helping to maintain a balance of fluids and electrolytes in the body. Chicken soup, long regarded as an aid in recovering from colds and flu, contains amino acids to help repair tissues and hemoglobin to help the transfer of oxygen throughout the body. It is no surprise, therefore, that a large number of Mexican soup recipes call for chicken broth as the liquid of choice.
Here in Mexico, the practice of eating soup as the first course of the main meal was introduced during the colonial period. Culinary historian Jeffery Pilcher, in Food and the Making of Mexican Identity , starts his description of a typical nineteenth century meal in Mexico City by stating that "first came a broth of chicken or beef with limes for squeezing and chile for garnishing."
This manner of serving broth with lime and chile has not changed, although caldo de pollo – chicken soup – is now commonly eaten in the morning, as is caldo de mariscos – seafood soup – a classic hangover remedy. It is not unusual to see people in the comedores – the small restaurants found inside the markets – having these popular soups for breakfast.
Just as these caldos are considered appropriate as early morning warm-ups, cream soups are de rigeur at weddings, especially in high, cool Central Mexico. Guests often speculate on the quality of the rest of the meal on the basis of the introduction provided by the cream soup. Is it properly thickened with pureed vegetables, or is it " crema de maicena" – cornstarch soup?
A good soup of any kind usually begins with a good stock, be it chicken, beef or vegetable. Many cooks in a hurry use powdered stock base – called consome in Mexico – or boullion cubes. Knorr Suiza is a popular brand, though it has gained many competitors in recent years.
Although these products are convenient for everyday use, homemade stocks are well worth preparing, especially if there is freezer space. Simply pour them into ice cube trays after first refrigerating to skim off surface fat. Once frozen, transfer them to plastic freezer bags to be used as needed in recipes calling for stock.
Most cooks have their own favorite basic chicken and beef stock recipes, and serious vegetarians usually have their preferred recipes for vegetable stock. When using your favorite stock in one of the following soup recipes, try adding one or a combination of these Mexican touches: to chicken stock, add 1 chile de arbol for every 8 cups of stock, or 2 sprigs of cilantro or a sprig of hierba buena; to beef stock, add 1 chile de arbol and 1 whole allspice berry; for vegetable stocks, add 1 chile de arbol and a couple of sprigs of cilantro or epazote.
Although the Mexican tradition of eating soup as a first course is not followed on an everyday basis north of the border, the soups presented here could be teamed up with crusty bolillos or French bread, or warm tortillas, plus a salad, for a satisfying autumn meal. So get out the stock pot and get ready to fill your home with the fragrance of the most soul-nourishing food of all, keeping in mind the words of the French writer who observed that "a good soup is worth more than a false philosophy."
Karen Hursh Graber
Soups Index
Published or Updated on: December 19, 2008