Photo Gallery: Mexico's Copper Canyon: a journey in 35 pictures (Geri Anderson)
Chihuahua is a land of magnificent scenery — mountains, canyons, deserts and fresh, clean, clear air. Its spectacular canyons are the biggest in North America. Within the canyons are beautiful waterfalls, one of which is the highest in Mexico. Chihuahua also contains fertile valleys — orchards and crop fields that were coaxed from the desert by the persistence of hardworking, warm, and loyal people.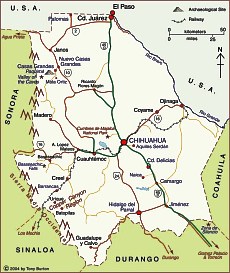 The state of Chihuahua is located in the north of Mexico, on the Northwest Central Plain. It is bordered to the north and northeast by the United States, to the west and south by the state of Sonora, and to the southeast by the state of Sinaloa. Chihuahua covers a surface area of 244,938 square kilometers, making it the largest state in Mexico. Its climate is dry to semi-arid, though there is regular rainfall and occasional extremes in temperature. The average annual temperature is 68º F.
About the State of Chihuahua
Exploring the State of Chihuahua
Chihuahua Culture, Art and  History
The Cuisine of Chihuahua
Books about Chihuahua
People of Chihuahua
Picture Galleries: Original Photographs of the State of Chihuahua
Published or Updated on: October 1, 2009