Photo Gallery: Chihuahua: on the trail of Pancho Villa
"Ay Chihuahua!"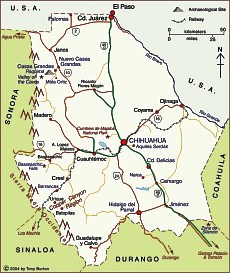 Have you ever heard this time-honored phrase of amazement uttered by some dumbstruck or exasperated Mexican? Whatever its origins, it is perhaps never more appropriately used than by those visitors who come to appreciate the state's wide diversity of tourist merits. Once familiar with them, they too can rightly exclaim, "Ay Chihuahua!".
While any local schoolkid in Mexico can tell you that the state is the nation's largest (245,000 km2, about half the area of Spain and accounting for over one-eighth of the national territory) and that its capital city bears the same name, very few know how big the state once was or how small a Chihuahua dog is supposed to be.
While many tourists have explored the state's world-famous Copper Canyon region (deeper and narrower than the Grand Canyon), far fewer have retraced the swanky steps of Pancho Villa who crossed and criss-crossed the state in search of blood and glory. And, while everyone in Mexico (and the U.S.) has heard of Pancho Villa, not so many know that his real name was "Dorotheo Arango". With a name like that, no wonder he took on a pseudonym!
Very few travelers are interested in spending more time than absolutely necessary traversing or exploring desert landscapes, and Chihuahua (= "dry, sandy place") has the unenviable reputation of being mostly desert and not much else. Indeed, the Chihuahuan desert is North America's largest.
But deserts can be very interesting. Not only does the Chihuahuan desert harbour a multitude of unusual plants and animals, many found nowhere else on earth, it also includes the mysterious Bolsón de Mapimí or "Zone of Silence", a region straddling the state borders of Chihuahua, Durango and Coahuila. This Zone of Silence, best known for its lack of reception of radio waves, was chosen, partly on account of its paucity of human inhabitants, as the site of one of the world's first Biosphere Reserves.
Even today the state of Chihuahua is underpopulated. Most of its residents live in one of two big cities: Chihuahua and Ciudad Juarez. As for thousands, probably millions of years, water remains a severely limited resource throughout the state. This may have deterred but did not prevent pre-Columbian people from establishing substantial and surprisingly sophisticated settlements.
Let's explore some of Chihuahua's less well known tourist sights, on a rapid traverse of the state from north to south. To see all the places described would require at least a week. To choose one or more and include them on your next drive south requires only an additional day or two. It is of course a prerequisite for all the places mentioned that you are prepared to forgo the dubious merits of expensive high-speed toll roads for more varied, more scenic but equally safe two-lane black-tops.
Historic Border Post
Some decisions are required even before you cross the border. If you like crowds, then cross at El Paso. Entering Ciudad Juarez, you'll quickly discover why many experienced Mexicophiles avoid the city whenever possible. A maze of streets teeming with vendors, noise and confusion hides the city's tourist "must-sees", such as its historical museum in the former customs building.
Moreover, at least to Mexican eyes, Ciudad Juarez lacks the historical significance of the much less frequently used border crossing further west, between Columbus, New Mexico, and Palomas. Neither of these small towns is much to write home about unless, as in the case of Palomas, you like describing giant potholes to the folks back home. But this border crossing is revered by history-savvy Mexicans for it was here, in March 1916, that their Revolutionary hero, Francisco "Pancho" Villa, successfully raided the U.S. and, albeit for a disappointingly short time, took back a small portion of that vast chunk of national territory so ingloriously lost during the nineteenth century.
Villa would no longer recognize the countryside hereabout. Then it was open scrubland; today, it has high-yielding and well-tended fields of various varieties of chile, undoubtedly the principal commodity exported through Palomas. From Palomas, drive south to Highway 2, then turn south-west as far as Janos (small fort, founded in 1718) and south on Highway 10 to Nuevo Casas Grandes.
This is the most interesting overnight stop between the border and the city of Chihuahua. Nuevo Casas Grandes, which grew up around a turn-of-the-century railway station on the U.S.-based Rio Grande, Sierra Madre and Pacific Railway Company, has full tourist services with hotels and restaurants for any budget. For up-market comforts, try the Motel Hacienda (Benito Juárez Norte 2603, Tel: (636) 694-1050, 694-1048, Fax: 694-4818) with its large comfortable rooms and suites, well-kept garden, pool and good restaurant.
Seven kilometres from Nuevo Casas Grandes, very close to the smaller, more agricultural "Viejo" Casas Grandes is one of Northern Mexico's most intriguing archaeological sites: Paquimé.
Shadows of an ancient past
It is impossible to do justice to Paquimé in a few lines of text. This is a site you have to see for yourself. Though the site is relatively small, wandering through its maze of mud walls causes endless speculation about its builders and about what the area might have been like when they were living here. It seems impossible that they could have eked out a living in such an arid environment and yet their energies overflowed into beautiful multistorey architectural forms and patterns.
Far from being intimidated by the lack of water, the locals appeared to have reveled in it – constructing a central reservoir to hold water prior to its distribution through the city, bringing hot water from nearby thermal springs, and designing efficient drainage channels to carry off the refuse.
The links between past and present are strong at Paquimé. The simple, clean lines of the modern site museum are in complete harmony with the curves and lines of the ancient mud walls. A respect for nature is evident throughout. Feathers, clay, shells, cotton and maguey fibres – the people of Paquimé used all these and more with great artistic sense. Superbly displayed artifacts in the equally artistic site museum help unmask some of the mysteries of their makers. Among the more surprising finds were marine shells brought from far distant shores.
Years ago, visitors to the ancient city of Paquimé must have marvelled at the specialization of tasks and spaces. They probably delighted in pointing out to their children the areas devoted to raising macaws, guacamayas, for feathers and turkeys for religious festivals. Even today, turkey farming is still very important in this area with more than half a million being slaughtered for the dinner table each year.
On the other hand, while their parents were admiring the birds, the children, like their present-day counterparts, probably preferred the idea of scurrying through the strange mushroom-shaped doorways, playing hide-and-seek…
To truly appreciate this site, time is of the essence. It is all too easy to dismiss Paquimé after only a cursory inspection and a fast hike around. But if you wait awhile and allow the slowly moving shadows to gradually reveal the city's secrets, time becomes less significant and you will stand entranced.
Twenty kilometers beyond Paquimé, is the prosperous-looking Colonia Juárez, a Mormon "colony" founded in 1885, with neat wooden homes, an academically-renowned bilingual school and apple orchards. South of Colonia Juárez is the small village of Mata Ortiz, now world-renowned in pottery circles. ( Mata Ortiz link).
In the evening, back in Nuevo Casas Grandes, for an unusual dining experience, try the Restaurant Malmedy (Tel: (636) 694-1025) at the corner of Av. Benito Juárez and Fifth Street (Calle 5a), within walking distance of the Hotel Hacienda. Here, Belgian owner-proprietor Philippe Gentges provides truly well-cooked and presented entrees and some delectable desserts in a friendly, homely atmosphere.
All roads lead to Chihuahua
From Nuevo Casas Grandes, there are several alternative routes on to Chihuahua city. First, continue south on Highway 10 to Buenaventura ("Good Adventure"). The last time I was here, driving in the middle of the rainy season, the heavens suddenly opened and I was caught in a flash-flood – good adventure, indeed!
At Buenaventura, turning (left) east is the direct route to Chihuahua city. This road cuts through some wild scenery and at Ricardo Flores Magón you have the option of a quick escape back to Cd. Juarez and the border (ideal if you are making Casas Grandes a weekend jaunt) or 200 kilometers of high-speed "autopista" south to Chihuahua city. About 30 kilometers short of the city on this road is the entrance to the Cumbres de Majalca National Park, an attractive area of rugged mountainscapes. The park, with thick woods and strange rock formations with names like Sleeping Beauty, Eagle's Nest and Soldier's Peak is some 25 kilometers west of the divided highway.
Turning right in Buenaventura opens up numerous possibilities for longer trips including visiting Basaseachic Falls, one of the world's highest waterfalls and the spectacular Copper Canyon region. This route, stamina and vehicle permitting, can be further extended into the neighbouring state of Sonora, winding its way through the mountains to the city of Hermosillo. Alternatively, it is possible to back-track to the Mennonite centre of Cuauhtemoc, continuing east to Chihuahua.
Estimates vary but the Basaseachic Falls are high! According to the latest figures, they are actually Mexico's second-highest cascade, around 250 metres in height, beaten only by the virtually inaccessible 453-metre high Piedra Volada falls, also in the state of Chihuahua. The Basaseachic National Park is easily accessible – paved road all the way – and walking tracks in the park offer magnificent ever-changing vistas. Modest hotels and good camping facilities are close at hand for those who want to stay awhile.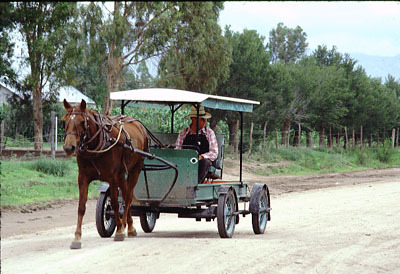 From Basaseachic it is an easy half-day's drive on paved roads to Creel, the main supply centre and point of access for exploring the Copper Canyon. From either Basaseachic or Creel, the road to Chihuahua goes through Cuauhtemoc, near where a large Mennonite community settled in 1921-2. This area is famous for its cheese and the cheese factory in Campo 2B, close to Cuauhtemoc, is usually open to the public.
While Cuauhtemoc has a full range of services, most travellers are happy to drive the extra 100 kilometers to the far greater attractions of the much more tourist-oriented city of Chihuahua, the state capital.
And that's where we'll continue the trip next time…
© Copyright 2000, by Tony Burton. All rights reserved.
Published or Updated on: May 1, 1999