Photo gallery: The vibrant voyages of Mexican artist H. Ramírez
"For me, art means freedom of internal expression, which is everything for me."
Drenched in color, the paintings of Chihuahua artist H. Ramírez pulse with energy and emotion. These elements form the core of Ramírez's work; his very brushstrokes are informed by the artist's inner sentiments.
"For me, art means freedom of internal expression, which is everything for me," says the painter, whose full name is Héctor Alberto Ramírez Hernández. "The power to express what one feels – no matter how absurd it is – is what makes a happy person out of anyone," he explains.
At times, whole paintings emerge from Ramírez's wellspring of emotions, their creation driven by feelings in need of release. He likens this experience to a dream in which themes materialize in his subconscious and flow out onto the canvas.
"(Some) themes appear out of nowhere, like the acknowledgement of your own emotions and those of others that create some sentiment which needs to be expressed," Ramírez says. "The emotions that are handled can create the inspiration for a surrealist or abstract theme."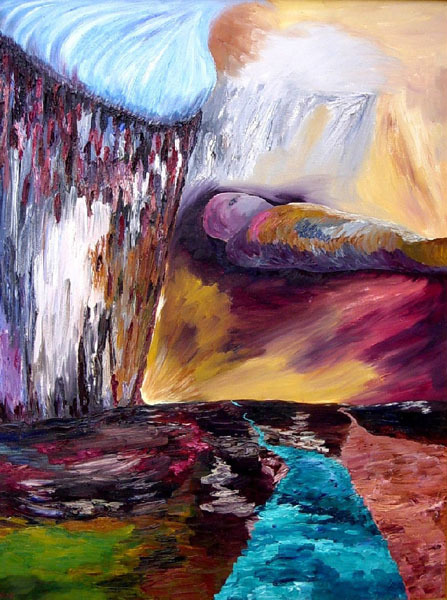 One painting that was conceived in just such circumstances is Despedida (Goodbye), which was created shortly after the death of someone dear to Ramírez. The work is awash with color, most notably hues of blue, pink and brown that sweep across the canvas in a multitude of directions. Off to one side of the painting, there is a figure wrapped up like a mummy, hovering amid the swirling brushstrokes.
"This painting is one of the ones that came out of nowhere," Ramírez says of Despedida. "I started to paint a subject that I already had planned and I ended up painting an embalmed, floating body being bade farewell by many people… it was painted a little bit after the death of a person close to me."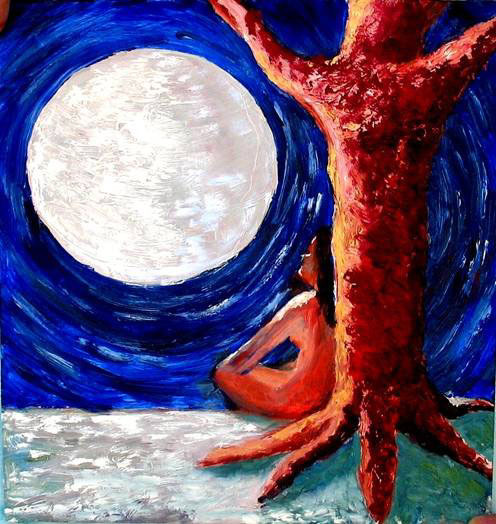 Another of Ramírez's pieces that seems to have sprung straight from his emotional core is Amada Lunita (Beloved Little Moon). The painting depicts a naked girl sitting against a towering tree and gazing at a gigantic moon gleaming brightly in the night sky. As Ramírez recalls, he painted Amada Lunita when his daughter Ina Itzel left to study cinematography in Madrid.
"She was going with so many dreams to achieve that I put her seated in front of the moon and asking for the fulfillment of her wishes," Ramírez says, adding that the tree symbolizes him.
While many of Ramírez's paintings are a result of these introspective voyages into his psyche, numerous others have been influenced by his journeys throughout the tangible world that surrounds him. His extensive travels have included trips to India, Nepal, China, Thailand, Laos, Cambodia, Spain, Italy, Argentina, Peru, Chile, Brazil and the United States, as well as various parts of Mexico.
Ramírez's experiences in these countries have been captured on canvas in paintings such as Sueño 1 (Dream 1), Budha Sonriente (Smiling Buddha) and Machu Picchu.
In viewing Sueño 1, the eye is immediately drawn to the elongated green strands winding down the center of the canvas, giving the appearance of a corn husk that has been unfurled across the painting. Wrapped in the delicate green fibers are three blurred faces, their hazy features painted in shades of blue and purple that seep out toward the edges of the canvas.
The scene was inspired by a seaside trip to San Francisco, California, as Ramírez recounts. From his perch on a large rock, where the artist was trying to shift into a more comfortable position, something caught his eye as he looked down toward his feet. To him, it appeared as though human visages were emerging from the formation of grass, moist sand and stones at the base of the rock.
"Faces were appearing before my eyes," Ramírez says. "I took photos of what I was seeing down there and the painting came from that. I didn't add anything – the photo is just the same," he notes.
As for Ramírez's Budha Sonriente, it was a happenstance viewing of a Thai altar that sparked the genesis of this work. The painting provides the observer with a close-up perspective of a serene-looking Buddha statue, set against a warm red background.
"I saw the head of this smiling Buddha on a trip to Thailand, during a long walk through the mountains to the northwest of Chiang Mai," Ramírez recalls. While on a stopover in one of the towns along his route, he spied the Buddha statue atop a small altar, amid orange and red candleholders that cast a reddish tone on everything.
"The scene looked fantastic to me," the artist says. "I made a drawing, took notes of the whole scene and then I painted it."
Ramírez was similarly spellbound when he gazed upon Peru's ancient ruins of Machu Picchu – an experience that inspired his painting of the same name. In this piece, the artist gives us a bird's eye-view of the ancient stone city, which is nestled among massive mountain peaks that seem to swallow up the sky.
"After four days of walking with some friends through the Andes on the Inca Trail, the ruins of Machu Picchu appeared before my eyes… it seemed fitting to paint it," Ramírez says. "I sat on the edge of a cliff and painted a watercolor that later served as the basis for the oil painting of the same scene."
This is a usual practice for Ramírez, who often creates a small painting on the spot when he is struck by a particularly captivating sight or inspiring incident.
"The works that I exhibit are mainly oil paintings, but I do like to make small studies with oil pastels and watercolors in the place where the subject appears," the artist explains.
These studies then serve as the models for Ramírez's oil paintings, which involve a longer creation process. Depending on the subject matter, his paintings may be completed in a six-hour session or entail months of effort until they are finished.
Surprisingly, Ramírez has only begun exhibiting individually in more recent years, although art has long been an integral part of the 58-year-old's life. He began formally studying painting under the tutelage of artist Pedro Carrillo in 1986 and has since studied with several other teachers, but his attraction to art began in his childhood. As a boy in Cuidad Juárez, Ramírez liked to sketch the boxers that appeared in the newspaper comic strip Big Ben Bolt and soon progressed to creating entirely original drawings and caricatures for his high school paper.
Ramírez's fascination with art was triggered in part by watching his father, whom he describes as "an artist in his time," paint landscapes and oil portraits of John F. Kennedy. This interest was further cemented at the age of 13, when he visited Mexico City for the first time and saw the famed murals of the Palacio Nacional, Palacio de Bellas Artes and Castillo de Chapultepec.
It was in 1975, when in his mid-twenties, that Ramírez first began painting with oils. He was in the midst of a medical internship at this time and later went on to become a doctor of holistic medicine, which he still practices today. As Ramírez explains, art and medicine have always gone hand-in-hand in his life.
"Medicine in itself is an art," Ramírez notes. And the wisdom he has gained as a doctor often proves useful in his life as an artist. For example, his expert understanding of anatomy has aided his ability to paint the human figure. At times, he doesn't even use a model. Even more influential, however, is the insight into human emotion that Ramírez has gained through his work as a healer – an awareness that is translated beautifully onto the canvas.
As Ramírez explains, "art is expression and my art is the expression of my vision of the world that surrounds me, such as the people, the emotions and the philosophies that drive the human psyche."
"In my life, art has a stabilizing role," Ramírez adds. "And in the world, it should be present from childhood, since a world without art is a world without culture and without the capacity for expression."
Published or Updated on: June 1, 2007