Dreaming of a white Christmas? If you're spending December in Mexico, forget it! The closest you'll come to frosty is to reminisce on winter wonderlands while sipping an icy margarita. You can expect the holiday season south of the border to be as warm and colorful as a tropical garden. And you'll discover a delightful array of seasonal traditions that make celebrating Navidad (Christmas) in Mexico a unique and unforgettable experience.
Las Posadas
Christmas festivities begin with Las Posadas, nine consecutive days of candelight processions and lively parties starting December 16.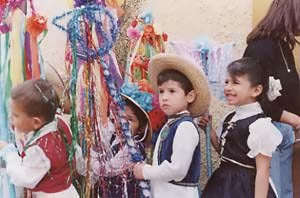 In villages and urban neighborhoods throughout Mexico youngsters gather each afternoon to reenact the holy family's quest for lodging in Bethlehem. The procession is headed by a diminutive Virgen María, often perched on a live burro, led by a equally tiny San José. They are followed by other children protraying angels, the Santos Reyes (Three Kings), and a host of pastores y pastoras (shepherds and shepherdesses), all usually decked out in colorful handmade costumes and carrying brightly decorated báculos (walking staffs) or faroles (paper lanterns).
The parade of Santos Peregrinos (Holy Pilgrims) stops at a designated house to sing a traditional litany (Link to words & music) by which the Holy Family requests shelter for the night and those waiting behind the closed door turn them away. They proceed to a second home where the scene is repeated. At the third stop the pilgrims are told that while there is no room in the posada (inn), they are welcome to take refuge in the stable. The doors are flung open and all are invited to enter.
This is an active way of teaching children the story of the Nativity, but the chief attraction is the merrymaking that follows, above all the chance to engage in the ruthless smashing of piñatas and a mad scramble for the shower of fruits, sugar cane, peanuts and candies released from within.
Las Pastorelas
Pastorelas (Shepherds Plays) are staged throughout the holiday season by both amateur and professional groups. These traditional, often improvised, theatrical presentations date back to Mexico's Colonial period when Roman Catholic missionaries wooed converts and taught doctrine through dramatizations of Biblical stories.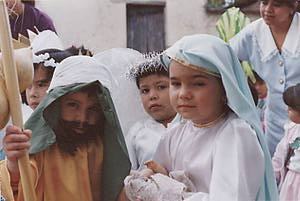 The light, humor-filled Pastorelas tell of the shepherds' adoration of the Christ Child. First they are visited in the fields by an angel who announces the holy birth. As the shepherds attempt to follow the great star leading them to Bethlehem they are plagued by a series of evils and misadventures provoked by the Devil. But in the proverbial all's-well-that-ends-well finale, good triumphs over evil and the shepherd's reach their intended destination.
Nativity scenes, or El Nacimiento
In most Mexican homes the principal holiday adornment is el Nacimiento (Nativity scene). The focal point, naturally, is a stable where clay or plaster figurines of the Holy Family are sheltered. The scene may be further populated by an angel, Los Reyes Magos (the Magi), the ox and the ass, shepherds and their flocks, and assorted other people and livestock. It is not unusual to also find the forces of evil represented by a serpent and a grotesque Lucifer lurking in the shadows. The figures may be simply positioned in a bed of heno (Spanish moss), or scattered throughout an elaborate landscape.
A major masterpiece may occupy an entire room, often near the front of the house for convenient viewing by neighbors and passersby. The creation of the basic landscape begins with papel roca (paper painted in earth tones) draped over tables, taped onto boxes, crushed and shaped to form a multi-leveled, natural looking terrain that frequently includes a series of hills and dales, a cellophane waterfall, a mirror pond, artificial trees, cacti, palm trees, and little houses set to form an entire village scene. Colored sawdust and a variety of natural mosses may be spread out as ground cover before the addition of strings of Christmas lights and the assorted human and animal figures. The scene will not be completed until Christmas Eve when the newborn Baby Jesus is finally laid in the manger bed.
Nowadays a decorated Christmas tree may be incorporated in the Nacimiento or set up elsewhere in the home. As purchase of a natural pine represents a luxury commodity to most Mexican families, the typical arbolito (little tree) is often an artificial one, a bare branch cut from a copal tree (Bursera microphylla) or some type of shrub collected from the countryside.
Christmas Eve — Noche Buena
Holiday festivities culminate on Noche Buena (Christmas Eve) with the celebration of a late-night Misa de Gallo (Rooster's Mass). Afterwards families head home for a traditional Christmas supper which may feature a simple fare of homemade tamales and atole (corn gruel) or other regional dishes. A more exotic feast might include bacalao a la vizcaína (Biscayan cod) and revoltijo de romeritos (wild greens in mole sauce). Roast turkey, ham or suckling pig are other popular menu items for those who can afford it. Ponche (a hot fruit punch), sidra (sparkling cider) or other spirits are served for the holiday brindis (toast). The evening is rounded out with the opening of gifts and, for the children, piñatas and luces de Belen (sparklers). As these happy family gatherings generally last into the wee hours, December 25th is set aside as a day to rest and enjoy that universal holiday bonus — el recalentado (leftovers).
Incidentally, Santa Claus and the clatter of reindeer hooves on the roof do not generally figure in the scheme of Navidad. A Mexican youngster's holiday wishlist is directed instead to el Niño Dios (the Holy Child) for Christmas Eve and the Reyes Magos (Magi) for Three Kings Day.
Poinsettias: La Flor de Noche Buena
Its Latin name is Euphorbia Pulcherrima. Its Mexican monikers include the ancient Nahuatl term Cuitlaxochitl (star flower), along with Catarina (Catherine), Flor de Pastor (Shepherd's Flower) and, most commonly, Flor de Noche Buena (Christmas Eve Flower).
In the English-speaking world this illustrious holiday bloom is called the Poinsettia, named after Dr. Joel R. Poinsett, a U.S. diplomat who served as Minister to Mexico in the 1820's. Like many newcomers to Mexico, he was no doubt enthralled by the sight of the gargantuan shrubs covered in mid-winter with brilliant vermillion blossoms. After experimenting with various methods of propagation, he returned home to Charleston, South Carolina with enough cuttings to begin the cultivation of these stunning plants in northern climes.
The bright petals of the poinsettia are not really flowers, but bracts or leaves that surround the true blossom, a rather inconspicuous cluster of yellow florets. The bracts may be solid creamy white, salmon pink or scarlet, variegated or double blooms.
Among pre-Hispanic tribes of ancient Mexico, the Cuitlaxochitl was more than just a pretty face. The blood-red bracts were often placed on the chests of those suffering afflictions of the heart to help stimulate circulation. They were sometimes crushed to a pulp to be used as a poultice for the treatment of skin infections.
A note of good cheer to those more inclined to be couch potatoes than gardeners: Modern-day Mexicans enjoy still another form of Noche Buena— a rich, dark, bock-like beer distributed only during the holiday season.
Los Santos Inocentes
December 28, Day of the Holy Innocents, is a religious commemoration of King Herod's ordering the slaughter of all male infants in his kingdom, intended to include the Christ Child. In Mexico it is celebrated as day akin to April Fool's, an occasion for jokes and pranks. The usual tactic is to approach a friend and ask to borrow cash or some object of value. If fooled by the ploy, the victim may be given a candy or silly gift in return, along with much joking and name calling. So beware or you may find yourself titled Fool Saint for a day!
The Three Kings: Los Reyes Magos
The Christmas season continues unabated in Mexico through Epiphany, which is called Día de los Reyes (Three Kings Day). Echoing the arrival in Bethlehem of Wise Men bearing gifts for the baby Jesus, children throughout Mexico anxiously await waking up January 6 to find toys and gifts left by the Reyes Magos (Magi). In some regions it is customary to leave out shoes where treasures may be deposited by the visiting Wise Men.
A special treat served one this day is the Rosca de Reyes — a crown-shaped sweet bread decorated with jewel-like candied fruits. Tiny figures of babies are hidden in the dough before baking. There is much excitement as each partaker cuts his or her own slice, for whoever gets a piece containing a baby is obliged to host another party on or before Candlemas, February 2, when Mexico's holiday season finally comes to an end.
Published or Updated on: December 1, 1997