Photo gallery: Frozen moments: the photos of Mexico's Ricardo Gomez Jimenez
Photographer Ricardo Gómez Jimenez has been snapping pictures most of his life. "From childhood on, I have always liked the camera," says the 34-year-old native of Mexico City.
When asked to recall his first memories involving photography, Gómez recounts how some of his initial artistic experiments involved taking shots of keys. "I would grab a house key and put it in different places and take photos," he says. "I really liked the contrast and the color as well."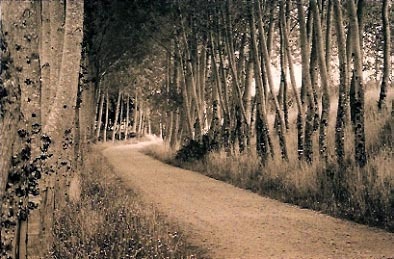 Years later, these themes of contrast and color are still interwoven throughout the photographer's work. For example, Gómez describes his black-and-white photo "Mantra" as one of his favorite pictures, due to the contrast between darkness and light that the image captures. The photo's focal point is a small round table with several chairs around it, which is illuminated by the sunlight that is streaming in from an upper window. The brightness of the light is juxtaposed by the dark shadows cast on the edges of the table and on the floor underneath.
The photographer's use of natural light in "Mantra" is one of the trademarks of his work, as he favors this type of illumination over artificial light. "I like exteriors," he says, explaining how he prefers the effect of natural light bouncing off his subjects.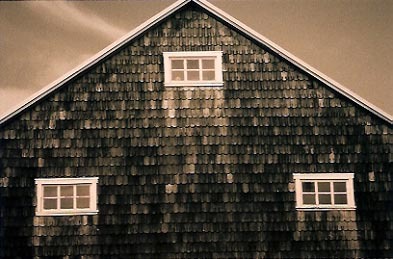 This predilection for natural illumination dovetails nicely with Gómez's talent for landscape photography. Shadows and light play out across the scenic vistas that he has captured with his camera. Images range from a hulking mountain blanketed with snow to an airy meadow divided by a tree-lined road. These photos afford viewers a look at the diverse environments that comprise the globe, as his images include landscapes from Alaska, Chile and Switzerland, among other locales.
The photographer, who currently resides in Cancun, has been able to access a range of places through his sporadic stints as a cruise ship employee. His work in this industry has resulted in travels to Alaska, Puerto Rico and the coastal countries of South America. He hopes to eventually sign on for new routes to Australia and New Zealand, which will provide him with much anticipated material for his landscape series.
Recounting his prior travel adventures, Gómez recalls how there were times when he was frustrated because he had the opportunity to take photos, but couldn't find any suitable subject matter. That is, until the landscapes came into view. He points to one of his photos of an Alaskan glacier. "It is spectacular, the size," he says. "There (in the photo), I don't think that the dimensions look as real as they are," he notes, explaining that an immense cruise ship looks very tiny in comparison with a looming glacier. Gomez also encountered glaciers during his trip to South America, which included an up-close viewing of the Chilean Fjords. One of the photos that emerged from this experience is a shot that depicts dozens of penguins waddling along the shore.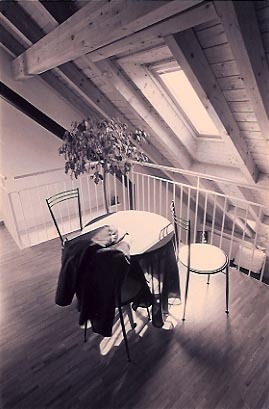 Animals, whether they be penguins or ponies, are another of the photographer's recurring subjects. In one of his black-and-white images, Gómez has captured dolphins playing in a pool. Here again, his use of natural illumination has an interesting effect on the photo, as the sunlight dancing across the dolphins' bodies gives them a metallic sheen. "It looks as though they are made of metal, perhaps mercury," he says, attributing the effect to the combination of water and light in the photo.
Capturing animals on film is an undertaking that requires immense patience, as well as a quick trigger finger and a fast shutter speed. For Gómez, it is essential that his camera is able to capture an image quickly. "Speed is extremely important," he says. "The camera can have a thousand features, but what I look for is a response that is immediate."
Indeed, within a matter of seconds, a scene may totally transform from one image to the next and it is speed that enables a photographer to capture this change in a mere instant. For example, Gómez's work includes a photo of a swan, which is floating peacefully on the water. The animal's stillness, against the backdrop of the rippling water, adds a sense of serenity to the scene. Yet, the photo that Gómez took immediately after this one portrays a totally different image. "It is the same shot, but because of the noise, the swan turned," he says. "This one is a little bit more aesthetic," he notes, pointing to the first photo, "but the other one is more amusing."
Aside from animals and landscapes, Gómez also enjoys taking portraits of people, as well as experimenting with abstract shots.
It is in his abstract photos that Gómez fully embraces his passion for color. As the photographer explains it, he has always liked the art of painting, but does not feel as though he has the talent for it. So, manipulating the colors of a photo on his computer is like his own version of painting. "Saturating a normal image with color results in some very interesting things," he says. "In the moment that you see the (altered) image, you no longer know what it even is."
In addition to his recent fascination with abstract images, Gómez has also been focusing his energy on closeups. It seems as though he has come full circle from the days when he experimented with images of keys, as he once again has begun using small objects as his subject matter. "I have been taking closeups of very small things," he says. "They look interesting, seeing them from that angle."
It is impressive how the photographer utilizes a range of styles to capture the many faces of nature. For instance, his landscape photos introduce viewers to towering mountains, while his closeups explore the water droplets that have settled on a solitary leaf.
All of these images are moments caught in time – once destined to disappear, but now existing forever. "I like the power to capture the image in that particular moment," Gómez says. This idea of freezing a moment or a scene is what has fascinated him about photography ever since he was a young boy. "It's like if a photo of you was taken, but you were caught in a moment," he explains. "And then you see the photo and say, 'wow, I don't even recognize myself.'"
Another facet of photography that particularly intrigues him is the ability to provoke different sensations or sentiments in the viewer. In one of his newest photography projects, Gómez will probe this aspect of his craft in a way that he hasn't previously done. He plans to shoot a group of photos that will comprise a series entitled " Caos" (Chaos). This is the first time that he has ever attempted to shoot photos with such a specific theme in mind and it is a disquieting topic that he has chosen. "These (photos) look very pleasant, don't they?" he says, pointing to some of his landscapes. "Well, these other photos will definitely create a visual impact, up to unpleasantness even."
One of the photos that he plans to include in the "Chaos" series is a shot that he snapped at a former prison, which has been turned into a museum. The section of the building where the museum is housed looked well kept and nicely painted on his visit, Gómez says. But, as he explains, "there was another part that was not nice, so it was real. And that was where I entered. I took a photo of the very small room and the window and the door – totally in bad shape," Gómez recounts. "It was harsh, raw."
This new turn in the photographer's focus is an interesting choice for a man whose prior body of work has concentrated primarily on the beauty found in nature and all living things. But as Gómez says, "there are always going to be comments made about the image. And that is interesting, isn't it? That is my goal – to create sensations in people, so that they like something or they don't like it at all."
Published or Updated on: September 1, 2006