Sayulita: A quintessential Mexico beach town on the Riviera Nayarit
This charming little beach town located on Pacific Mexico's Riviera Nayarit, is only a forty-minute drive north of Puerto Vallarta. Sayulita has exploded in popularity as an alternative beach vacation destination during the past few years and celebrity sightings are becoming rather common place. You just know that Sayulita is special, even before arriving, because when you exit Highway 200 you have to drive along a two-kilometer road carved through the surrounding jungle to get there.
No doubt, some day trippers from Puerto Vallarta started exploring the beaches north of Puerto Vallarta and were captivated by the paradisiacal beach, surrounded by luxuriant tropical foliage, rich with natural wonders. Once word spread of the beautiful beach, with its surf perfectly curling ashore, the area's explosion was guaranteed. Surfers and nature lovers alike began to flock to the area.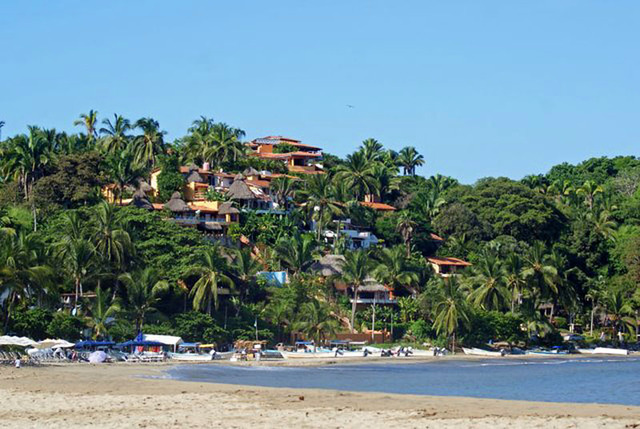 As if that alone was not enough to attract attention to Sayulita, along came Barry Golson, with his book Gringos in Paradise, which just happens to be a great read. It tells the story about how he and his wife fell in love with Sayulita when it was a funky and dusty beach town, and made the life-changing decision to buy property, build their dream home and reside in Mexico full time. Despite his stories of an encounter with a boa constrictor and the invasion of their home by the local colony of land crabs, or maybe because of the lure of adventure, soon thereafter people started building vacation homes and accommodations. Once celebrities started visiting Sayulita for vacation, this funky little town became a hot spot.
Today's Sayulita has a decidedly international flavor and bustles with folks from all walks of life, including artistic Mexican folks with a passion for preserving the environment, Americans and Canadians, Europeans and a few folks from as far away as Japan. Sayulita today reminds me of Playa del Carmen in its early years, before it was discovered by the world. This colorful Mexican town attracts adventure travellers and celebrities seeking an off-the-beaten-path locale, day trippers from all over the Riviera Nayarit, and youth who head down to surf the breakers and enjoy a little action.
Place of Mosquitoes?
I was curious about what the name Sayulita means and, when researching, I learned that it is thought that the original owners of land in the Sayulita area came from Sayula, a small town in the state of Jalisco, one hundred kilometers south of Guadalajara. It is said that an early entrepreneur brought five families to the area to work on his coconut plantation. He built a house on the hill at the north end of the beach and a small beach house, and called the area Sayulita, with the "ita" used to denote its small size. Sometime after the last Revolution, the land was taken away from the owner and given to the five founding families who formed the Ejido of Sayulita.
It is also said Sayulita was named by a Governor from the city of Compostela, who was originally from Sayula, Jalisco. He was responsible for the administration of the area, and named the area Sayulita because of his fond memories and love for his own Sayula. The suffix diminutive ita in Spanish is also used to denote affection.
Sayula means the "Place of Mosquitoes" in Nahuatl, the language of the ancient Aztecs. Thus it may be that Sayulita was named after the estuaries and marshes found in the surrounding area. If Sayulita is pronounced correctly, it sounds like "sigh-you-LEE-tah" with the emphasis on the second to last syllable. Interestingly, if you change pronunciation to the first syllable it sounds like "SIGH-you-lee-tah." If you visit Sayulita, no doubt you will let out a huge sigh when you depart, wishing you could extend your vacation time and dreaming about returning to claim permanent residence, in the style of Barry Golson.
So much to do!
Sayulita offers vacationers an incredible beach, and an abundance of activities to enjoy. To vacation in Sayulita is to experience incredible beach time — swimming, surfing, snorkeling, deep sea fishing plus shopping and people watching. This colorful, touristic but still decidedly Mexican town is filled with activities, sights, sounds and smells that will captivate your senses and your heart. The beach is awesome and the town offers a rich, sultry, idyllic vacation destination and provides all the necessary luxuries and fun-filled activities one could wish for.
The town itself retains its true Mexican flavor, but it's different simply because — despite its growth in popularity with Americans, Canadians and Europeans who vacation and live here — it has retained its Mexican charm. Sayulita has a distinct culture, international, friendly and unique — where anything goes from sandy beach bods to chic fashionistas.
Locals who live in the small neighbouring towns on the Riviera Nayarit enjoy visiting Sayulita and being tourists once again, enjoying fine dining at Don Pedro's, indulging in expat cravings, and shopping for unique and higher end fashion items and home décor imported from exotic Mexican locales like Oaxaca.
The streets are lined with shops and restaurants with names like Jungle Hair Design, Sayulita Beach Baby, Be Be, Revolution del Sueño, Burrito Revolution, Yo Yo Mo's Sports Bar and Pizza; and Mexi Fit. There are several high end shops selling striking black pearls, black pottery and rugs imported from Oaxaca, dresses made of exotic silk, and crocheted bikinis. The local surf shops are well stocked with the latest in surfo fashion, which includes hoodies, board shorts, tanks and long sleeved tee-shirts. They also sell souvenirs which include "Day of the Dead" surfing figurines.
Accommodations range from budget, bungalow style hotels to high end but unique boutique hotels. All seemingly coexist happily, side by side with the local taco stands, beachwear and souvenir shops, dogs, chickens and roosters, children playing wherever the opportunity arises, and tourists and residents from all walks of life.
This little town offers the opportunity to be active and adventurous, or as laidback and slothful as one wishes. Start the day with a class in yoga or Pilates, by riding a wave, hiking or horseback riding to Monkey Mountain. Or head to the beach, rent one of the beach chairs complete with its own sun shade, and while away the day watching the surfers while the friendly serving staff brings food and drink directly to your beach abode. End the day by snorkeling at Playa de Muertos, a small local swimming beach, or treat yourself to a massage or spa treatment. Just be sure to take in as many of the incredible sunsets as you can while you have the opportunity!
Other options include jungle canopy tours, fishing, scuba diving, or taking a day trip to the Marietta Islands to enjoy some of the best snorkeling in the area and spot a blue-footed booby. Sayulita even has paintball!
Wanna hang ten? Sayulita is a good spot for beginners to take a surfing lesson. A semi-private hour and a half lesson includes instruction on standing correctly on the board, getting up on the board, maintaining your balance while riding it in, entering the ocean safely, carrying the board, and all the necessary safety and surf etiquette. The instructors are friendly and professional, and offer great instruction. I took a lesson here about a year ago with a friend's daughter at El Tigre. The instructor, Fernando even helped me bring my board past the surf. The cost for a two-hour semi-private surf lesson was about 350 pesos per person. Most everyone succeeds in experiencing the thrill of riding at least one wave into shore. The class includes some free time with the board after the lesson but, frankly, I was too pooped to surf anymore. Need I state, that all the instructors are very charismatic and my friend's daughter is still enamored of Fernando?
Great food
Dining in Sayulita is a feast for the senses and a danger to your waistline. The epicurean center is Don Pedro's, a trendy high end beach restaurant where locals hang out in the day to take in a sports game or watch the local surfers, and where everyone comes to celebrate special occasions. The fare at Don Pedro's includes gourmet pizzas, burgers and fresh mussels, rack of lamb and my personal favorite — Pasta Puttanesca — a pasta served in a rich sauce with the flavors of olive oil, garlic, anchovies, olives, and capers. They also serve the best chocolate mousse and crème brulee on the coast of the Riviera Nayarit. More casual popular dining options include Rolly's for breakfast and lunch, and Choco Banana for gourmet coffee, breakfast and a quick healthy snack. Get there early for fresh baked cookies, muffins and — need I say — bananas dipped in chocolate, and rolled in coconut. Always available is traditional, delectable Mexican fare, which includes fish tacos and burritos.
My favorite way to spend the day in Sayulita is to start the day by enjoying coffee and breakfast at Choco Banana or Rolly's. I rent a room at one of the budget accommodations near the beach for the day, so I can clean up and refresh myself between events. On a recent visit I discovered The Iguana Sanctuary, which is really just a few trees full of exotic large green iguanas, right in the middle of town and not to be missed for any reason! I swim, walk the beach, watch the surfers, and shop before returning to my room to prepare myself for the culinary highlight of the day, dinner at Don Pedro's. The Sayulita experience is always best when shared with good friends. I'm a day tripper, so the hotel room is just to have a place to leave gear, store new found treasures, and clean up.
The vacation experience in Sayulita is worlds away from the larger Pacific Mexican resort towns such as Puerto Vallarta, Mazatlan and Cabo San Lucas. Sayulita offers all the essential luxuries, is chock full of activities to keep you busy, and has tons of shopping. But the difference is that it is a still a small friendly Mexican beach town, brimming with charm. Here you can still connect with fellow travelers, as you are likely to run into them several times during your stay and may even make lasting friendships. In Sayulita, there are no large impersonal resorts, only small intimate hotels and posadas and some charming Bed and Breakfasts. Enjoy it while it lasts!
Published or Updated on: May 6, 2012