Photo gallery: Labor of love: the work of Mexican photographer Edna Vite
Examining the photographs of Edna Vite is much like peering into the very depths of her heart. As Vite herself explains, the photographic artwork that she creates is a declaration of her love. "That is what I want to express – mi amor," she says, explaining that it is something that she is offering up to the human race, the earth we live on, and the universe as a whole.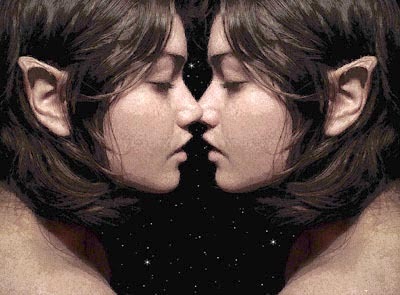 In a world where greed has become commonplace, it is uplifting to meet a person who wants her work to serve as a conduit of love. Vite's philosophy is evident, not just in her artwork, but in the artist herself. Possessing a playful and generous spirit, the 26-year-old photographer has a knack for attracting friends and it is apparent that she truly cherishes each and every one of them. In fact, it is her extensive circle of friends, as well as her relatives, who often serve as the models and inspiration for her art. "Almost all the people who appear in my photographs are there because they came to me and wanted me to photograph them," she notes.
Vite says her home in Xalapa, Veracruz, where she moved in 2001 after graduating from the Escuela Activa de Fotografía in Mexico City, is usually filled with people. It is natural, then, that the bulk of her artistic photography is comprised of portraiture.
In fact, Vite says that she has been photographing her friends ever since she was a child "I always had a little camera and I would walk around taking pictures." Sadly, all of those early photographs have been lost, as Vite explains. She says that she only had one photo album during a time when it was fashionable for kids to collect stickers and put them in an album. "Instead of putting my photos in the album, I put my stickers in it," she says, lamenting that all of the photographs eventually were left behind and lost. "I think it's because of that incident, too, that I am always taking photos," she says with a laugh.
Although Vite still engages occasionally in the analog photography of her childhood, she mainly uses a digital camera these days. Her friends, however, are still the main focus of her artwork. When she began working with digital photography in 2002, Vite started out shooting nude portraits of various friends and then playing with the results in Photoshop, adding colors and changing the textures of the pictures.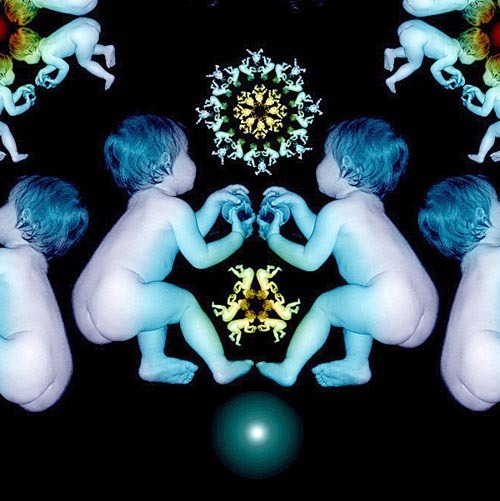 From these initial experiments came the idea to create a photographic series entitled Reencuentros Fantásticos (Fantastic Reencounters). As Vite explains, "from there, the idea of Reencuentros Fantásticos occurred to me because, living in Xalapa, the knowledge and power to love this life and to love the place where I am took root in me, as well as the ability to find this family that I have found in Xalapa." For Vite, a fantastic reencounter occurs when two people meet each other and then begin to really see each other – to look into each other's hearts, the cores of their beings – and perceive something in each other that goes beyond this present life.
Indeed, the portraits that comprise Reencuentros Fantásticos seem to capture a profound intimacy between the photographer and her models. The photos give the viewer a sense of being welcomed into a private moment, in which the subjects have peeled off their protective layers (in both a literal and figurative sense) and, in doing so, unveiled the secrets of their souls.
Touches of the surreal pervade the photos, as mere mortals have suddenly acquired elfin ears and ordinary surroundings have given way to celestial galaxies teeming with stars. In some instances, points of light glimmer on people's foreheads or add sparkle to their eyes.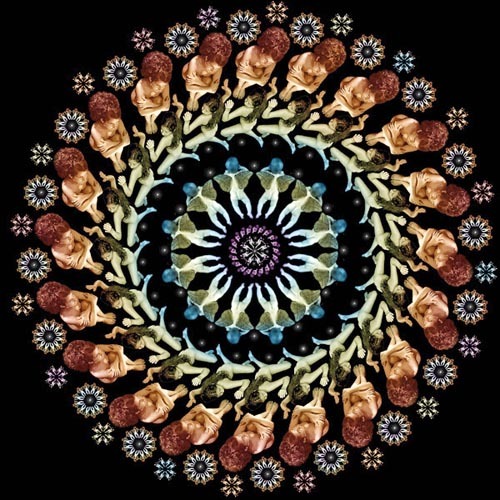 Elements of Indian mythology are also interspersed throughout the series, as one woman has been given the appearance of a Hindu goddess, while a third eye has been added to the foreheads of various models. In one striking example, a child lies sleeping, but above his pair of closed eyes is a third eye that is open and alert. When asked about the significance, Vite says that she considers it to be the awakening of consciousness. "It is an energy that you have to open in order to connect with yourself," she explains.
This idea of arousing an untapped consciousness seems to be an integral theme of Reencuentros Fantásticos, as illustrated by the text that opens a slideshow of the series. "Un mensaje de amor y fantasía, una mirada llena de luz y magia que ha capturado esa parte de nosotros que pertenece a la inocencia, al amor, al deseo puro de ser parte de todo el universo; de todo lo existente; un recordatorio de quienes somos, un llamado a nuestras almas a despertar del sueño material, a buscar dentro de uno mismo; y ser parte de este reencuentro fantástico." (A message of love and fantasy, a glance full of light and magic that has captured the part of us which pertains to innocence, love, the pure desire to be part of the entire universe; of all that exists; a reminder of who we are, a call to our souls to awake from the material dream, to look inside ourselves; and to be part of this fantastic reencounter).
Although Vite finished the Reencuentro Fantástico series in 2004, she continues to explore similar themes in her current project, Espejos y Mandalas (Mirrors and Mandalas). The idea for the second series was sparked by a portrait of a friend's daughter that Vite had taken during her original foray into digital photography and used as part of Reencuentros Fantásticos. Because of the shape that the child's body forms in this particular picture, the photo became the catalyst for the creation of Vite's first mandala.
Often thought of as symbols of the universe, mandalas incorporate various geometric shapes into intricate patterns that are mesmerizing to the eye. A form of meditative art, they have been used in Hinduism and Buddhism for centuries. "Mandalas are utilized in all cultures as transmitters of energy," Vite says, explaining that they can transform negative energy into positive energy. According to Vite, people use mandalas to cleanse spaces of negative energy, as well as to meditate and to energize themselves.
Vite had her first in-depth introduction to mandalas when she began studying at a branch of the Fundación Hispanoamericana Mikao Usui in Coatepec, Veracruz, which teaches a form of energy healing known as Reiki. Having studied Reiki for two years, Vite is now taking private classes at a school in Xalapa called El Centro Brahamachandra. She says that Reiki teaches that "you are a channel to help heal whatever type of illness – spiritual, physical or mental." Through Reiki, Vite learned to use mandalas. She says that both are entirely positive in nature, despite the duality that exists in all life. "Everything has its negative side and its positive side, but this is a way of looking at things as only positive. Knowing that the negative exists but that we are able to transform through learning and loving…."
Thus, Espejos y Mandalas seems to take Vite's expression of love that manifested itself in Reencuentros Fantásticos to the next level. Now the portraits of her friends and family have actually become meditative tools used to spread positive energy and love.
When Vite creates the mandalas, she usually begins with one to six portraits with which she wants to work, but does not set out with a conscious design in mind. Using Photoshop, she makes copies of the original images and begins arranging them one by one, eventually integrating dozens or thousands of replications into the detailed patterns that form her completed mandalas. At times, Vite makes 10 or 20 separate mandalas and then chooses the one that she likes best. Or she takes all of the different mandalas that she has created and combines them together into one final composition. This process of spontaneous creation, in which there is no preconceived pattern in mind, is one of Vite's favorite aspects of engaging in her artwork. "The most interesting facet is what comes flowing with each moment," she says.
Vite takes her time with the mandalas, savoring each moment of the creative process. Sometimes she completes an entire mandala in one day, staying up all night to finish it when the inspiration strikes. But she never rushes the process, at times starting a mandala and then leaving it untouched for a month before deciding to go back and finish the piece. "It depends on the mandala, the day, and how it is all flowing for me," Vite explains.
From Vite's efforts have sprung elaborate and striking pieces of artwork that draw the viewer in, inviting meditation and the chance to close out the outside world, even if just for a moment. Kaleidoscopic patterns unfold from every angle of the compositions, thus giving a sense of depth and movement to the two-dimensional mandalas.
Some of the mandalas look as though they are comprised of numerous photographs that were shot from various angles. But in reality, the mandalas consist of just a few portraits that have been replicated and then placed in different positions, Vite explains. The resulting effect is much like that of an image reflected back by multiple mirrors. This illusionary aspect of the compositions is what led Vite to name the series Espejos y Mandalas. "They are mirrors that are also mandalas and mandalas that are also mirrors," she says of her compositions.
For Vite, it seems that all her photographs are like mirrors that reflect her own life back at her. "It is everything that I am, everything that I'm living," Vite says of her artwork. "My life is fantastic like this," she adds, "with all the love that I'm living."
Published or Updated on: October 1, 2005