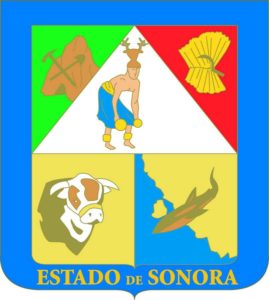 The state of Sonora is part of the North Pacific Region of Mexico, along with the states of Baja California, Baja California Sur, and Sinaloa. The state capital is the city of Hermosillo.
The state of Sonora has given its name to one of the world's major desert areas, the Sonoran Desert, which also includes almost all of the Baja California Peninsula. The UNESCO World Heritage Site of El Pinacate and Gran Desierto de Altar extends from Sonora into the northern part of Baja California, and across the U.S. border into Arizona and California. This reserve is an undisturbed portion of the Sonoran desert which offers visitors a dramatic combination of two very distinct landscape types: volcanic landscapes (El Pinacate) and sand dunes (Gran Desierto de Altar).
Sonora also has one of the largest open-pit copper mines in the world; the Buenavista del Cobre mine in Cananea produced over 200,000 metric tons of copper in 2012 and is estimated to hold another 26.874 million metric tons.
Here are select articles and recipes related to Sonora:
MexConnect.com is all about Mexico. While most articles focus on the interior, the edge of Mexico is still Mexico and Mexico's border regions are worthy of exploration. There is plenty to see there. My 20-year old son Raphael and I recently took a drive in a Mexico border region. We followed the U.S.-Mexican border, on […]
2 comments