Photo Gallery: Motoring along Highway #2, the edge of Mexico
MexConnect.com is all about Mexico. While most articles focus on the interior, the edge of Mexico is still Mexico and Mexico's border regions are worthy of exploration. There is plenty to see there.
My 20-year old son Raphael and I recently took a drive in a Mexico border region. We followed the U.S.-Mexican border, on the Mexican side, Highway #2 on the northern edge of Mexico, in Sonora state.
We were traveling in the U.S. Southwest, and entered Mexico south of Yuma, Arizona.
The American side of the crossing was San Luis, Arizona, where we quickly crossed the border into San Luis Rio Colorado, Sonora state, Mexico.
We soon found an Oxxo convenience store where we stopped and purchased Mexican snacks we don't normally have access to in the United States. We hadn't been in Mexico for over a year.
From the Oxxo we took a little walk to the border wall. A double wall runs along the edge of San Luis Rio Colorado, which is, by the way, the fourth-largest city in Sonora.
From there we got back on the road and followed the highway into open country.
With Raphael driving all the way, we simply followed Mexican Federal Highway #2, in an east-southeast direction, for 120 miles. (See map here).
In the Mexican federal highway system, with a few exceptions, north-south highways are odd-numbered while east-west highways are even-numbered. (See map here).
Highway #2 is comprised of two discontinuous segments.
The western segment goes from Tijuana, Baja California to El Porvenir, Chihuahua, close to Ciudad Juarez.
The other segment goes from Ciudad Acuña, Coahuila, to Playa Bagdad, Tamaulipas, on the Gulf of Mexico. (Although classified as an east-west highway, due to the shape of the border, this segment really is more of a north-south highway.)
Both segments of Highway #2 follow the U.S.-Mexico border.
Every single official Mexico-U.S. border crossing, with two exceptions, has connected access with Highway #2.
Most of Highway #2 is in the "Hassle-Free Zone." That means we never had to obtain personal permits nor vehicle permits.
What we passed through was definitely not a tourist area. But that doesn't mean there was nothing to see. Everywhere one goes there is something to see.
So what did we see for 120 miles?
Desert. Open space. The cerros, the hills and mountains so common in northern Mexico. The solitary grandeur of the desert.
From San Luis Rio Colorado, where we entered Mexico, to Sonoyta, where we exited, we did not pass by one town or city on Highway #2, only a few restaurants that cater to truckers.
And speaking of truckers, we did share the highway with many trucks. There was some crazy driving and passing, but Raphael handled it well, and there were no wrecks where we traveled.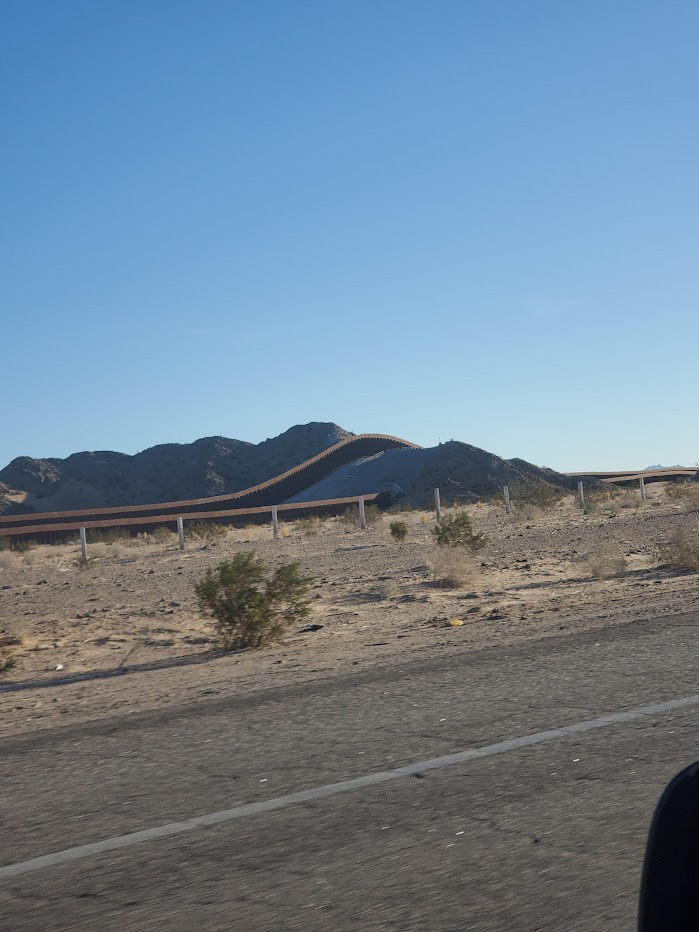 On the entire drive, the U.S.border wall was on our left. We could see it. But there was one section where the highway veered away from the border and the cerros hid the wall from our view. Later we returned and were quite close to the wall.
Sometimes the wall was even constructed up a hill and over it.
At a certain point we saw a border marker, in the form of an obelisk, and got out to look. There are 276 of these markers on the border. Photographer David Taylor photographed all of them.
The particular marker we saw was #195. It marks the exact borderline, while the U.S. wall is located a few feet back on U.S. territory.
Marker #195 is located at latitude +32° 18′ 49.75″ and longitude –114° 13′ 5.12″.
The side facing Mexico is inscribed in Spanish, indicating the "Límite de la República Mexicana…." The side facing the U.S. is in English, indicating the "Boundary of the United States."
In the latter part of the drive, we saw a lot of saguaro cacti. The saguaro (scientific name Carnegiea gigantea, named for Andrew Carnegie) is an iconic part of the U.S. Southwest and of Mexico.
Nevertheless, it only grows naturally in northern Sonora and southern Arizona, and a few places in California.
Despite this limited growing area, the saguaro is now associated with areas in which it is not even native.
For example, saguaro cacti don't grow naturally within 250 miles of El Paso, Texas. Yet the logo of Old El Paso, a Tex-Mex food and condiment brand, features silhouettes of two saguaro cacti.
Film directors were known to artificially place saguaro cacti in the scenery of Western movies filmed in the Southwest outside its small growing area.
The saguaro, in other words, is such an iconic cactus that it's become a symbol of an area much larger than its natural habitat.
It is an impressive cactus. The saguaro grows very slowly, taking its time, but can live up to 150-200 years. One specimen in Arizona (known as "Old Granddaddy") died a few decades ago at about the age of 300.
The saguaro can grow to about 40 foot tall. Arms sprout out of many saguaro cacti, pointing to the sky. This can give the saguaro a sort of human appearance.
In the latter part of the drive, we saw lots of saguaro right in front of the border wall. They seemed to fit well together, aesthetically.
Near the end of the trip, when we got out to look at the wall, we saw a U.S. Border Patrol vehicle driving on the other side.
Eventually we arrived to Sonoyta, stopped at an Oxxo (our last chance!) and re-entered the U.S.A. at Lukeville, Arizona.
It had been a good trip. We had seen the edge of Mexico, on Highway #2.
Published or Updated on: June 27, 2023