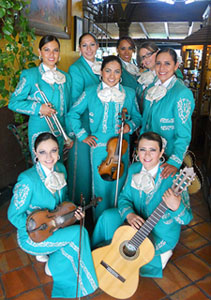 The mariachi is believed to have originated in Jalisco, in the area of Cocula and Tecolitlan. So it is fitting that the capital of Jalisco celebrate this quintessential musical tradition, and the annual International Mariachi Festival — begun in 1994 — brings together groups from all over the world.
Sponsored by the Chamber of Commerce, the event includes concerts, of course, but also art exhibits, gastronomical events and conferences by historian and ethnomusicologists.
The mariachi mass in the cathedral is a beautiful fusion of culture and faith.
These are a few of the events. A complete listing of performers, concerts, venues can be found on the official website.
In addition, the National Charro Championship runs concurrently.
¡Viva México en Guadalajara!
Inaugural Parade
The parade route begins at the intersection of Niños Heroes and 16 de Septiembre, traveling east along 16 de Septiembre until it reaches Juárez, then along Corona where it will pass beneath the balcony of the Palacio de Gobierno.
Spectators will be able to see all of the participating mariachi groups as well as floats, folkloric ballet troupes and representatives from a variety of both local and national Charro groups. Be sure to get there a little early in order to get a good spot and be prepared to have some fun.
Gran Fiesta Mexicana
A free event open to the public, it is held at the Plaza de la Liberación and strives to recreate the atmosphere of a Mexican Serenade. This is one event not to miss, as you will be able to witness performances by mariachi groups from around the world.
Mariachi Masses
Catholic mass accompanied by a selection of mariachis. The mass which is to be held at the Guadalajara Cathedral will give you the opportunity not only to hear the mariachi, but to visit one of Guadalajara's most beautiful historical monuments. This same mass, celebrated on Sunday, can accommodate up to 1,200 persons, so you might want to show up a bit early to get a good spot.
Mariachi Gala
Held at the historical Teatro Degollado, this is held by some to be the finest of all the events organized around this festival. Such talent as Mariachi Vargas de Tecalitlán, América and Los Camperos perform with the Jalisco Philharmonic Orchestra. Tickets can be purchased in advance .
Public Performances
Enjoy mariachi music in a number of free public performances of the metropolitan area municipalities. These are held in parks and plazas all around the city, such as Plaza Fundadores, the tren ligero, or light train stations, schools and even hospitals.
Street Music
Both days provide the opportunity to enjoy the Mariachi in a relaxed atmosphere. Both performances include fireworks and folkloric dancers and recreate a bit of Mexican tradition, free of charge for all to enjoy.
Spectacular Mariachi Concert
As the name implies, another opportunity to see all of the competing mariachi groups in action, this time at the Diana theater on September 3, 8 p.m. and 11:30 p.m. This event also provides a great opportunity to sample regional food and beverages including tequila and locally produced (and really tasty) candies.
Parade of Stars
A massive concert combining the best of the visiting mariachi groups with national and international celebrities. Tickets to the event range from $220 pesos ($17.00 USD) up to $1,150 pesos ($86 USD) per person and is held at the Telmex Auditorium on September 1.
Expo Pinturas and Expo Artesanías
An event such as this, which shows off our local pride in our music and tradition, would be incomplete without a fabulous display of its art and artesania. Take advantage of these exhibits while they last.
Popular Concerts
These free events set mariachi groups against the beautiful backdrop of the Instituto Cultural Cabañas located at one end of the Plaza Tapatía. While there, take a peek at the murals painted by Jalisco's own José Clemente Orozco.
Published or Updated on: August 29, 2011