Sampling fine wines on the Querétaro Wine Trail
In a land of smokey mezcals, rompopes, single-distilled raicillas, cervezas, tequilas, and Kahlua—that thick, sweet coffee liqueur made in Veracruz whose name in Nahuatl means the house of the Acolhua people—wine would seem to scarcely merit a mention. But in the 30 miles stretching between San Juan del Río and Bernal, known as the Querétaro Wine Trail, there's proof that Mexico's wine heritage while not nearly as well known as the spirits made from the agave plant, is also interwoven into the country's agricultural history.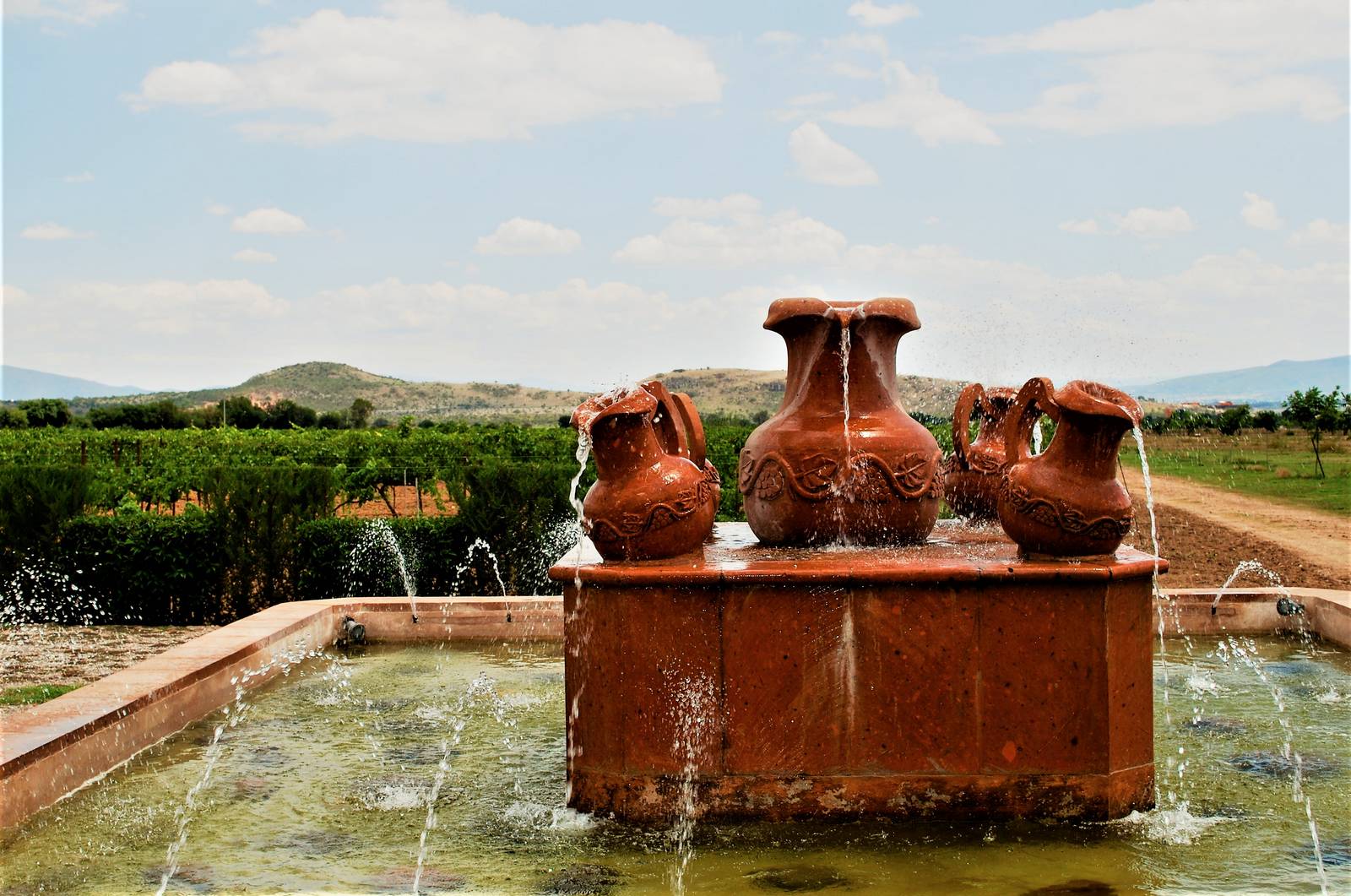 Dating back to the 16th century, the oldest winery in continuous operation in the Americas is Casa Maderas located in Parras, a town in the southern part of the state of Coahuila. Founded in 1597, it predates the Brotherhood, a stop on the Shawangunk Wine Trail in New York's Hudson Valley that is the oldest in the US, by 242 years.
The majority of Mexican wineries are located on the Baja California Peninsula, an area that won 68 medals in the 2020 Mexico Selection of the Concours Mondial de Bruxelles, an international touring competition. Querétaro took 19. Not close but not bad for a still developing viticulture region.
Years ago I set a goal to visit all the Pueblos Mágicos or magic towns, a designation given to lovely towns with an abundance of wonderful architecture, history, culture, foods, and allure. At the time it seemed doable as there were 49 but, before I got half checked off my list, the number of Magic Towns was upped considerably. It's now 121 and still growing.
I bring this up because many wineries and Pueblos Mágicos seem clustered together. In the Baja, the town of Todos Santos has ten or so wineries, Loreto has one, and Tecate, probably best known for its brewery, has about five. Parras, where Casa Maderas is located, is also a Pueblo Mágico.
Wine is Magic so it does make sense.
There are cheeseries to stop at as well as wineries along the Querétaro Wine Trail, especially in the section I'm following that stretches between Bernal and Tequisquiapan. Since I only have a day to explore and there are at least ten wineries, I decide to focus on just a few and try the local cheeses that are offered at each one. After all, there's only so much one can do in a day.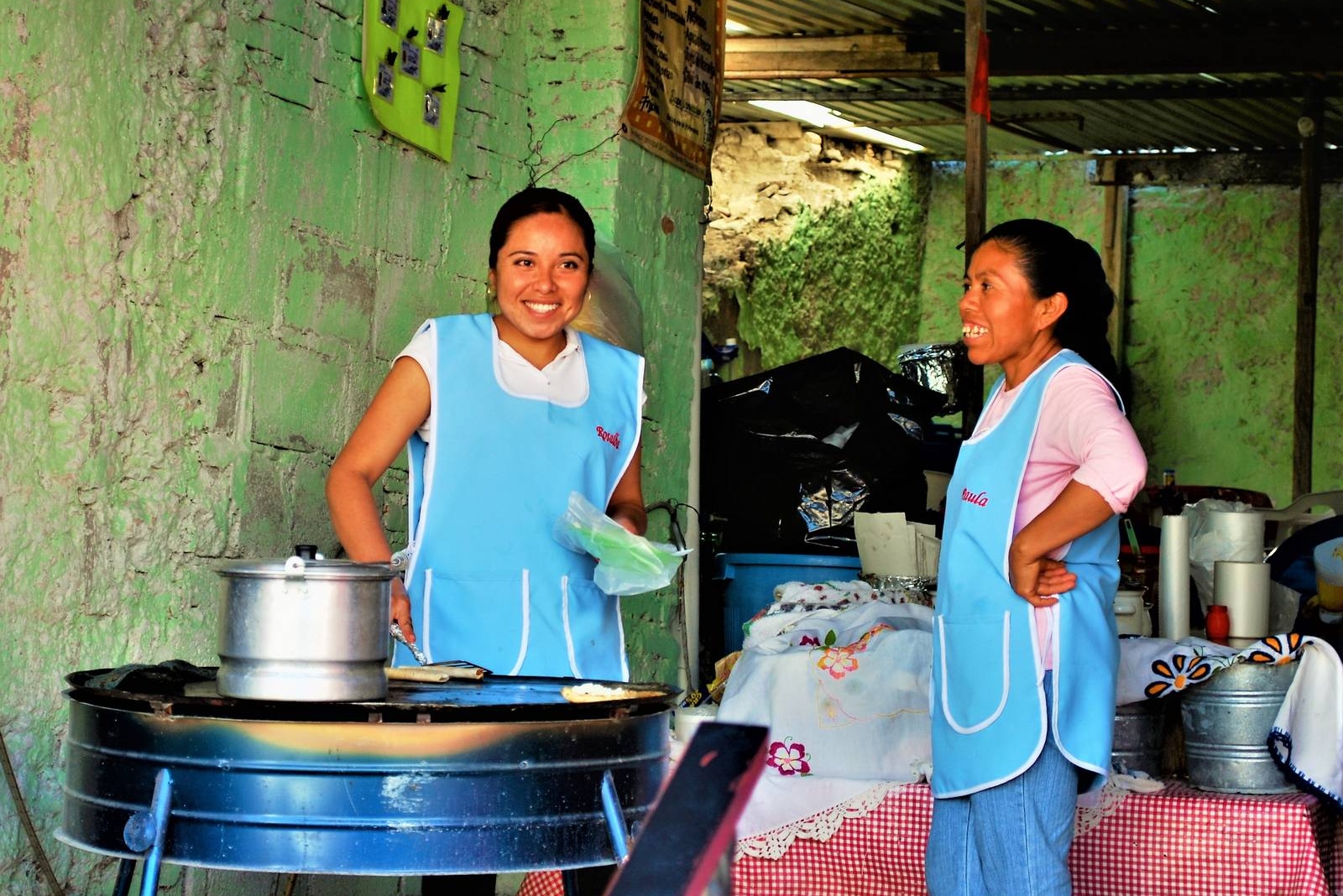 Bernal, a small village with cobblestone streets lined with shops and restaurants painted in sunrise shades, such as pale peach, rose, and Mayan blue, coupled with the vivid yellow of Parroquia San Sebastian church, and overshadowed by the Peña de Bernal, a towering monolith of stone rising 1421-feet above ground (the third largest in the world), is a perfect starting point. The village also has good food, and I plan to dine at El Negrito Gorditas, a 2021 Travelers' Choice on TripAdvisor.
Then I'll drive on, stopping at the wineries between Bernal and Tequisquiapan, which is famed for its cheeses, Temescal steam baths, and as the major area where pasilla chili peppers are grown in Mexico. The town hosts an annual cheese and wine festival called the Feria Nacional del Queso y de Vino each May-June. It also is the home of the Museo del Queso y el Vino (Cheese and Wine Museum) and Minas de Ópalo de Tequisquiapan, where following a four-wheeler ride to the Tequisquiapan Opal Mines and a tour, there's the chance to try some opal mining before visiting the gift shop.
Two other stops on my agenda are Cadereyta—the other Pueblo Mágico along this section of the trail, known for its caves, Neo-Classical mansions, and its proximity to Ranas y Toluquilla archaeological site located high upon a mountain with spectacular views of the valleys below—and Ezequiel Montes, which hosts the popular Fiestas de la Vendimia at the Viñedos La Redonda every year.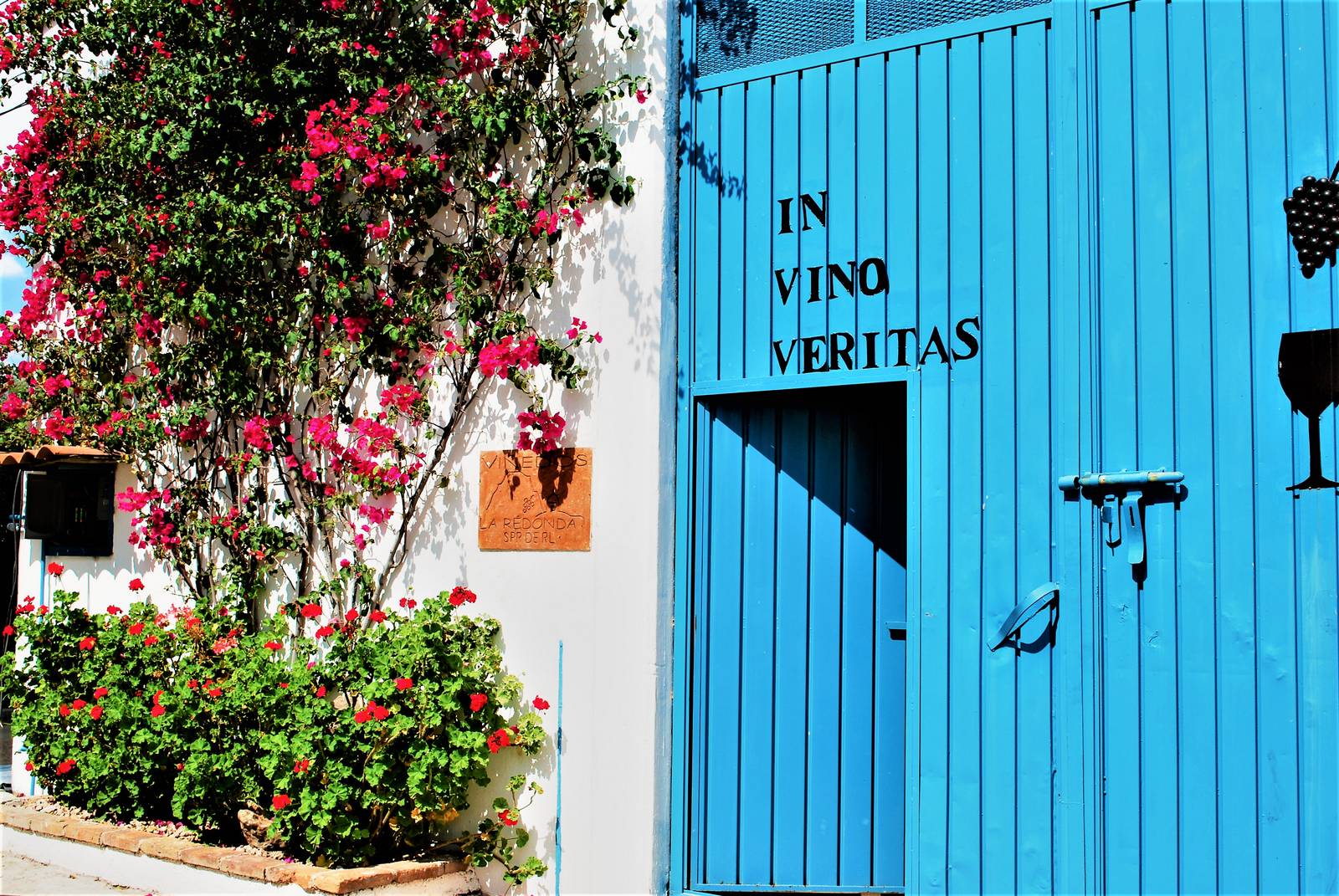 The latter was founded in the early 1970s, when Don Vittorio first planted Cabernet Sauvignon grapes imported from France as well as Salvadore grapes. The winery now also produces wines from other varieties of grapes such as Merlot, Tempranillo, Chenin Blanc, Ugni Blanc, and Moscatel. It also specializes in Kosher wine. Viñedos La Redonda sits in a flat valley with a backdrop of mountains in the distance.
One of the wonders of Querétaro's wineries is that the grapes prosper in a seemingly desert-like environment, but the hot days and cold nights reflect the temperatures of some of the famed wine regions of Spain, and microclimates create ideal conditions for vintners. The tours at La Redonda are free, there's tastings and nibbles of cheese, a trip to the wine cellar, and also a chance to tour their small and neatly landscaped arboretum of native plants.
Not far away, Finca Sala Vivé by Freixenet, is the largest and also one of oldest wineries on the trail. Signing up for a tour I follow a guide who takes us through the vineyards and then 82-feet beneath the earth through a brick-lined high arched tunnels towards the vast rooms where the wine is stored. Freixenet is a Spanish wine company that opened here in 1979. According to our guide they produce more than 2.5 million bottles of Cabernet Sauvignon, Merlot, Malbec, Tempranillo, and Chardonnay a year, but their main product is vinos espumosos, the sparkling wine typically made from Macabeo grapes that are also known in Spain as Macabeu and are blended with Xarel-lo and Parellada grapes to Cava or Spanish sparkling wines. Freixenet is an instantly recognizable wine in the US because of its striking black label and gold or silver lettering. It's the busiest winery I visit on the trip and their promotional material says more than 250,000 visit each year.
At De Cote Casa Vitivinicola, I have a choice between walking or boarding a train for a tour of the vineyards ending in a tasting room inside the capacious modernistic building where the wine is produced. I opt for the latter and the slight breeze from the moving vehicle is a relief from the blazing hot sun. I live in Southwest Michigan, another wine growing region consisting of rolling wooded hills and tempered by the winds of Lake Michigan and I marvel at how different this landscape is and yet is capable of producing such excellent grapes.
If my quick mental conversion is correct, Viñedos Los Rosales at1915-meters above sea level is over a mile high, making it perfect for growing Tintorera, a Spanish grape that's a cross between Petit Bouschet and Grenache and the French varietals such as Cabernet Sauvignon, Muscat, Merlot, Malbec, and Chardonnay that the winery first planted almost a decade ago. The setting isn't as elaborate as Finca Sala Vivé by Freixenetor the modernistic magnificence found at De Cote Casa Vintivinicola, but the tour is well done and the wines I sample at the end, along with an assortment of regional cheeses, are tasty.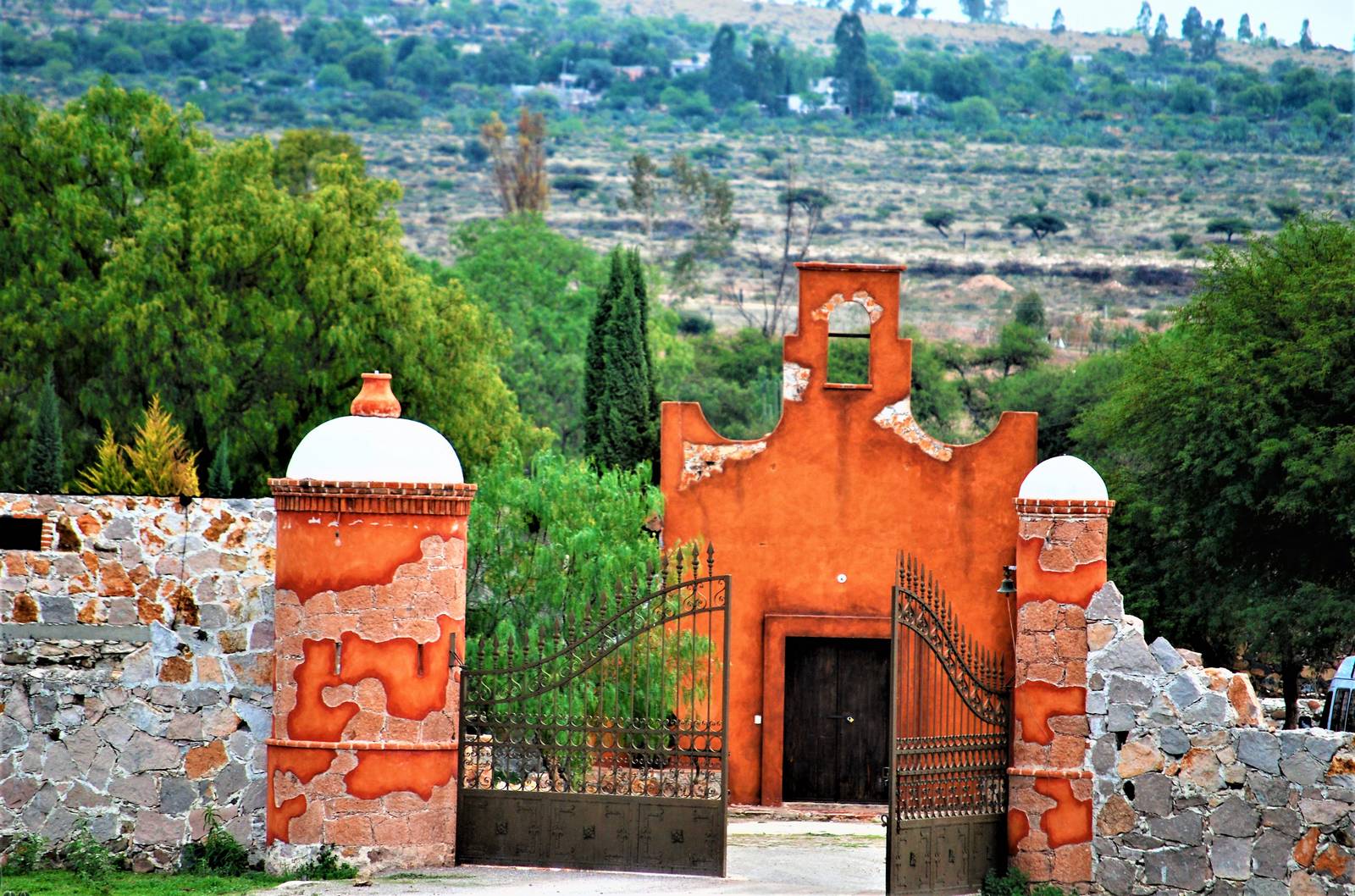 It's been a decade since I've visited Viñedos Aztecas, a former ranch that was transitioning at the time into a winery. That transformation is almost complete. But the charm of this place, with its stucco buildings, arena surrounded by rose-colored arches with seating for watching the charrerías or small rodeos, its stables with horses, and a cowboy-style bar with lots of charro touches—barrels used for tables, walls decorated with sombreros, coiled ropes, and harnesses—remains. There's a full service restaurant and outdoor dining by a large pond. The menu ranges from thin crust artisan pizzas to traditional Mexican fare such as cochinita pibil (pig wrapped in banana leaves and slow cooked in a pit filled with embers of burning wood), local cheeses, and carnitas. The house wines are mostly reds—Pretexto, Cahuayo, and Tordillo—as well as Apertura (vermouth) and Rosillo or rosé. Besides tours, they offer workshops in wine making which might be fun if I was staying. If you want, you can also have a barrel customized with your name. But again, that won't do me much good back home, except as an incentive not to wait another ten years before I return.
Published or Updated on: August 31, 2021