The oldest winery in the Americas is in Parras de la Fuente
In Mexico, vineyards and wineries exist in several states, including Baja California, Sonora, Zacatecas, Querétaro, and Coahuila. Wine experts usually claim that Mexico's finest wines come from Baja California, but award-winning wines are also now emerging from the oldest winery anywhere in the Americas: Casa Madero. Casa Madero, formally established as long ago as 1597, is located in Parras de la Fuente, a small town in the northern Mexico state of Coahuila.
In 1549, the Spanish priests and soldiers who explored this region discovered native vines growing in a valley and chose the spot to found the Mission of Santa María de Las Parras (Holy Mary of the Vines; parras = vines). The Mission soon began to make wine from the local grapes and, a few years later, the wines and brandies of the Valley of Parras were being shipped to the rest of the Americas.
Where water is turned into wine…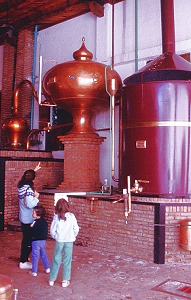 The valley's natural conditions proved to be ideal for viticulture. At 5,000 feet (1,500 meters) above sea level, this region enjoys warm days and cool nights, and is richly endowed with an ample supply of water from natural springs, supplemented these days by water obtained from deep wells. Parras de la Fuente (literally "grapevines of the fountain", but actually named in honor of Antonio de la Fuente, a nineteenth century politician) was on its way…
A photograph in the August 1996 issue of National Geographic shows grapes at the Marqués de Aguayo winery being crushed underfoot in 1922 by workers moving in time to a harpist, because "pressing grapes by machinery sometimes breaks up the seeds, which give an unpleasant taste." Today, a modern French machine does the job, without any coffee breaks, or time-outs, or unpleasant taste. The Marqués de Aguayo winery could once claim to be the oldest in the Americas, but it closed in 1989, leaving the title open for its present incumbent, the Madero vineyard.
The oldest winery in the Americas
Casa Madero was founded, on August 19th 1597, as the San Lorenzo hacienda, a land grant from King Philip II of Spain to Don Lorenzo García. The official founding of the town of Parras came in 1598, one year later. As the fame of Parras wines spread, a later King of Spain banned all New World production of wine (except by or for the church) in 1699 in order to protect wine-makers in Spain, a ban which lasted until the early nineteenth century. The San Lorenzo hacienda continued to supply the local Mission before being purchased in 1893 by Evaristo Madero, who introduced European vines and techniques. His grandson, Francisco I. Madero, the revolutionary hero who became President in 1910, was born at the El Rosario Hacienda.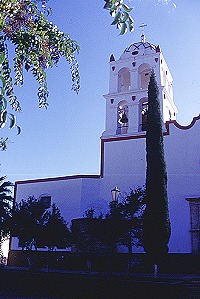 The present owner of the San Lorenzo hacienda, José Milmo, a great grandson of Don Evaristo, has moved away from brandy-making towards premium grapes for table wines, focusing on varieties suitable for Chardonnay, Merlot and Cabernet Sauvignon. Milmo has also introduced modern and high-tech cultivation methods, ranging from underground drip irrigation to night-time harvesting. All of Casa Madero's wines (which are mainly reds) come from estate-grown grapes; the winery produces about 300,000 cases a year, off its 1,000 acres of vineyards.
The town itself
The town, though recently declared to be one of Mexico's Pueblos Mágicos (Magic Towns), has only a handful of old buildings worthy of note. These include the seventeenth century church and college of San Ignacio de Loyola, where the stone fountain is decorated with sculpted grapes, and the Santuario de Nuestra Señora de Guadalupe. As you wander the town's cobblestone streets, look for the grapevines painted around some older doorways. Movie-buffs may get a sense of déjà vu in some parts of town – this is where that classic Western The Wild Bunch (1969) was filmed, with the nearby ruins of the Hacienda Ciénega del Carmen also featuring in some scenes.
Overlooking the town is the simple nineteenth century Santo Madero Church rising atop the plug of an extinct volcano. From here, both the town and the neighboring Sierras can be surveyed. On account of its springs and orchards, many of which are pecan trees, Parras de la Fuente is considered the "oasis of Coahuila".
The town's major festival is its lively, annual, week-long Grape Fair, held in early August. Besides Casa Madero, Parras has several smaller wineries, mostly catering to the local market.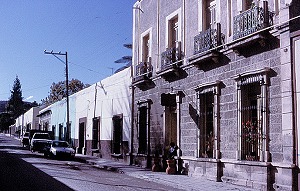 Visiting the Casa Madero winery
Free tours of the winery and small museum, located eight kilometers (five miles) north of the town, run throughout the day; a tasting room and small store are open from 9 a.m. to 5 p.m. The wines to look for include Merlot, Chardonnay and Cabernet Sauvignon. Small quantities of all three are now exported to the U.S. Casa Madero is also renowned for its reserve brandies. While touring the winery, look for a mural, made of tiles, of the Virgin of Wine. This adds a whole new dimension to the saying "a night on the tiles".
Where to Stay
Hotel Rincón del Montero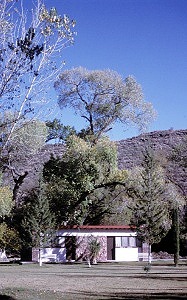 For groups who can't face a night on the tiles, the winery has several comfortable guest rooms. Period furnishings, fine art work and excellent food make for a pleasant stay. However, if you are not in a group, and prefer to save your holiday money for wine purchases rather than the 170-dollar a night ex-hacienda winery package (which includes meals, wine and brandy for two), then try the relaxing Hotel Rincón del Montero, located a few miles out of town. This 17-hectare (40-acre) resort has its own 9-hole golf course, as well as tennis, swimming and horse riding facilities.
How to get there
Parras de la Fuente is about 75 minutes drive (146 kilometers) west of Saltillo (or slightly over two hours from Monterrey) on the old (non-toll) federal highway 40. If you take the toll highway 40 west of Saltillo, then exit southwards at La Paila for the final 27 kilometers. From the west, Parras is 120 kilometers east of Torreón.
This article is the basis for Chapter 8 in the author's Mexican Kaleidoscope: myths, mysteries and mystique (Sombrero Books, 2016).
Sources / Links:
Casa Madero – www.madero.com.mx
Text and all photos © Copyright 2005 by Tony Burton. All rights reserved.
Published or Updated on: March 14, 2008